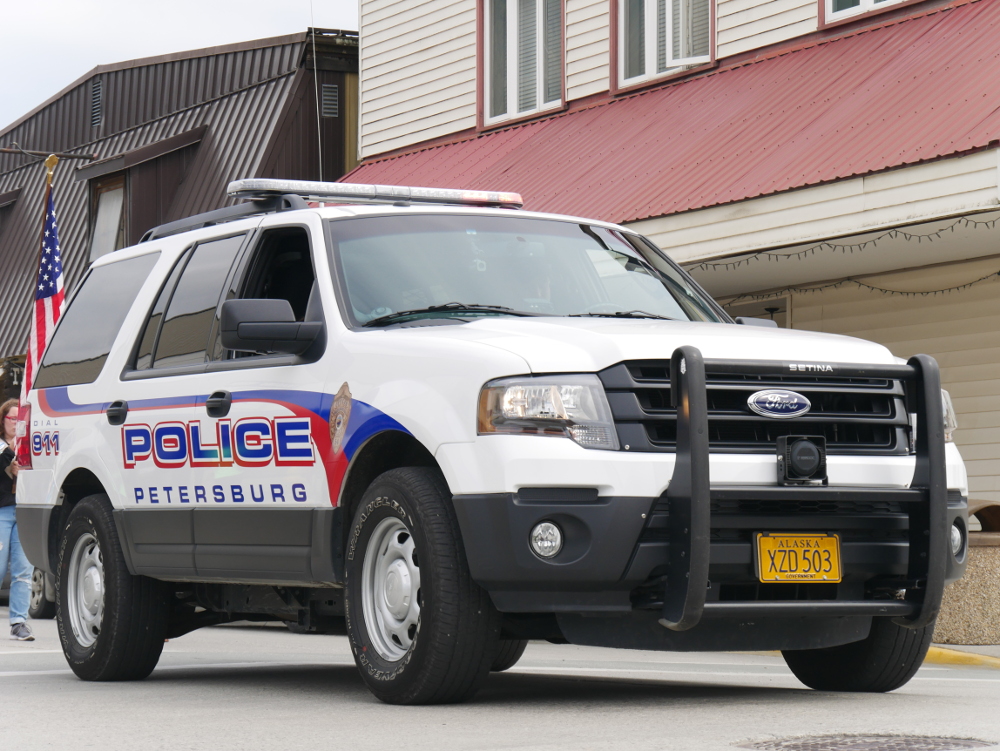 Petersburg's borough assembly Monday voted down a request for further review of employee retention, duties and scheduling in the Petersburg Police Department. The topic sparked a discussion about fair pay and long hours for officers and dispatchers.
Assembly member Dave Kensinger called for the borough's public safety advisory board to review schedules, duties and employee retention on the local force. It prompted testimony from several officers, the police chief and a dispatcher.
Carl Tate has worked for the department for five years and is the drug investigator for PPD. He told the assembly during that time the force has lost three officers and eight dispatchers. He reported long stressful hours of work and called for better pay.
"It is not uncommon to work a 20-hour day, to work holidays, to miss family gatherings, to work 10 days straight due to staffing, to get spit on or assaulted, to get exposed to blood born pathogens, diseases, then go home, sleep and repeat," Tate told the assembly.
Tate and other officers called support from the community amazing and said it was one thing that kept them working here instead of seeking higher pay with the Alaska State Troopers or in another community. He proposed pay increases for officers and dispatchers who've been on the job for three years, or incentives for furthering their certifications.
Chief Jim Kerr highlighted the impacts of vacant dispatching jobs.
"I want you to understand the Petersburg 911 center is operating in crisis mode and needs to be fixed right away," Kerr said. "What I mean is we only have three dispatchers to cover 24/7 shifts. We currently have captain (Randy) Holmgrain filling in to relieve the constant stress facing our short-staffed dispatch center. At the current pace I will be dispatching soon."
Kerr also proposed increasing wages for those jobs to help attract applicants. The borough is advertising dispatching jobs and a police officers position. The department fired an officer last month after an offensive social media post.
Assembly member Kensinger clarified why he wanted the topic to go before the advisory board.
"It's not an effort to defund the police," Kensinger said. "If anything I would say I would probably be of the opinion that we need to be spending more money on our police department. But before I can make the case of that to voters in the community who ultimately will be paying the price, we need to lay out to them and say, OK, this is why we need more money for dispatchers, this is why it makes more sense to pay more money to police officers."
The pay and benefits for dispatchers, police officers along with most other borough employees are covered under a collective bargaining agreement. The latest pact was finalized last September and it runs through June of 2023. It included wage hikes across multiple departments along the lines of those recommended by an outside consultant in 2020. (link)
Borough manager Steve Giesbrecht reminded the assembly that finding qualified employees for vacant jobs is a problem throughout the community and the nation. He said the borough this winter started an internal survey of police department employees to find out what can be done to keep workers and bring in new hires.
"I'm not arguing that money needs to be thrown at it, but if we throw money at it and a year later we still have turnover, the assembly's going to look at me and say Steve, I thought you told us this was going to fix it," the manager said. "So when we survey these employees, again which we're doing right now, it's to not just identify pay but also to identify other issues that need to be addressed, or potentially need to be addressed," Giesbrecht said.
Others on the assembly did not think the advisory board was the right venue for such a review.
Assembly member Jeigh Stanton Gregor said the information was already available.
"I don't believe this was put on the agenda in any kind of attempt to micro manage, I know it was put on in good faith," Stanton Gregor said. "To me if I voted for this I'd feel like I was micro managing Steve and chief Kerr. I don't want to do that. I think there's valuable things to have the public safety advisory board to do, this just doesn't seem one of them."
The vote was 3-4 to send the topic to the advisory board with Dave Kensinger, Tom Fine Walsh and Jeff Meucci voting yes. The assembly could still decide to add money to the department's budget for next year based on input from the survey.