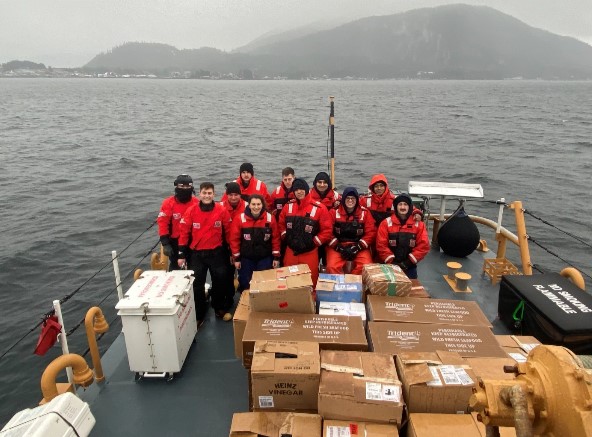 A large volume of clothing donations collected for a homeless resource fair in Petersburg this winter is benefitting other Alaska communities.
Like other places across the nation, Petersburg holds an annual Project Connect resource fair to distribute resources and assistance to people who are homeless or not in a permanent housing situation.
The Petersburg organization Humanity In Progress collected donations of clothing and supplies for the event, held January 26. HIP president Ashley Kawashima estimates they distributed about three quarters of those donations in Petersburg, before sending the excess on to Wrangell. That excess amounted to around 40 boxes of used clothing. And it was transported by the U.S. Coast Guard Cutter Anacapa to volunteers with the Wrangell organization BRAVE, or Building Respect And Valuing Everyone.
"I really, really want to thank the Coast Guard for being part of our transport system," said BRAVE treasurer Joan Sargent of Wrangell. "And I'm glad that we're in the loop of utilizing things and recycling things for the benefit of those who are in need and those who are not."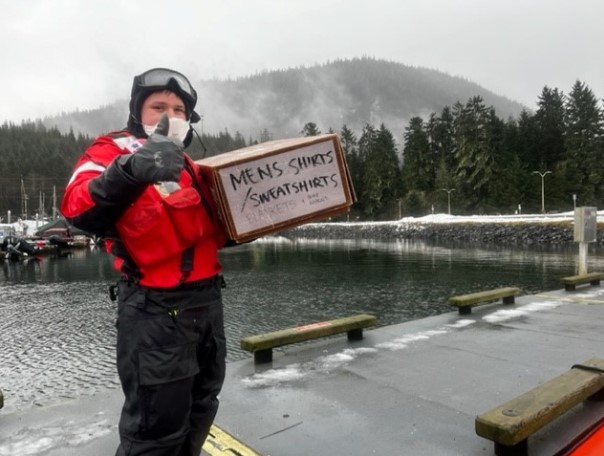 Sargent said volunteers are sorting the clothing this month and plan rummage sales in April and May as a fundraiser for the Wrangell organization. She's also Wrangell's representative on the board of Ketchikan's Women In Safe Homes, or WISH.
"I've already had a call on some things headed to the WISH shelter," Sargent said. "And we've identified some of the stuff as kind of heavy duty, like it looks like items that maybe were used by people that worked on the (North) Slope. So we have people within our group that would be willing to take those items up to Fairbanks for their rescue mission up there. So it will probably end up all over the state."
Sargent says Petersburg donations from a similar event two years also wound up with BRAVE in Wrangell and went out to multiple shelters.
This year was the fifth Project Connect fair in Petersburg. Organizations also use it to count the numbers of people who say they are homeless or in some temporary housing situation.
Humanity in Progress president Kawashima told the Petersburg borough assembly this month that the information is important for federal funding through U.S. Department of Housing and Urban Development.
"They've already stated they're going to base future funding for low income housing projects, increasing resources for those experiencing homelessness on communities that are regularly doing this survey of data," Kawashima said. "So not only are we doing it to help people but this is really important information for us to be able to have."
Kawashima reported this year's event counted 106 participants who identified as housing insecure. 26 people reported living in a temporary situation like sleeping on someone else's couch. Ten people said they are living in a place not meant for habitation, either in a vehicle or outside.
Those numbers are up a little from the last two years and they include children and families.
In 2021, the fair counted around 80 participants. 27 said they were couch surfing and eight people reported living outside or in a vehicle. The count in 2020, before the COVID pandemic, had around 100 participants. 23 said they were in a temporary housing situation like couch surfing and five people said they were living in a place not meant for habitation.
And Kawashima said the data is not complete.
"This is only the people we could get to come to our event," she said. "So this is not a complete picture of what's going on in the community but it is a really good starting place for us to be able to hopefully continue having conversations about moving forward, connecting with these populations and like the work that we're doing."
Other agencies from Petersburg's SHARE Coalition took part in the resource fair, including the Petersburg Medical Center, public health, Petersburg Indian Association and WAVE, the local advocacy non-profit. Kawashima said there were also financial donations from First Bank and the Elks Club and many volunteers who helped make it happen.