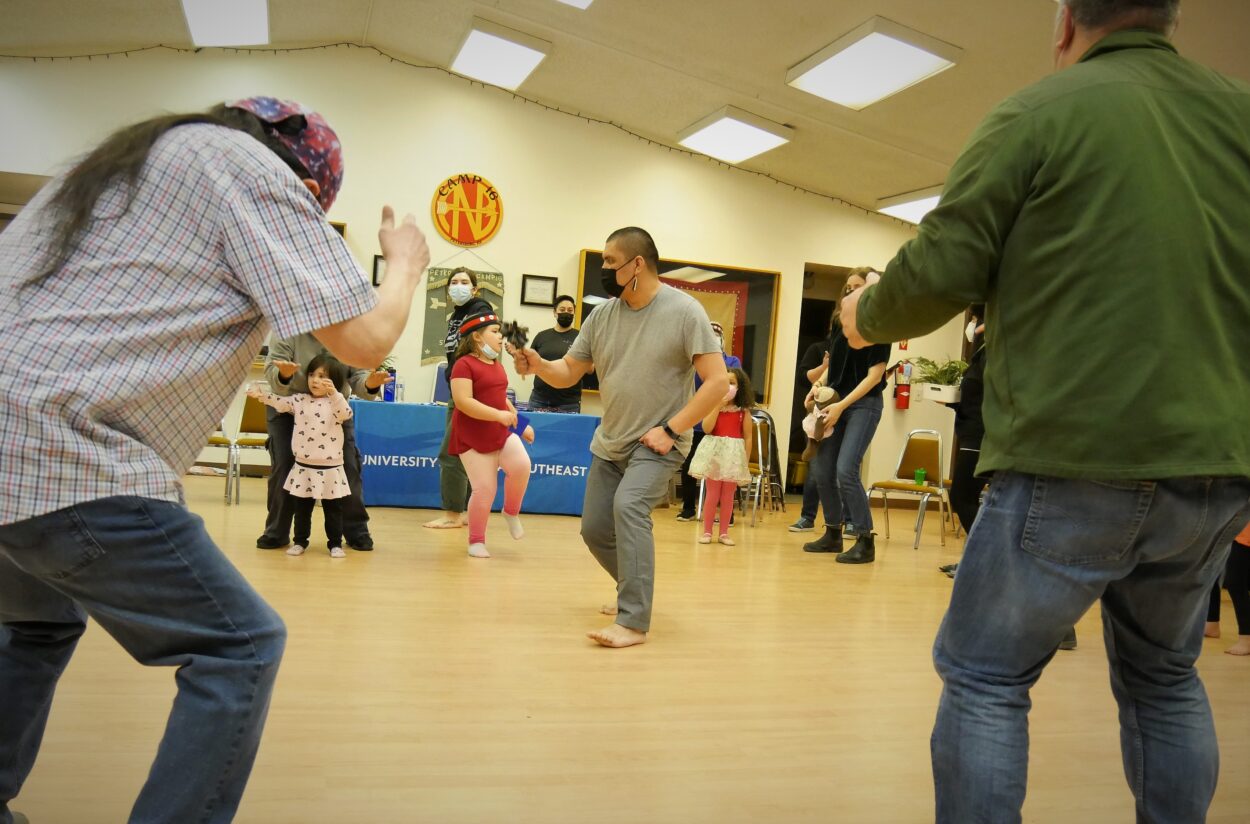 The first Séet Ká Festival wrapped up in Petersburg last week. Before local residents said goodbye to the visiting guests there was celebrating: drumming, dancing and giving thanks. KFSK's Angela Denning has more:
Drumming and dancing happened two nights in a row. It was led by the James family from Juneau: Xeetli.éesh Lyle, Daxkilatch / Sheeyik Kolene, and their daughter Kanik Corinne.
Earlier on day two, there was feasting. On the menu: moose heart, fish heads, seal meat, salmon eggs, and other goodies.
Kaasei Naomi Michalsen of Ketchikan shared her tea blends made from plants she gathered in Southeast Alaska.
Mary Gudgel's three granddaughters of Petersburg were presented with headbands in a ceremony with Sitka elder, Bob Sam. He told them he was presenting the headbands for his mother.
"This is not me doing this," Sam said. "Tonight, I'm doing this on behalf of my mother. This is [mother's Tlingit name] putting this on you. Gunalchéesh."
The young girls stood tall and still as he tied the black and red bands around their head.
"Now you are going to take us into the future," Sam said.
There was a naming ceremony for Petersburg Elder Mary Ann Rainey, who was referred to as "Auntie". The ceremony was led by Xeetli.éesh Lyle James.
"The name she is going to receive is Gooch.een tláák'w. It is the auntie that is by the side of a wolf," he said.
The crowd repeated the name four times: Gooch.een tláák'w, Gooch.een tláák'w. . .
"What you folks are seeing is [a Tlingit word] which means we saw auntie walking around and she's trying to remember but we're bringing her back home," Xeetli.éesh Lyle James said. "That's what this purpose is."
Lgeik'l Eesh Will Ware of Petersburg was part of Rainey's naming ceremony. He said, "It means a lot to us to have Mary Ann carrying a name that she won't forget as she now has one and as she walks around and she'll carry it proudly."
Rainey also received a headband made by Daxkilatch / Sheeyik Kolene James.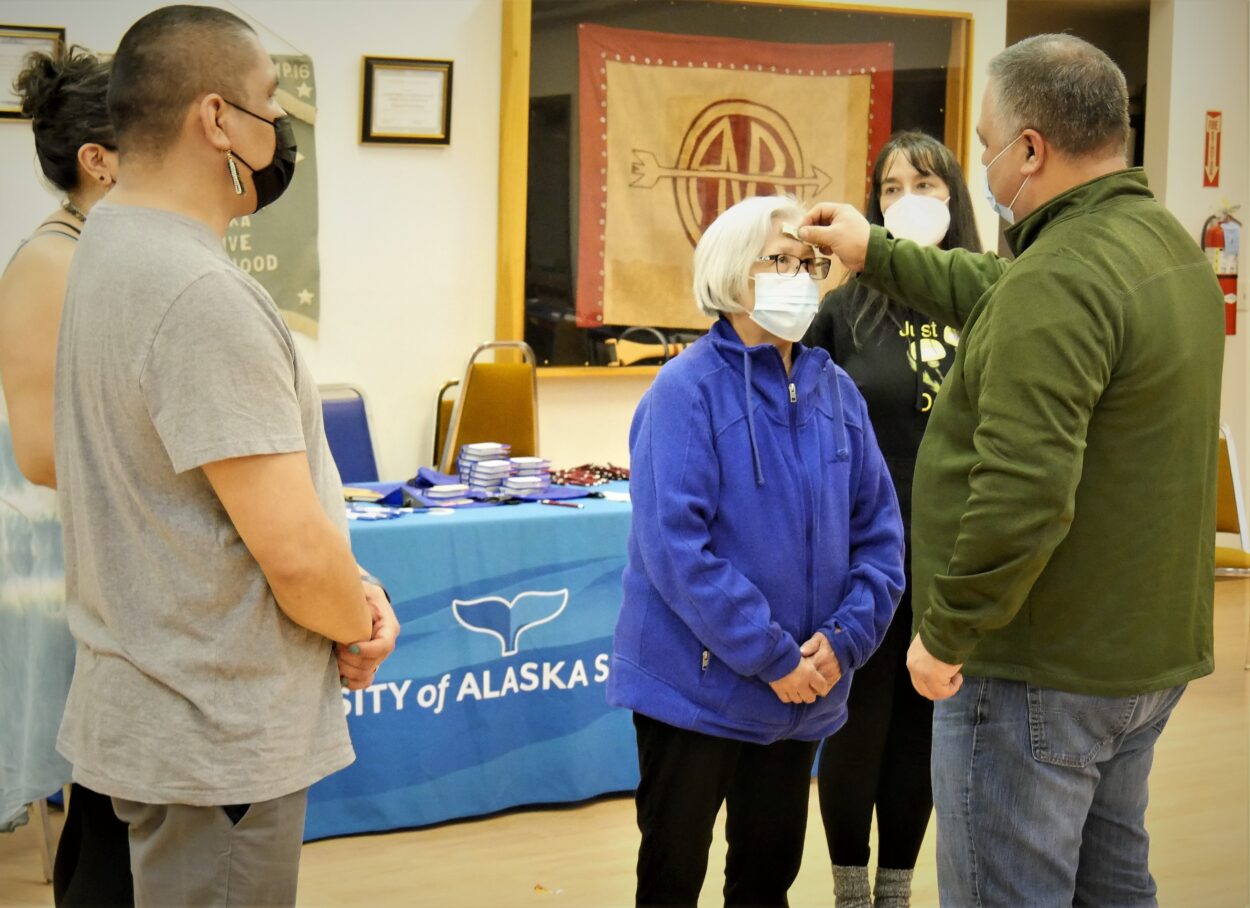 Gifts were also exchanged among the visiting guests for participating in the festival's workshops.
Avery Herrman-Sakamoto was recognized for helping coordinate the festival. Daxkilatch / Sheeyik Kolene James told her the instructors were proud of her.
"Just the courage that it took to pull this together," she said. "Also the grace and patience that you exercised as we were all catching up to your vision. We just want to say Gunalchéesh."
James presented Herrman-Sakamoto with a drum.
"We'll expect you to bring it to life tonight," she said, which garnered laughter from the crowd.
And that's what happened. Herrman-Sakamoto drummed along with the James family through several songs that night.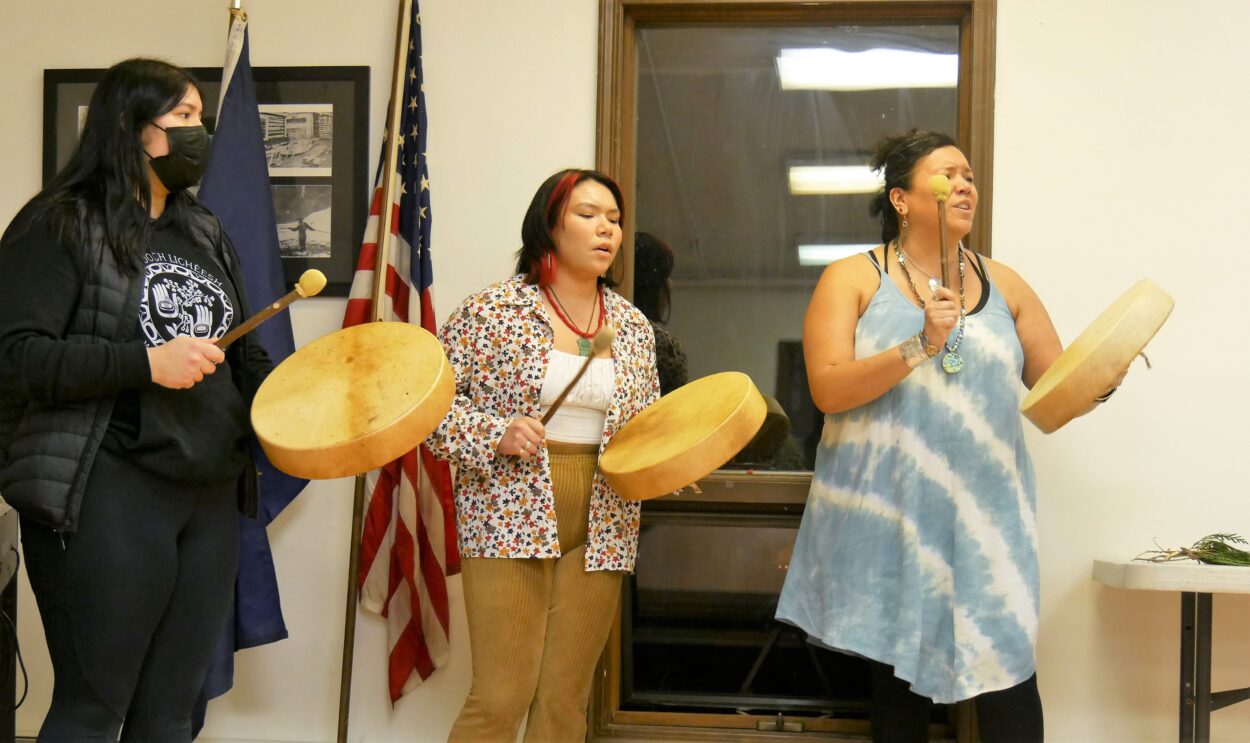 The first Séet Ká Festival was held in Petersburg Feb. 10-15. It was organized by PIAC, Petersburg Indigenous Awareness Committee. PIAC partnered with the Petersburg Indian Association, First Alaskans Institute, Goldbelt Heritage Foundation, and the Sealaska Heritage Institute. It was funded through grants from First Alaskans Institute and the Petersburg Community Foundation.