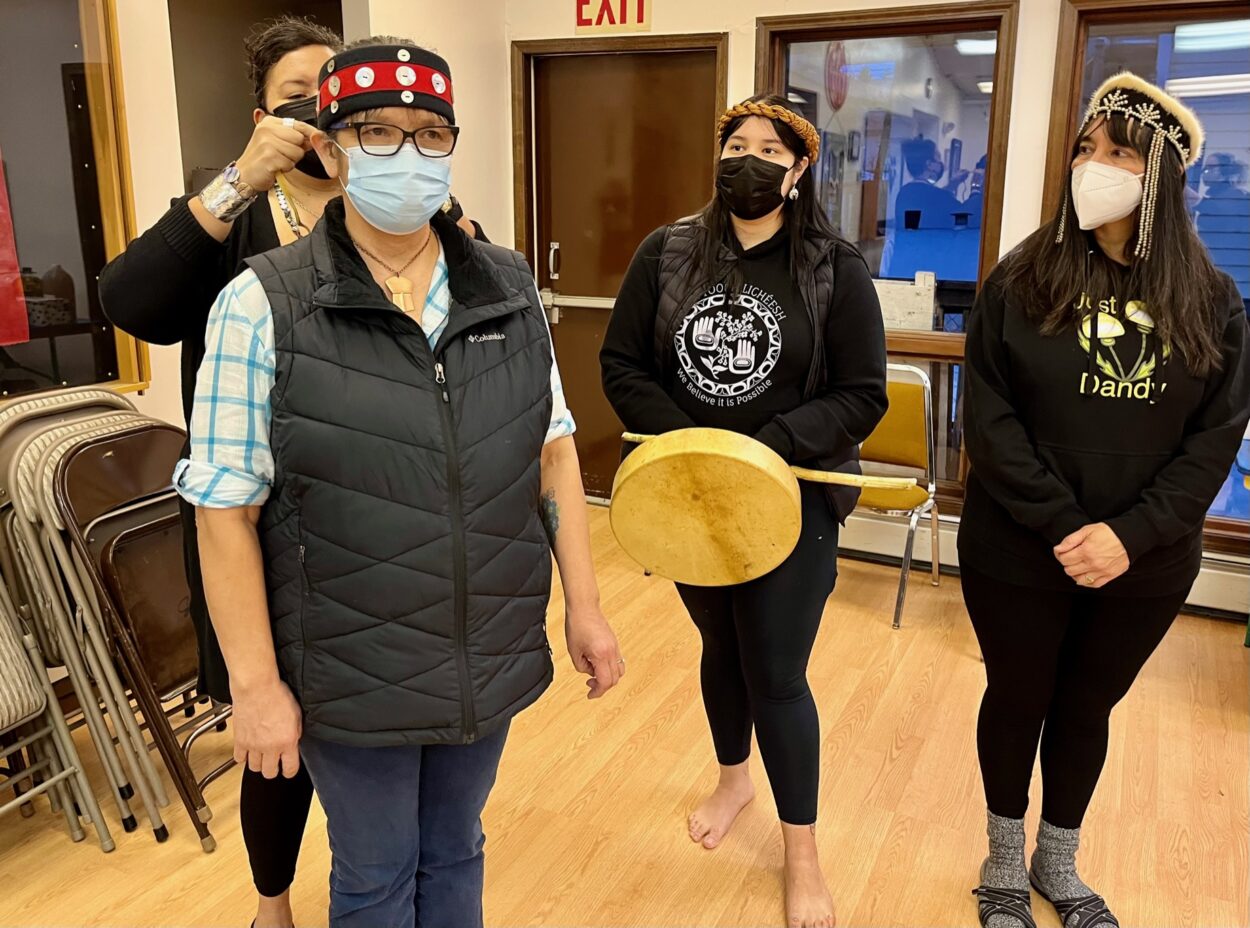 Regalia is an important part of the Tlingit culture. This was demonstrated at the Séet Ká Festival in Petersburg, where experienced sewers and newbies sat together creating headbands in a workshop.
Petersburg elder, Mary Ann Rainey stands at a long table in the John Hanson Sr. Community Hall. She holds up some regalia she made for Indigenous students who will be graduating from high school.
"I make these for the seniors," Rainey said. "Not as elaborate as this. I put diamonds on theirs. I do put the eagle head and the raven head on theirs. And they can embellish it themselves."
It's made of black and red wool felt with patterns that she created. It's long and thin, meant to drape around someone's neck and down the front. She sews by hand, not by machine.
"I call these shawls," Rainey said. "In place of a blanket because a button blanket, with 18 grandchildren, I'd never be able to do it."
Rainey also makes traditional crafts out of cedar bark that she harvests and processes. But she says she'd love to learn more about Tlingit regalia.
"There's so many things I want to learn that if you have no teacher here, you have to pick it up yourself or try to improvise," she said. "I watch a lot. Now there's videos you can see. But you know, you do what you can."
Not everyone here is as experienced as Rainey.
Kanik Corinne James is sitting nearby, bent over a headband she's sewing with a needle and thread.  She is from Juneau and she came to the Petersburg Festival with her parents, who are instructors in this regalia workshop. They're cultural educators at the University of Alaska Southeast but they are at the festival through Goldbelt Heritage Foundation, also based in Juneau.
James has sewn regalia before but she says this kind is new to her.
"This is actually my first time making a headband," Corinne said. "So, I'm kind of like a student in this workshop."
Corinne's mother, Daxkilatch Sheeyik Kolene James, is here too.
Kolene says her adopted name ties her to the Petersburg area and she is happy to be bringing the start of regalia making to the Séet Ká festival.
"For folks who are looking to get back into regalia making if maybe they took a long pause," Kolene James said. "And so we're just honored to be here."
The headbands are made of black and red wool adorned with buttons.
"Shádaa.at is a piece that is worn so that we can represent our clans or moieties," said Xeetli.éesh Lyle James, Kolene's husband.
He says the details matter in regalia. The buttons are abalone; a trade item that spanned hundreds of miles through Southeast Alaska, the Northwest Coast, and beyond.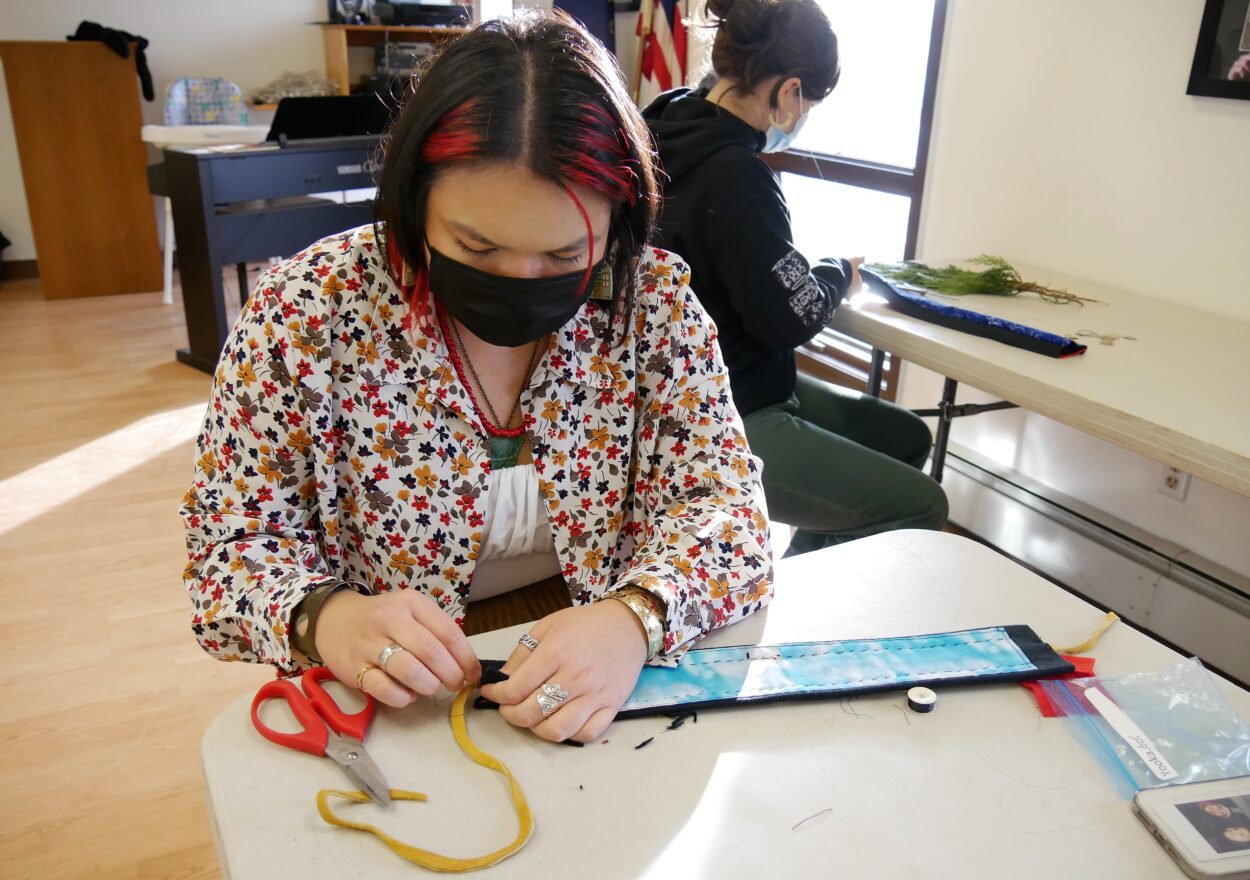 "The significance of the colors or even the placement of the buttons can quite often express what clan we come from or which community we come from," Lyle James said. "And that's important to us to express who we are and where we come from. And that was through our At.'oow. And At.'oow is a Clan owned item."
These regalia or clan items are brought out to uplift moiety opposites. So, Ravens supporting the Eagles and vice versa. It gets more complicated with clans and how people are related.
This regalia workshop is in its second day. When Corinne James finishes her headband, she presents it to Tina Sakamoto of Petersburg. It's an emotional moment for her.
"When I first started it, I knew it didn't belong to me," Corinne James said. "Your validation of my artwork meant a lot. So I wanted to thank you. Gunalchéesh."
Petersburg elder, Mary Ann Rainey, was also serenaded with a new headband from Kolene James.