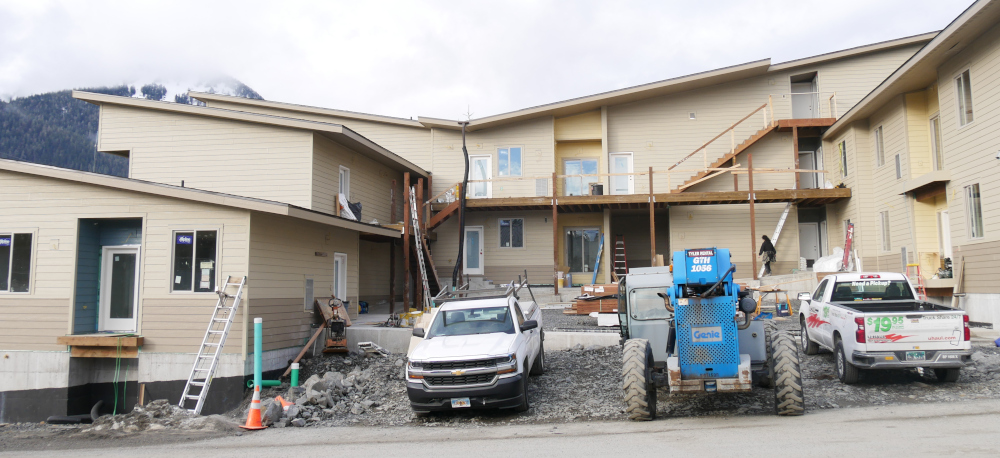 People could be moving into new affordable housing apartments in downtown Petersburg as soon as next month.
Construction crews are working to finish the 15-unit building next to the Petersburg Medical Center, called Vakker Sted, Norwegian for beautiful place. It's intended to offer more affordable housing especially for people who work in the downtown area.
It's taken us a while," said Swell LLC's Glenn Gellert, one of the developers of the project. "It was a complicated building but we certainly see the light at the end of the tunnel. We anticipate being done in the next couple weeks. We're starting the flooring right now. We've got the cabinets in most of the units. A lot of the finished carpentry is done. We've got all our appliances. So everything is coming together. And we hope to be able to rent out units starting April 1st. And we're in the process of taking applications."
Construction started in January of 2021 with a Palmer contractor called Burlywood building the project. It has 13 two-bedroom apartments and two one-bedroom units. Four are handicapped accessible and most require tenants to meet low-income standards. Gellert said the project has had multiple challenges, from heavy snow and cold that slowed construction this winter to a complex design.
"You know we typically do these townhouse style units that are fairly simple to build but this single building 15-unit project with a lot of roof slopes and complications related to framing, that slowed us down quite a bit," Gellert said.
Another challenge was bringing in other workers to do plumbing, electricity and other specialties. Gellert estimated around 30 people worked on the project. He said his company is on track to hit the project budget of 5.7 million dollars. It was financed by a combination of low-income housing tax credits, federal housing grants paid out by the Alaska Housing Finance Corporation and a low-interest loan from the Rasmuson foundation.
The company is already showing some of the apartments and is accepting applications. Gellert said the process can take a couple weeks.
"The application process for this project is not quite as easy as a regular rental property because of the income restrictions," he explained. "There is an income verification and employment verification process that does take a little bit of time. So we hope that perspective tenants will be a little bit patient with us. I think our rents our pretty competitive with market and we have some really nice units so I think it will be well worth it for people to be a little patient."
For more information on applying contact Larissa Lewis at 907-650-7701.