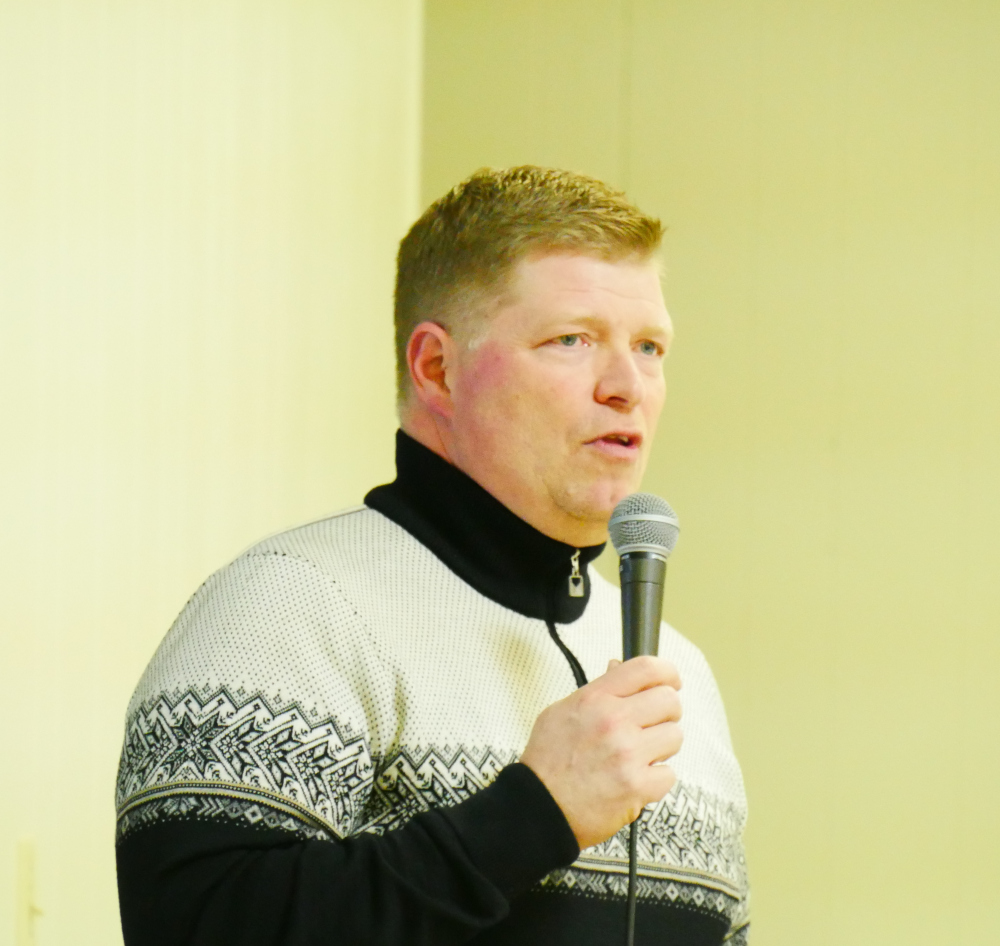 Alaska Airlines plans to use some larger planes on flights into Petersburg this summer. That was one announcement at the Petersburg Chamber of Commerce banquet Saturday. The chamber also recognized two local companies with long histories in Petersburg.
The airline will be using a 737-800 on the southbound milk run through Southeast Alaska, replacing the 737-700s currently in use. Scott Habberstad, the company's director of sales and community marketing in Alaska was the featured speaker at Saturday's banquet.
"Starting in the middle of June on flight 64 we're going to be running 737-800 down on 64, so there'll be more seats coming into Petersburg this summer, about another, from 112 to 156," Habberstad said. "So quite a few more seats that will be on the south bound. So that's exciting news and we'll plan to run that just in time for reunions over the Fourth of July and the seafood industry so that's something exciting coming this summer."
Habberstad said the change requires bringing in a piece of equipment new to Petersburg, a tug, used to pull planes into position for taxiing. Without that, the more powerful 737-800 would have too great an impact on neighboring companies that also use Petersburg's airport.
It's part of Alaska Airlines plan to expand service, a plan that was shelved when the pandemic hit leaving airports empty and planes parked. Habberstad said the company went from flying around 140,000 people a day to around 5,000 in spring of 2020. It was losing around five million dollars a day at that time.
The company and the industry are rebounding. Habberstad said Alaska Airlines was breaking even by January of 2021 and Alaska is going forward with the expansion plan.
"When I started with Alaska Airlines back in 2001, we didn't fly past Anchorage-Chicago," Habberstad said. "I mean nothing that we're doing today on the east coast was out there. It was really after 9/11 and our strong cash position that allowed us to grow and expand and you're going to see us do that now. What we've done, in this hiatus we've grown our network, so today we fly to over 115 destinations across the United States. I'm excited to say that out of Alaska we will have more capacity than we've ever had in our history this summer."
The company will offer 11 non-stop destinations out of Anchorage this year.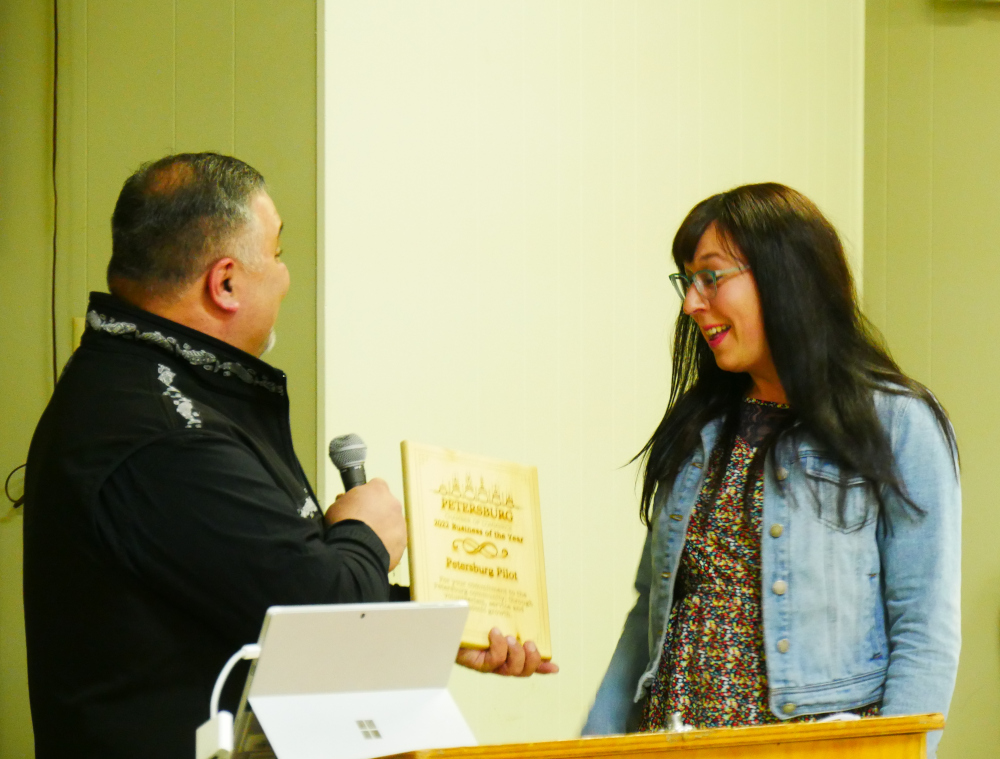 Saturday's chamber banquet was also a chance to honor a business of the year, with this year's winner, the Petersburg Pilot. After more than 45 years in business, owners Ron and Anne Loesch sold the newspaper and office supplies company in 2021 to employee Orin Pierson.
Chamber board vice president Will Ware made the announcement.
"With long hours, dedication, investment in Petersburg, they have kept their business growing," Ware said. "The Pilot has added equipment and updates to the printing plant to keep production local, and even more important, jobs local. And the Pilot's office supply store and copy shop, continues meeting the needs of local businesses and retail customers. Year after year the Petersburg Pilot cranks out award winning dependable journalism, helping keep the community well connected and certainly well informed."
Ron and Anne Loesch were traveling but recorded an acceptance video.
With no chamber banquet in 2021, this year was also a chance to recognize last year's winner. The chamber presented a plaque to grocery, hardware and convenience store company, Hammer and Wikan, along with a plaque recognizing 100 years in business. Board vice president Bruce Westre accepted on behalf of the company.
"You know there's very few businesses that are still in operation after 100 years. In fact there's very few family owned businesses that are still in business after 100 years. Last summer we hit that hundred year mile stone. And I think a lot of it really is attributed to the community we live in, the people that are here, the people that have supported us."
Hammer and Wikan celebrated a century in business with community events throughout 2021.
All three companies in this story are financial supporters of KFSK in Petersburg.