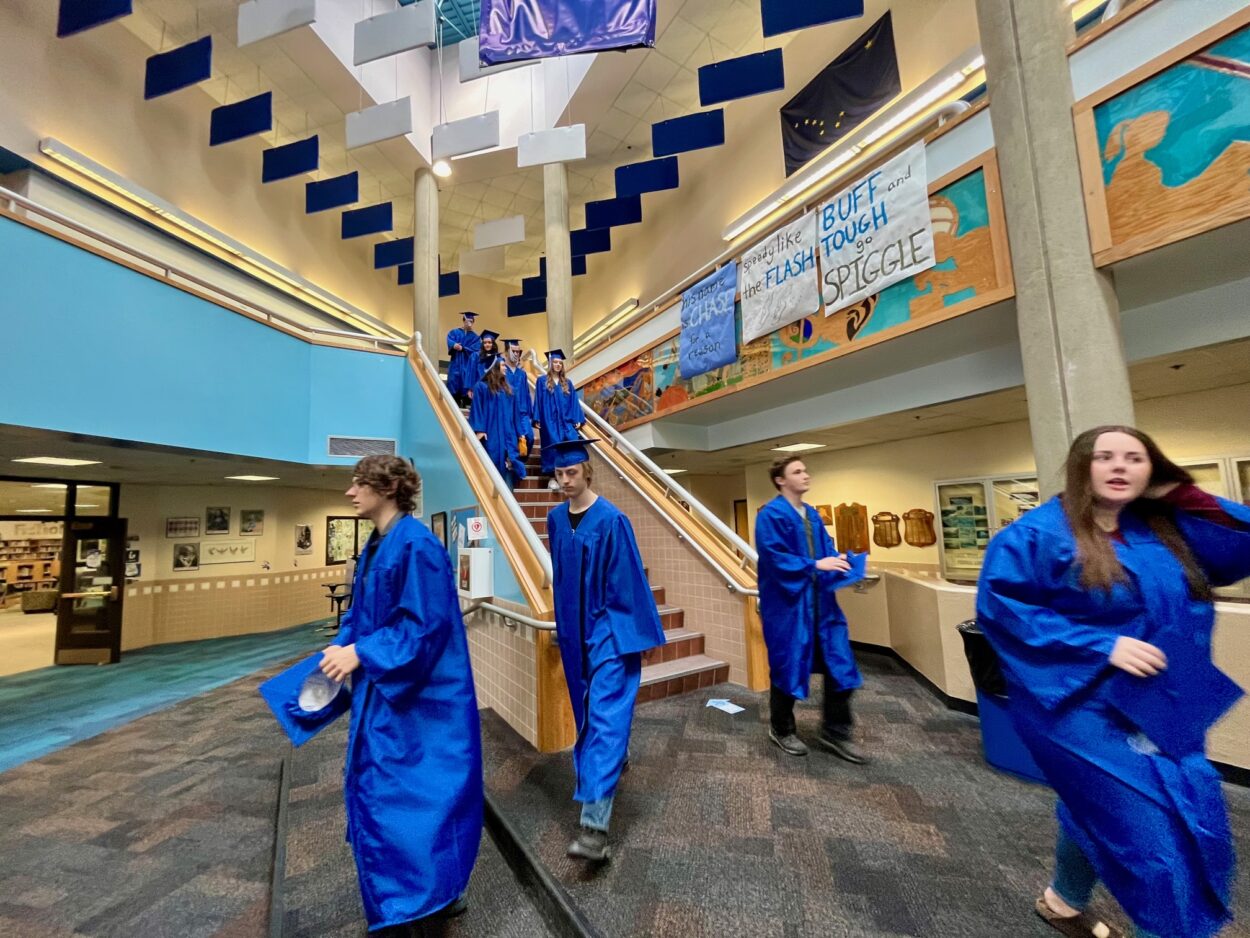 32 seniors are graduating from Petersburg High School Tuesday night but they've been celebrating with school events all week. KFSK's Angela Denning caught up with a few of them to hear about their memories and future plans:
Dressed in royal blue caps and gowns, the senior class walks through the halls of the elementary and middle schools. Many of them grew up here and spent their entire education on this campus.
In between buildings, they're greeted by 7th and 8th graders who line the sidewalk. The last week of school has been a busy one but a few seniors took a moment to share their thoughts.
Carissa Biggers is one of many seniors who spent her entire education in the Petersburg school system.
"My fondest memories from that is just all the friendships that I've made and the connections that I've made through my teachers," Biggers said. "I feel like I'm leaving Petersburg with the most knowledge that I could have."
Biggers won't be staying in town after graduation. She plans to go to college at the University of Hawaii Hilo to study exercise science. She's looking forward to the change.
"Leaving Petersburg and experiencing, just new experiences because I've been here my whole life," she said. "Just looking for something new."
Biggers says she wants to better her education. She decided on Hawaii because it's very different from her hometown and she'll be surrounded by new people.
"I chose Hawaii because…well, it's warm (laughs) and I kind of wanted to go somewhere where no one else in Petersburg or anyone from Petersburg High School was going because I wanted to just branch off and go by myself," said Biggers.
Senior Sean Spiegelmyre will also be moving some place hot but not until next January. He's enrolling in the Air Force and will leave for basic training in Texas. He says he chose the military to follow in his family's footsteps.
"You know, my dad's military and I have a lot of family who is military and it's shaped their lives a lot and it's helped them become who they are today," he said. "So, I figured the same would probably end up happening to me and it's a great way to start your life."
Spiegelmyre isn't sure if he'll stay in the military forever. He might give it a decade and then follow another dream of his.
"I love diving as well as scuba diving so I would love to start my own dive shop somewhere and do charters and tours and certify people because I'm almost a master diver," Spiegelmyre said. "So, I would love to do that but I can definitely see myself doing military for at least probably 10 years."
Spiegelmyre wasn't born in Petersburg but moved here from Michigan when he was 10. He says the move gave him a unique perspective on how special the town is.
"It's the quality of people, it's completely different," Spiegelmyre said. "Everyone in Michigan, it's not as personable I guess, compared to here, a smaller community, a smaller town, smaller class, everything is just smaller. I really liked having that feeling like I'm part of a community."
Before leaving for military training in January he plans to fish out of Petersburg, travel, and spend time with family. He knows that he'll miss hunting and fishing in the future. And something else:
"The smell of the sea, especially," he said. "I love the smell of the sea. Especially getting off the plane when I've been somewhere and you step off and it like hits you, especially on a nice, warm day. So, I'll probably miss that."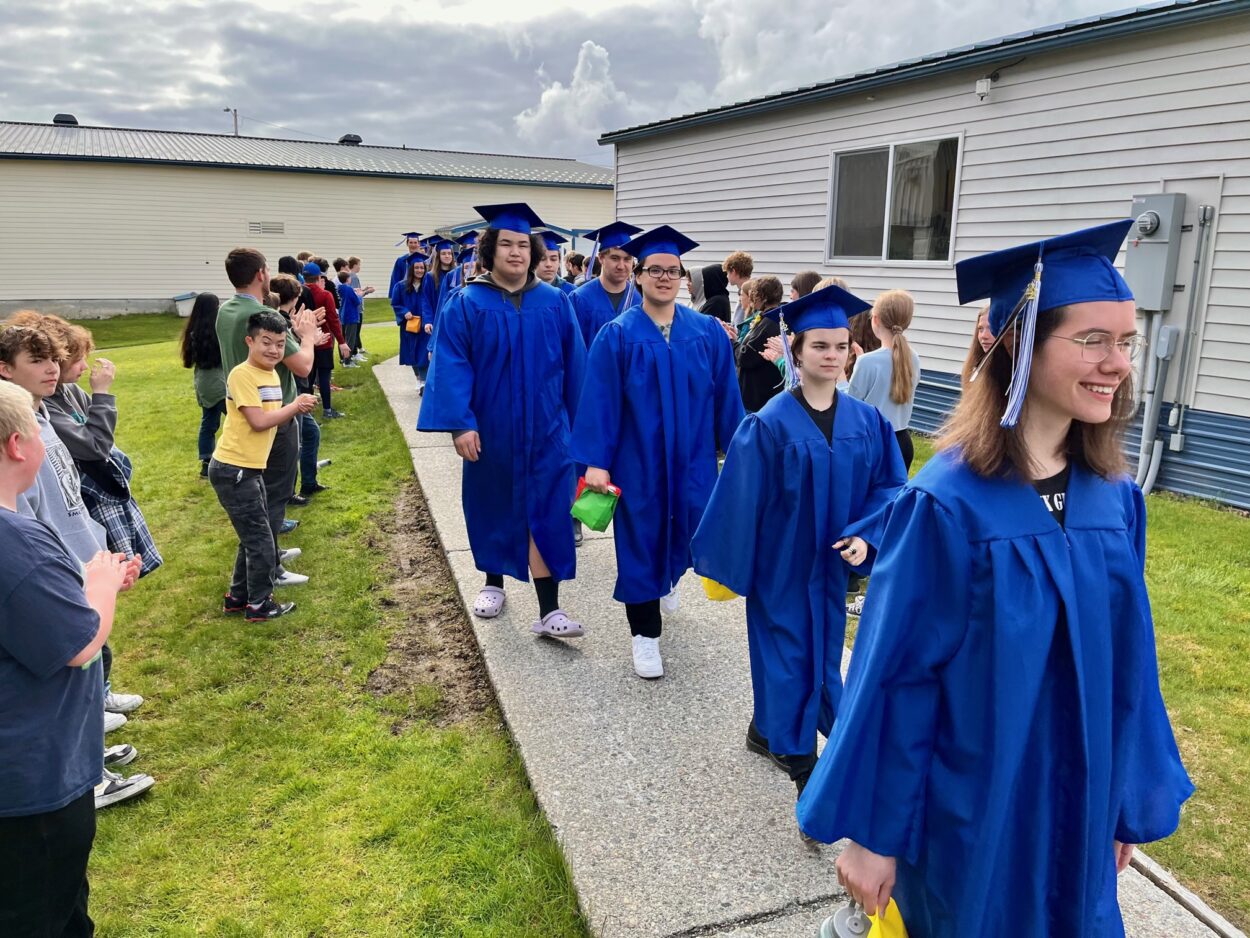 Senior Maddy Gilpin also loves the sea. She's grown up hunting and fishing near Petersburg with her family.
She'll have a bit of time for that after graduation before heading up to Seward for school at AVTEC, the Alaska Vocational Technical Center. She plans to study diesel mechanics starting in January.
"40 percent of the time is spent in a classroom and 60 percent of the time is spent in the shop so you get a lot of hands on knowledge," Gilpin said. "And they'll teach you all the math that you need to know and then also kind of like basic life skills. They want to make sure that you are going to be as successful as possible when you get out of that program and they really like to help you find a job before you even get out."
Gilpin earned her welding certificate a few weeks ago through the high school's shop program. She says there have been other unique classes over the years that will stick with her.
"In middle school we took Southeast survival," said Gilpin. "I think that was really important to just kind of teach kids how to be in the real world, maybe not like a city or something but out in the woods and make sure you're prioritizing, making sure you're aware of your surroundings."
After diesel mechanics schooling she says she'd like to stay local if possible.
"I'd really like to come back here," Gilpin said, "and maybe work on the boats here or with Rock and Road construction, somewhere with the diesel engines. Or somewhere in Southeast, I definitely want to stay in Alaska."
Gilpin says the adults involved in Petersburg's school system and the community as a whole have been very supportive.And that's why she feels prepared to seek her own future. One thing she's looking forward to is, "freedom".
"Definitely the freedom," Gilpin said. "Just being able to [say] 'Okay, it's your life now, you get to figure everything out'."
Petersburg's 32 seniors will be graduating Tuesday at 7 p.m. in the high school gym. It is open to the public.
People can also watch the ceremony here.