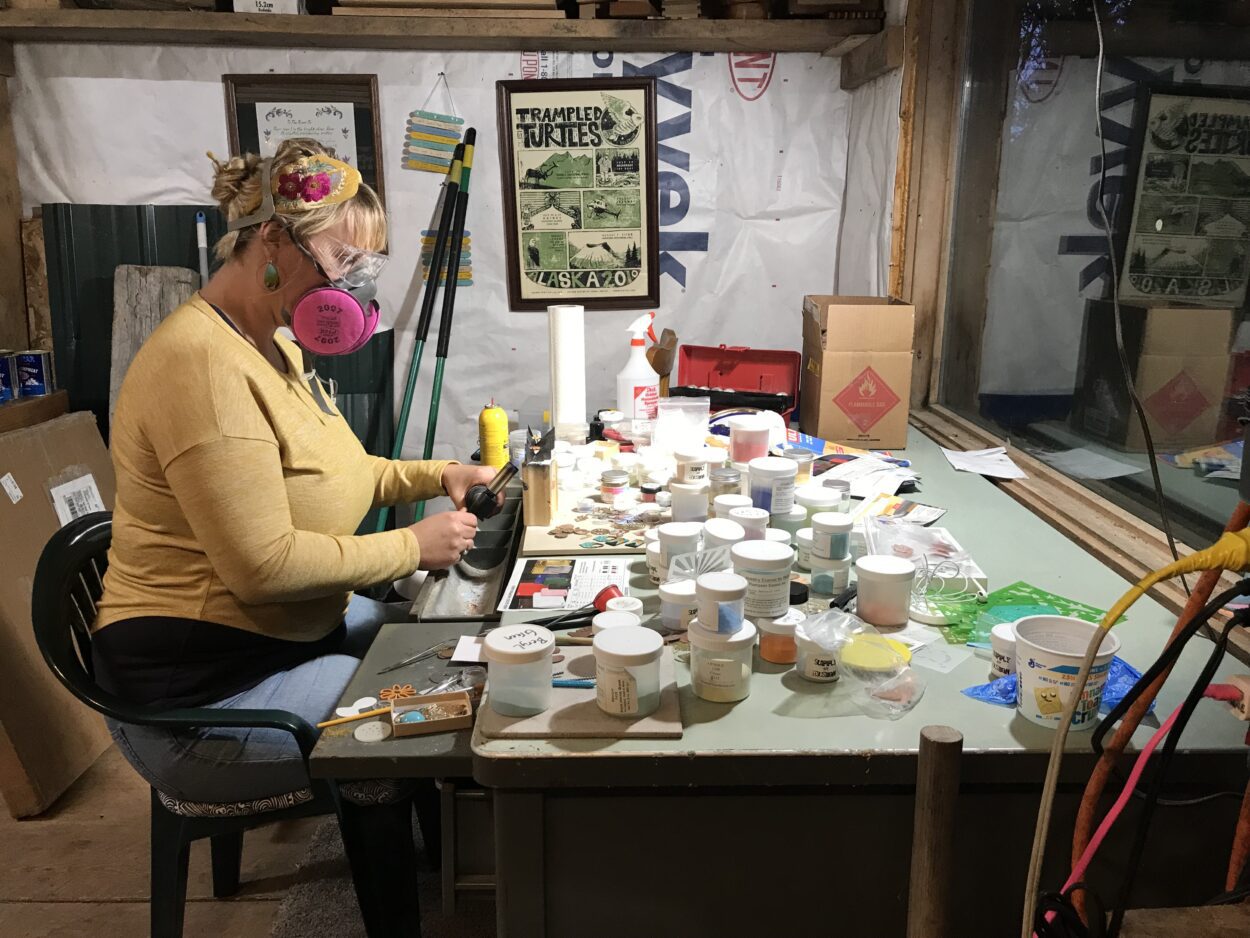 Multimedia artist Ashley Lohr has a solo show up this month at Petersburg's Clausen Memorial Museum. It's Lohr's 13th solo show in town. This one showcases her paintings—both acrylic and digital. But it also features her jewelry—displayed as their own works of art. KFSK's Rachel Cassandra visited Lohr in her studio while she created some of her enameled earrings.
Ashley Lohr is an artist, an art teacher, and a mother. And her enamel earrings are so popular that she sells them online. So, she carves out solo creative time whenever she can. "I wake up at five," she says. "I walk the dog and then, I come down in my cold shop, and I turn my heater on and I start working."
Lohr's shop is attached to her house. She and her husband share the studio. His half has woodworking tools. Her side has an antique metal desk. It's piled with stencils and plastic jars with powders of all colors. She shows me the copper plates that act as a base for her enamel earrings. They're all in little baggies.
"I have over 40 different shapes I can pick from," she says. "And we'll start with these long ovals."
First, she always uses what she calls a counter-enamel on the back of the earring. "You want to put a layer on the back so you can protect your design on the front and make your work stronger."
Once she applies and heats that, she drops it into a jewelry acid solution. That cleans any carbon off the front of the plate. Then, she can apply the colored enamel powders that will make up the design of the earrings.
"So, I'll find, here's an egg yellow, and that is a transparent so I'll use that one. And then, what goes really well with that is a green, so let's go with the aquamarine here… I'm sifting on the aquamarine right now. I'm using my small sifter." It looks like a dollhouse pastry sifter.
Lohr carefully places the earrings on metal trivets atop kiln bricks. She takes out her butane torch and lets the flames lick the bottom of the copper plate. "It goes through three phases. It goes through a sugar phase where the surface looks like granular sugar and then it goes to orange peel. And then it goes to smooth… it kind of reminds me of melting snow." The whole piece of metal glows orange.
As the enamel cools, it turns into its final resting colors. This pair looks almost like a rusty brown fading into an aqua color at the top. In the middle, the two enamels mix into a golden band.
"I am into the abstract, mostly focusing on elements of color and shape," Lohr says. "If you create a team of colors… each color has a specific role and they bounce off each other in some kind of a way within an abstract composition."
After Lohr has her base of colors, she usually adds more complexity with another layer. "I could stop but then I want to challenge myself to figure out how I can squeeze one more color on there, more shape on there, to the point where it's almost chaotic but it's not because it works together."
Lohr uses all kinds of found objects as stencils to add shapes to her jewelry. "I've got some keys," she says. "There's the washers, I've plenty of washers… It's funny because I have two young kids… and they see me picking things up… when they find a flat washer while we're out walking they pick it up and they say 'Mommy, I got this for you.' … They know what I'm looking for."
I pick out a piece of metal with a chunky zig-zag on the bottom edge for Lohr to use. "So in my head, I'm thinking," Lohr says, "what colors do I want to use that's not going to be too obnoxious, that'll kind of like offset it? I like clover pink a lot. Let's go with clover pink."
Lohr takes the stencil and lays it on top of the earring over the enamel base. "It almost looks like the silhouette of dinosaur teeth," she says, "or spikes from like devil's club or something. So I'm gonna lay that on there, I have to hold it really still."
After the enamel is heated, Lohr uses tweezers to move the hot earrings onto her ceramic tile to cool. There's now dusty pink toothy shape overlaid on the rust, yellow, and aqua background. It's just like what Lohr talked about—a team of bold colors teetering on the brink of chaos.
Ashley Lohr's solo show, called 'Chromatic Currents' will be up in the Clausen Museum in Petersburg through this Friday. Her work is online at The Rosie Finn.