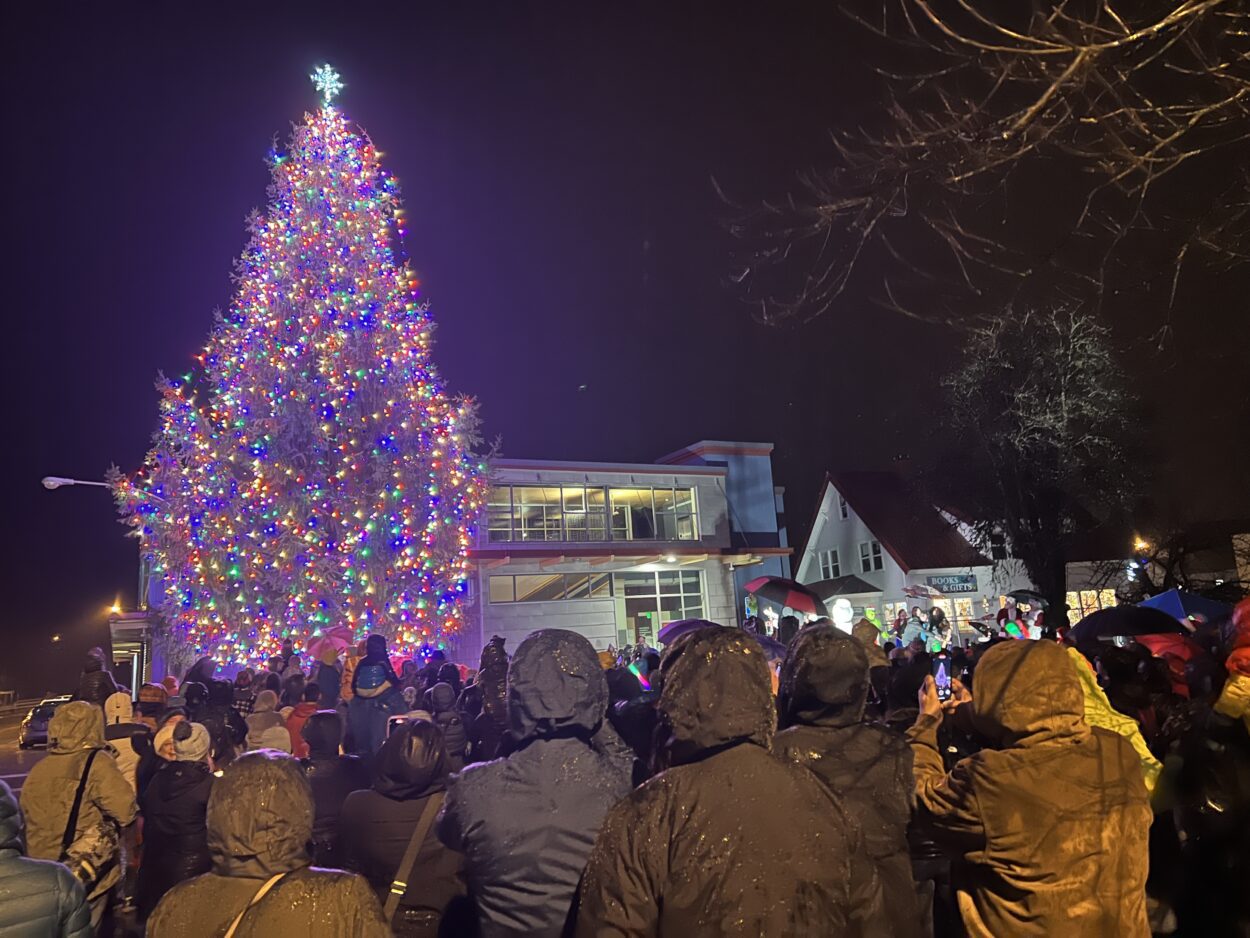 Petersburg got into the Christmas spirit with their annual Christmas tree lighting last Friday.It was pouring rain on the day after Thanksgiving. But Petersburg residents gathered together anyway to celebrate the start of the Christmas season.
In the parade, residents held candles and glow sticks. They walked down Main Street to the 70-foot tree in front of the Municipal building.
This year, the guests of honor were Wamen and Laney Yip, who are retiring from running their restaurant Joan Mei at the end of this year. The Yips along with Power and Light, turned on the Christmas lights.
Several teams come together to produce the event. Mindy Lopez says the Chamber of Commerce owns the lights. She's the administrator there.
"So public works, actually goes, finds the tree, chops it down, and puts it where in its place," said Lopez. "And then we have power and light. And also Matt Bryner, who comes and decorates the tree. So it is definitely many hands on deck to make an event like this possible. And for that tree to go up."
Karl Hagerman is the Utility Director at Power and Light.
"And then the line crew here at Power and Light works with Matt Bryner," said Hagerman, "a private citizen, to decorate all the tree, get the star up on top and put the lights on hopefully in a pleasing manner, you know, so that we can all enjoy it for the holiday season."
The Chamber also organizes for costumed characters to be part of the parade. This year that included The Grinch, Mr. and Mrs. Claus, and Elsa from Disney's Frozen films. Here's Lopez describing how the event feels once everything comes together.
"The Christmas tree lighting is absolutely amazing. It just helps bring some joy into the town during dark wintry seasons that we have," said Lopez.
"And we do a huge production out of it. I always kind of say it's like a Hallmark movie," said Lopez. "What we do here, it just has that sense and that feel of just family and laughter and joy that just brings that sense of joy out of people."
Power and Light says the tree will light up Main Street through mid-January. And the string lights draped along the street will likely stay up through the end of January.