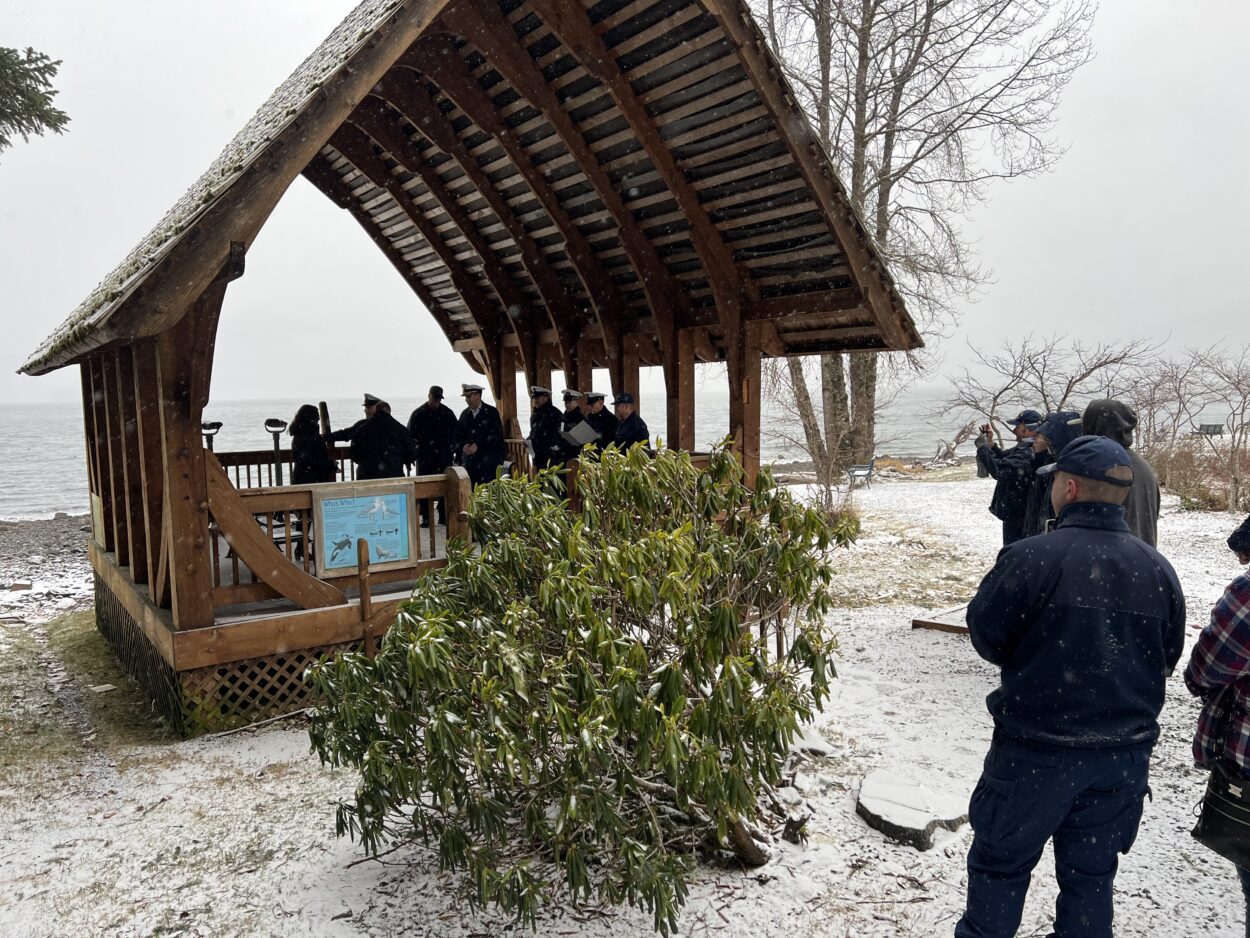 The U.S. Coast Guard held an advancement ceremony in Petersburg for Gerrit P. Kravitz on the morning of December 1st. He was promoted to Master Chief Petty Officer, the highest enlisted grade in the Coast Guard. 
The ceremony took place at Petersburg's Whale Observatory along the beach and was led by Captain Darwin Jensen. He's the commanding officer of Sector Juneau.
"Attention to advancement. To all who shall see these presents greeting," said Jensen. "Know Ye that reposing special trust and confidence and fidelity and abilities of this Senior Chief Petty Officer, I do hereby appoint Gerrit P Kravitz, a Master Chief bosun's mate in the United States Coast Guard. To rank as such from the first day of December 2022."
Only about 1% of all enlisted members of the Coast Guard advance to the grade of Master Chief, making it a rare occasion.
New Master Chief Kravitz gave a speech at the end of the ceremony thanking everyone in attendance.
"Thank you. Thank you. Thank you. Thank you. Today is an incredible day but it's not because I'm getting advanced," said Kravitz. "Today is an incredible day, because all of you are here at all or you are together right now."
Kravitz mentioned how important family was to him later in his speech.
"Our families have the hardest part in everything we do. Steve told me that, they have the hardest part," said Kravitz. "When they transfer, they have to start over every single time. When we transfer, we have a family right here, together. We always have a Coast Guard family. And that's important to me. So thank you."
Like with other branches of the armed services, members of the Coast Guard and their families move around as they are stationed in different locations throughout the country, usually every two to three years.