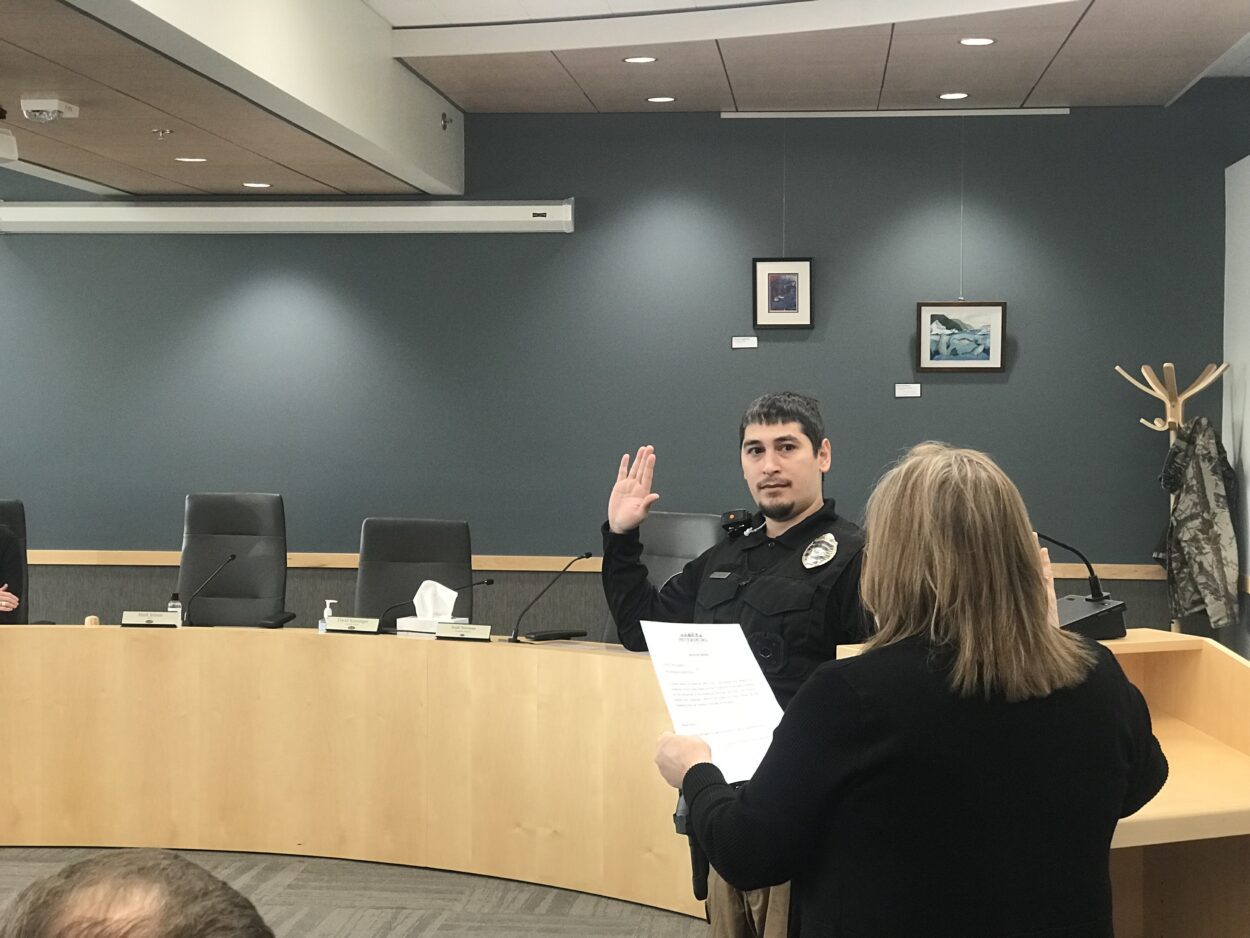 Petersburg's Borough Assembly swore in a new police officer last Monday (Dec. 5). Robert Aikins Jr.—who goes by Bobby—is changing careers, from the medical field to law enforcement. KFSK talked with him about his background, thoughts on Petersburg, and hopes for the job. 
Bobby Aikins: Hi, I'm Bobby Aikens, I'm the newest addition to the police force. I mainly grew up in Southwest Alaska. So, we essentially moved across state from Southwest to Southeast.
Rachel Cassandra: Where in Southwest?
BA: Bristol Bay. So, Dillingham is the main hub.
RC: Can you tell us a little about your background there?
BA: Yeah. So, this is my first interaction with police officers. I've worked with them, in tandem with them. My main background is in the medical field. So, I've been doing that since about the age of 14—everything from pre-hospital care to being the health care provider for villages over there. And then, running fire and EMS in Dillingham as administrative staff at the fire hall.
RC: So, you said you've been working in the medical field since you were 14? What was that job?
BA: It actually started with one of my family members getting injured with a concussion. And at the age of 14, my dad decided that my brother and I needed to be medically inclined. So, he had us go through the emergency trauma technician course, at the age of 14. We started running with the Volunteer Ambulance in our in our community there. Just to get the feel for it. We got special accommodations from the governor at the age of 15 for the call volume that we were responding to, and then just the grasp of the field. And that want to help and be involved in community stuck. And I just continued it into adulthood.
RC: And what made you decide that you wanted to become a police officer?
BA: So here, I've noticed that there's the officers that work great in tandem with that community. They're very involved in the community. And seeing that passion spurred me as an available option to look at as a potential career.
RC: Okay, so meaning like, in other places, there's a little bit more friction between the police force and the community?
BA: Not so much friction, just less community involvement. And seeing that involvement here definitely brought to light the level of interaction that the police have with the community and made it a more desirable option—seeing that camaraderie between the community and the police.
RC: How long have you been in Petersburg? When did you get here?
BA: We moved here in October of 2019. I started at the hospital. And then essentially, as soon as I started, that's when COVID hit and everyone essentially locked down. So, the exposure to the community has been somewhat dumbed down. We haven't been able to go out as much and spend a whole lot of time with individuals as much as we'd like to, just keeping condensed in our bubble and hanging out with family.
RC: So, you have some family here?
BA: Yes, my brother, his wife, and their daughter. They were here before us. And they were the driving force behind us moving to Petersburg.
RC: Oh, wonderful. Who did you come here with?
BA: I came here with my wife and my daughter.
RC: You've been here a while. But what do you think of Petersburg and kind of how it compares with Dillingham?
BA: So, the economy here is definitely a lot better. The access to services and goods. Having two barges a week has been great. Things are a lot cheaper. And then, the people here just seem to be a lot more hospitable. You know, very, very nice, very genuine people here. And, you know, very welcoming, we've really enjoyed it. And again, that's another reason behind looking at this as a potential career, being able to work amiably with the citizens of Petersburg.
RC: Can you tell me what's coming up next for your job training here?
BA: I'll be starting training with my sergeant here into regular shifts, and just shadowing, getting a feel for the job. And then hopefully next year, we'll be looking at going to Academy which is a 17-week ordeal.
RC: Is there anything else that you want to share?
BA: It's an amazing opportunity, really excited that everyone here has been more than hospitable and more than welcoming. And, you know, there's a lot to take in for sure. But everyone's done a great job of making me feel welcome. And I'm really looking forward to being a part of the police here.
RC: Okay, great. Well, thank you for taking the time to talk.
BA: Yeah, not a problem.