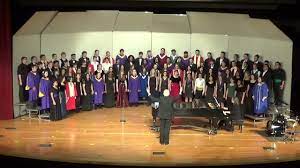 Two students from Petersburg High School performed at the all-state music festival in Anchorage last month. Students were there from all over the state.
Chelsea Corrao is the music teacher for the Petersburg School District. When students try out for honor music programs—which are part of the curriculum in Petersburg—she said teachers are already thinking about who could compete statewide.
"So, at the same time, as we're doing auditions for Honor Band and honor choir, we are preparing auditions for all- state," said Corrao
"And so we submit those about the same time. And it's a little more intense of an audition process, the audition is harder itself. And then also, the people judging it are usually a lot harsher."
The students who went to all-state this year were senior Meghan O'Soup and sophomore Eleanor Kandoll. Kandoll competed in the clarinet section of the band and O'Soup in the tenor one section of the choir.
"it was pretty exciting to get Meghan in. She's our only senior in the program," said Corrao.
"So any kind of exposure she can get to awesome music is lovely, since she's kind of been dragged through the mud the last couple years with COVID and choir."
At the festival, students rehearse for two days, have one dress rehearsal, and then perform in the concert. Since the event features students from schools across the state, it's an honor just to perform.
"Meghan, was a rock star, as she always is in her choirs," said Corrao.
"She got called out by the conductor at the dress rehearsal, because she was just living her best life. As he said, he's like, she's living your best, her best life. And all of you around her are doing nothing. And so you look weird compared to her. And so she was able to kind of be a leader in the tenor section, which is kind of cool."
Kandoll was the only student in the band to be from a school as small as Petersburg. She also successfully auditioned for the All-Northwest Music Festival.
That Festival will feature students from Alaska, Washington, Oregon, Idaho, Montana, and Wyoming. It will be in Bellevue, Washington in February.
Corrao said going to the Northwest festival would be a priceless experience.
"You don't get to play at that caliber very much in high school, even from where I'm from," said Corrao.
"In Virginia, even when I went to all county and all district and all state and things like that. It's just you know, you're surrounded by people that love what they're doing."
Each of these festivals is unique. That's a lesson Corrao tries to share with students.
"The other thing I tried to really teach my students or get through to my students is, even here, this year's band will never be this band again," said Corrao.
"This is the only time it will ever exist in the history of the world. And that's pretty cool. And it's the same thing, as far as all of these little bands going to All State, going to the Honor Band, going to all Northwest—that band will never exist again in the history of the world. And that's just something that we should treasure, and we should focus on and not just glance over."
No two performances can be the same.
This year, Kandoll will be in Bellevue at the All-Northwest Music Festival. Whether or not she wins an award, the experience will be priceless.
All of the music performed at the festival can be found here.