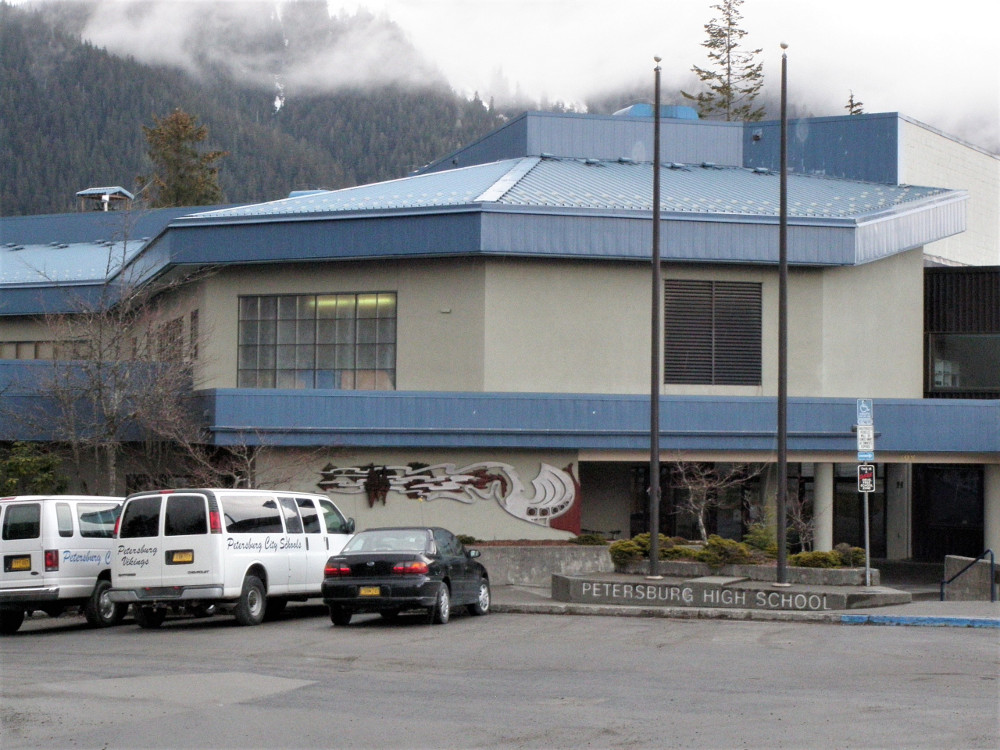 The Petersburg School Board will have its regular meeting at 6PM today in the middle and high school library. Petersburg's sixth grade Robotics Team competed on December 3rd. They received a "Team Innovation" award and took third place in the competition. Tonight, they'll present their project to the board.
The school hired a paraprofessional, a maintenance tech, and assigned a varsity cheer coach this past month.
Superintendent Erica Kludt-Painter will share her report. The school is opening a mid-year comment period. They're asking for feedback from students, parents, and the Petersburg community. Administrators hope people will discuss concerns in person before submitting feedback on the website. Starting in December, that feedback link will be available on the school district website. The feedback period runs until April.
Kludt-Painter will discuss emerging concerns about school attendance in the wake of COVID disruptions. And she's requesting that the COVID policy for the school be adjusted. This would be in line with current CDC recommendations. The policy would be changed to say that if a student visits the medical center, they may return by the date the medical center suggests. Otherwise, they must wait five days, which is the current policy.
The school will implement new reading requirements based on Governor Dunleavy's Alaska READS act. It's aimed at raising literacy levels in Alaska schools. The READS act includes new requirements for schools, so Petersburg will make adjustments to curriculum and student testing.
The board will present the school's new Cyber Security and Data Protection policy and updates to the Tobacco-Free Schools policy.
The school has plans for a district-wide evacuation drill rehearsing active shooter situations in January. Students completed training for active shooter situations in November. Kludt-Painter will also give an update on the school roof project.
Elementary School Principal Heather Conn plans to discuss her concerns about meeting the requirements of Alaska's READS act. She and Kludt-Painter will be hosting forums in January to help figure out how to work with families to meet all the requirements.
The middle and high schools are currently addressing equity questions, making sure students have equal opportunities to take advantage of educational opportunities. Middle and High School Principal, Ambler Moss says the school has identified some students who are not thriving to their full academic potential because of outside life circumstances. They're working on helping those families and students.
Moss will also share his concerns about extended school absences over the holidays. Class absences often hurt academic performance for kids. Moss is also anticipating the work that will go into renewing COGNIA accreditation, which happens about every five years. COGNIA is a nonprofit that accredits schools in the US.
Badminton may shift from a club to an official sport because it's now state-sanctioned. And Volleyball Coach Bev Siercks will be named Alaska's NFHS Coach of the year.
The list of teachers offered contracts next year will be presented—for both tenured and non-tenured faculty. And art teacher Ashley Lohr is requesting a leave of absence for the upcoming school year.
The Board will discuss the final list of who will be on the strategic planning committee. The committee will meet in January and will be about 18-20 people. The district holds sessions like this typically every five years. The committee is focused on high-level goals like making sure all students feel safe and valued and all graduates leave school prepared for their futures.
Petersburg's School Board will meet this evening at 6pm in the middle- and high-school library. KFSK will broadcast that live and will post the recording on our website.