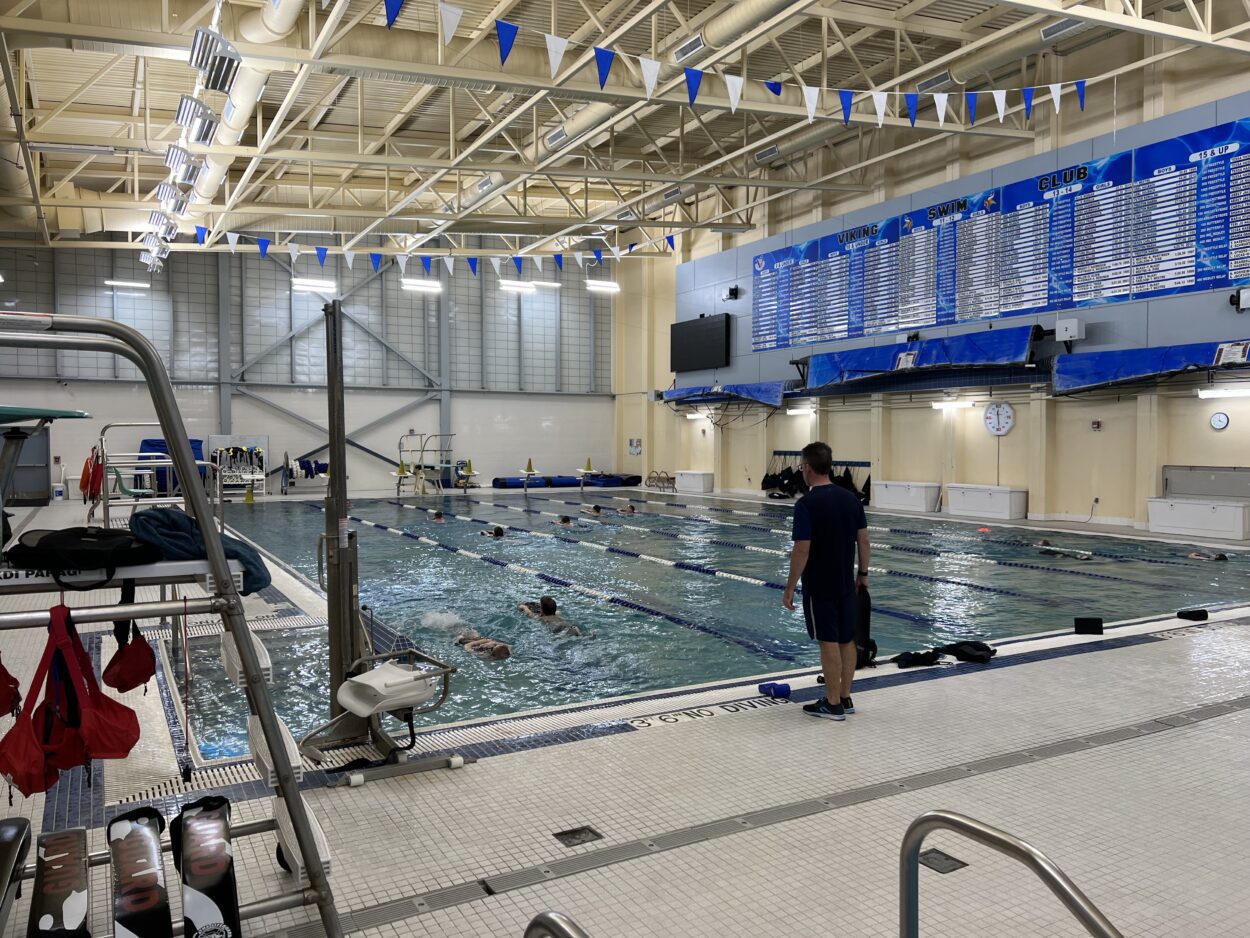 Two young swimmers in Petersburg's Viking Swim Club have broken decades-old club records this winter. The club is a non-profit that trains a competitive swim team from ages 6 to 18.
At the Petersburg pool, one wall is covered in blue and white Viking Swim Club records that date back 50 years. Soon, there will be new names added to the board.
10-year-old Tori Miller and 8-year-old Jackson Zweifel both broke swim records in their age classes. Miller broke the 50 butterfly-stroke record at the November Rain Swim Meet in Petersburg on Nov. 11-13, And Zweifel broke two records—for 100-yard and 50-yard breaststroke at the Ketchikan Invitational this month on Dec. 9-11.
Miller says she remembers her win well. 
"I started crying because I was so happy. And I was very proud of myself," said Miller.
She had been prepping for a year to try to break the butterfly record.
"I had to train a lot to actually like, get to know that, like, exact that exact stroke. And that was like a year ago, something like that. And I took lots of time on it, and I started getting better and better. So I was thinking about breaking record, and I did."
Head Coach, Scott Burt, says the record Miller broke was 20 years old.
"She broke the record in the 50 Fly, her time was 32.44 seconds," said Burt.
"The record she broke was from 2002. So it's been on the boards for quite some time."
That record was previously held by Erin Streuli and was 32.84 seconds. That means Miller broke the record by just point four seconds.
Zweifel broke one of his records by large margin – four seconds. Coach Burt says it was quite a feat because the swimmer didn't have any rest time between events.
"They were in the 50 breaststroke and then 100 breaststroke, and they were swam back to back at a swim meet, that we had in Ketchikan about two weeks ago," said Burt.
"And Jackson was a trooper, he jumped in to the 50 breast, got a time of 44.94 seconds. The old record was quite old. From it was it's been on the board since 1990. And he shattered it by almost two seconds."
Derek Gibb held the 50 yard record for 32 years, with a time of 46.40 seconds. 
In the 100 yard breaststroke, Peter Kowalksi held the previous record since 2010. The record was one minute, 46 seconds. Zweifel beat that by four seconds..
Zweifel says he worked hard to make it happen.
"Well, I trained about every day I went to swim team," said Zweifel.
"I worked on my pullouts in how I dived off the block for a pull out or in started swimming breaststroke."
Zweifel didn't stop his record there. Last Friday, the swim club held time trials where he broke his new 100 yard record again.
Coach Burt says it'll be interesting to see if Zweifel will get even faster.
"I expect that as the season continues, he continues to improve, he will continue to break his own record," said Burt.
The club trains every day and has numerous events lined up in the coming months.
The next event for the Viking Swim Club will be the senior champs swim meet in Fairbanks this coming January.