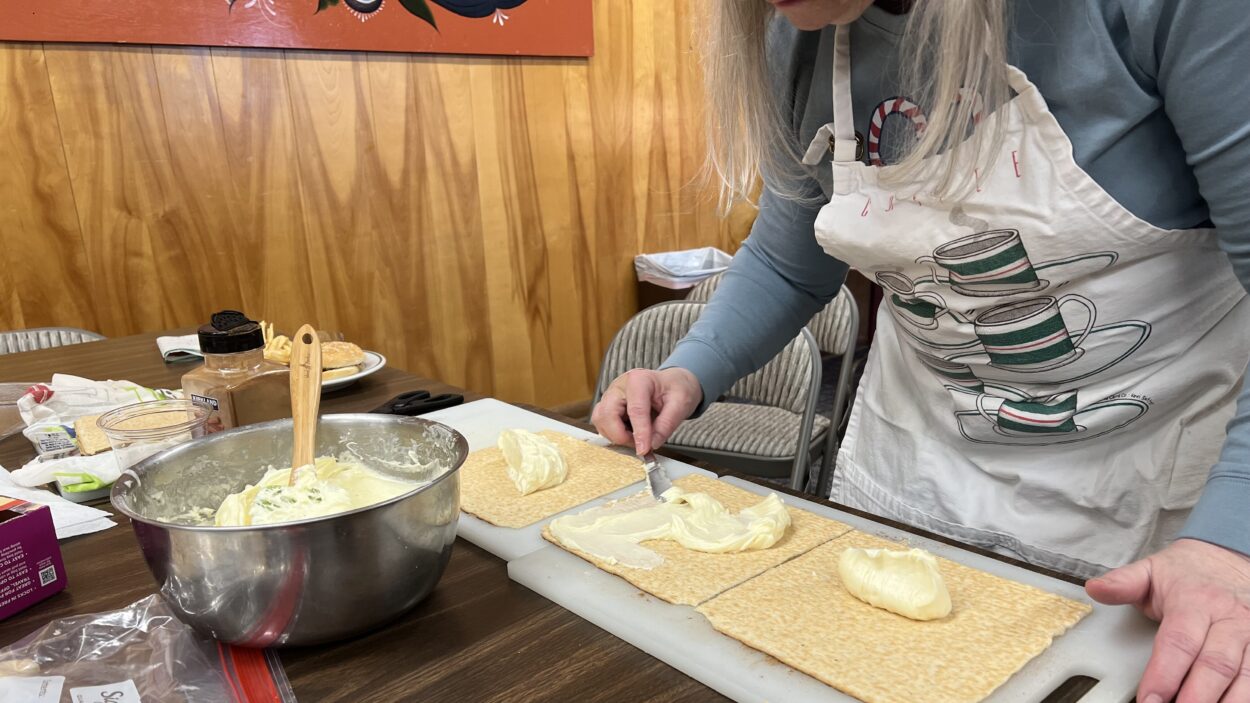 Petersburg gets into the holiday season every year with Julebukking. It's a celebration held the week before Christmas with ties back to Norway, the country where many residents have roots.
"Norwegians love their butter. So it's just another way of getting butter into the body," said Dwyer.
At Petersburg's Sons of Norway Hall, Sally Dwyer is preparing lefse for this year's Julebukking celebration.
"This is sweetened butter," said Dwyer.
"It's got powdered sugar in it. In a few minutes, it'll have some cinnamon on it. And then we'll have another vehicle for butter into the body called lefse."
Lefse is a traditional Norwegian flatbread that is turned into a sweet pastry similar to a cinnamon roll. Dwyer lays out the bread on the table before spreading sweet butter across it. Then she sprinkles cinnamon across the butter before rolling it all up. Every year the Sons of Norway serves the treat for Julebukking.
"So we're right now, I've spread the butter on the sheet. Now I'm going to sprinkle cinnamon and then I'll roll it a little bit. I usually take anything that's torn or icky, and put it in the middle so that it hides it. And then we cut it into six pieces."
Away from the Sons of Norway Hall, in her home is local resident Roxxane Lee.
The 93-year-old has been celebrating Julebukking since she moved to Petersburg 75 years ago. She remembers her first season learning about the tradition.
"I came from Minnesota, and I was up here in 1947," said Lee.
"When I first came up here, and my friends at Christmas time asked me, if I would like to go Julebukking. And I didn't know what it was, I didn't know if it was skiing or toboggan here, what it was, anyhow, and they said, No, we just go and visit other people and have treats."
But it didn't stop with getting treats.
"people were having libation, little drinks, and cookies and goodies," said Lee.
"And so I enjoyed that and got to meet all these nice new people. And then we brought that group of three or four, up to six, and then that group went to the next house. And so then the larger, the group got larger and larger as it went on."
The origins of the tradition date back to Norway and has pre-Christian origins. When Scandinavians immigrated to the United States in the 1900's, they brought Julebukking with them.
"Julebukk," means "Christmas goat" in Norwegian.
One theory for the tradition says it was a way for Vikings to worship the Norse God Thor. Thor was always pulled in a chariot across the sky by two goats. People may have celebrated him with feasts.
Another theory is that the celebration comes from multiple Scandinavian cultures whose festivals celebrated good harvest seasons.
In Petersburg, the tradition has evolved over the years.
Sally Dwyer is Vice President of the Sons of Norway Hall and grew up in Petersburg. When she was young, folks would dress up in costumes and go door-to-door.
"when I was a kid, julebukking was where strangers or you thought they were strangers, they were dressed in men's clothing, and then they had masks on, and they'd come to your house with a tray, and they'd expect a drink," said Dwyer.
"And they usually traveled in little packs like three to five. And it scared the heck out of us kids because we didn't know who they were. And my mom and dad, of course, did and they would give them a drink, akvavit, or some good scotch, or maybe a little Crown Royal, if we had it. And then they go away, and they go to somebody else's house. And we'd all go, wow, the Julebukkers were here"
Dwyer said, beginning in the mid 60's, businesses in downtown Petersburg started giving customers treats as a thank you for supporting them throughout the year
This practice of giving back to their customers continues today.
"Well, I think it's gotten a little more elaborate," said Dwyer.
"It isn't just a cheese ball with a bunch of Ritz crackers, you know, it's meatballs, and feta cheese, and cranberry, and it's just a lot of other stuff, and people just bring what they want. The cookies in traditional Norwegian at the juleboard, you have seven kinds of cookies. And that's a tradition. And so we do try to bake seven kinds of cookies and includes lefse as a cookie."
The Juleboard is a traditional spread of snacks for Julebukking with both sweet and savory foods.
As Dwyer finishes her batch of Lefse in the kitchen, she let me taste one of the first pieces.
The lefse is like is a mix between the texture of a pancake and the flavor of a cinnamon roll with the sweet butter combining the two into one treat.
The Julebukking events in Petersburg may end for the year on Christmas Eve. But the tradition will likely stick around for generations to come.