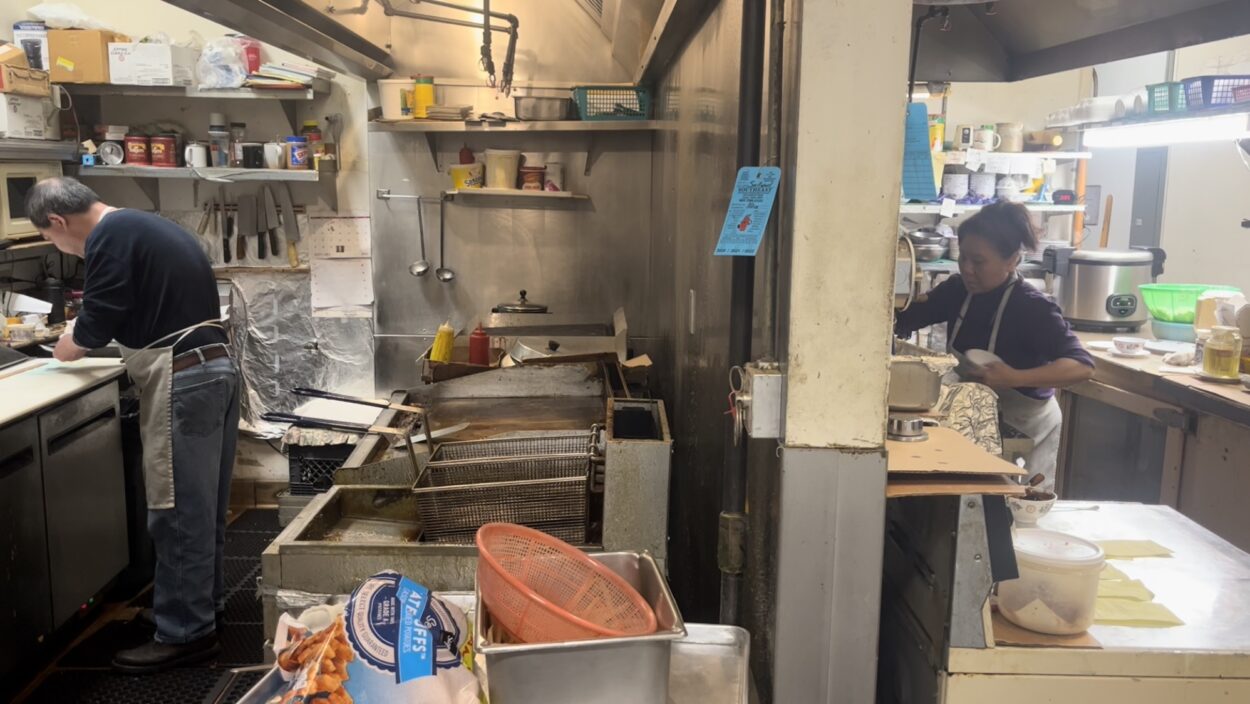 A Petersburg couple is retiring after decades of running their restaurant, Joan Mei. Laney and Wamen Yip have served Chinese and American food to the remote island community in Southeast Alaska for 30 years. But the Yips officially retired at the end of December. (The restaurant name Joan Mei is pronounced "May" like the month, but locals sometimes say "my" and the Yips accept either.)
Laney Yip is in her restaurant kitchen the morning of their last day. They expect to sell out of almost everything today. She says her favorite part of the workday is folding wontons in the mornings. 
"That's just my happier time," Laney says. "I love to do that. And I never feel tired to do that. That's why one of my best friend told me: He said, 'Laney, every day you make a lot of wonton and even when you sleep you might be doing your hands, just wrapping the wonton.'"
She's been making them six mornings a week, ten-and-a-half months a year, for thirty years. The wontons are very popular, so she has to make a lot every day. She says on average she makes two hundred wontons a day. That means Laney has made approximately 1.7 million morning wontons over thirty years. She talks about how she makes them.
"I just get all the veggies," says Laney, "and mix with the ground pork and put in my special Joan Mei ingredient on it for the past 30 years. So a mix. Yeah. And I mix it together and wrap it in the wonton wrapper."
Laney says that even the warehouse in Seattle where they order their wonton wrappers noticed how many wontons she makes.
"They just feel like 'How come my restaurant orders so many cases for the wonton wrap?" Laney says. "We sell a lot and they know our restaurant is little—not that big."
The Yips have always bought fresh produce in town. But for thirty years, they've ordered palettes of dry goods from the same restaurant supply warehouse in Seattle. They say they would usually get a weekly delivery from the barge of about three or four waist-high palettes. 
"Especially [for] the rice," Laney says. "We order a lot of the rice for our steamed rice and the fried rice, our really, really popular fried rice."
But the Yip history of cooking started much earlier than their decades at Joan Mei. Wamen grew up in Hong Kong and moved to Oakland as a teenager. He worked in his family's restaurant there.
"When I was only 18 years old, I start cooking," Wamen says. "18 years old until about three of four years when we sold the restaurant."
After that, he took other restaurant jobs to learn how to cook a variety of dishes. He says, cooks don't always share their secret ingredients, so you have to watch them carefully.
"They don't tell you the main thing," Wamen says. "But you had to watch it in secret, and then learn: what is the ingredient they put in the food?"
Laney is of Chinese descent and grew up in Vietnam. Her grandparents were musicians working as military entertainers.
"My dad, he wrote songs, and he can play all the instruments," Laney says, "and my mom, she sang opera… In World War II, they needed to leave China, so they came to North Vietnam first for a couple years. Then they moved to South Vietnam."
Laney learned both Chinese and Vietnamese cooking when she was growing up.
"For myself, I loved to cook already," Laney says. "Then, I always ran to my neighbors and I watched them how to cook. Because some of the neighbors, they [cook] in restaurants too… So that's why, since then, I have a little bit idea. One day, I will open a restaurant of my own."
But her life took a few big turns before she bought her own restaurant. When Laney was in her early 20's, her sister married a man in the military, who moved the whole family from Vietnam to Petersburg. Then, when Laney was visiting a friend in California, she met Wamen. They stayed in California for a few years.
"After that," Laney says, "we came back to Petersburg to visit. Then, we figured out the downtown laundromat, they put for sale."
They bought it with family and ran it for several years before buying the restaurant. It was already named Joan Mei.
The family's multi-country journey has weaved its way into Joan Mei, which means "Chinese American" in Cantonese. The Yips have occasionally served Pho at the restaurant, which is a soup from Vietnam. Though, Laney says it's hard to get the soup's fresh ingredients reliably in Petersburg. The Yips also have two full menus—for American food and Chinese food. They have two separate kitchens as well. 
Wamen cooks American food in the front kitchen, which has a deep fryer and a grill. The shelves are stocked with ketchup, mustard, Skippy peanut butter, and cans of Folgers coffee.
"I'm the American cook. So, I do the burger, the deep fry, or the soup seafood. And then my wife would do all the Chinese food."
Laney cooks in the Chinese kitchen, separated from her husband by a thin wall. She has a deep fryer, a rice cooker, and a wok. She serves food on Chinese-style plates and bowls which they've bought and replaced over the years from San Francisco's Chinatown.
"The dishes, the spoons, chopsticks, everything is from the Chinese company in San Francisco," says Laney. "And every year we still went down there and got more. Because when you use them that long, the color's old. You need to put the newer one."
When the restaurant opens for the day, customers file in. Some have been coming to Joan Mei since it opened. Petersburg resident Jeanette Ness says she brings Joan Mei food in a cooler down to Texas when she visits her kids. 
"They love Joan Mei," Ness says, "because they can't get the same type of Chinese food where they live. And so, whenever I travel south, I always have to bring Joan Mei food to them."
In the kitchen, the bell that signals new customers dings every few minutes. Laney and Wamen each bustle in their separate kitchens, never resting… until the end of the day, when Joan Mei closes its doors for the last time.
You can find a video of Laney and Wamen Yip cooking side-by-side in their separate kitchens on KFSK's Facebook page.