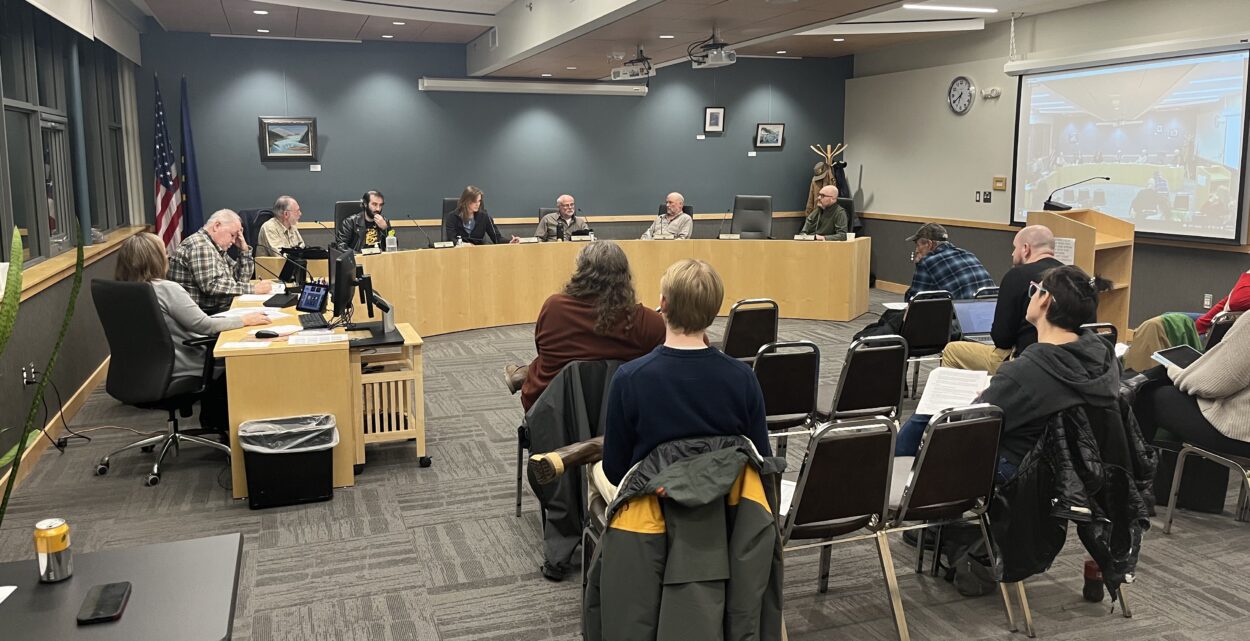 Petersburg has struggled for decades with a housing shortage. Their Housing Task Force has been working since the fall to find ways to create more housing.
The Task Force requested $55,040 in funding from Petersburg's Borough Assembly at the January 17th meeting, for a study known as a Housing Needs Assessment. The task force says it's an important step to securing grant funding for housing projects in the future. The Assembly approved the full funding amount, but not without some disagreement.
Some Assembly members were skeptical that the Assembly needed to spend the cost of a mid-size luxury car to figure out that Petersburg had a housing problem.
Assembly Member Tom Fine-Walsh said, "I have a hard time justifying $55,000 for an outside company to come and interview us. And just ask us what we think we need—and then charges $55,000 for our answers. That seems ridiculous!"
In a later interview, Assembly Member Bob Lynn said he has a deep respect for the task force and their work. But he says he doesn't want to throw money at the issue without a crystal clear understanding of what the borough would get from the investment.
"I'm worried that we're going to go down the road and keep spending money and spending money, money," said Lynn. "And at the end, it pushes the Borough into us having to take much greater responsibility in housing, or redistributing wealth."
Fine-Walsh ultimately came around and the Assembly voted 4-2 to approve the funding. Assembly members Donna Marsh and Bob Lynn voted "No." It will be funded by leftover COVID relief money.
Jalyn Pomrenke is housing director at the Petersburg Indian Association. She says the assessment is a first step to getting grant funding.

A lot of the ideas that the Housing Task Force has been coming up with rely on funding from outside sources," said Pomrenke. "And a lot of those funding opportunities require a housing needs assessment for any type of application. So, we've decided this would be the first step to getting these ideas off the ground."
She says the study won't just look at housing needs. She says it will be a more holistic look at housing assets and shortages.
"The better way to identify it is a housing and needs assessment," said Pomrenke, "where they'll take stock of resources in Petersburg, such as specific programs that are running here. And kind of tell us where, 'you're doing really good at this. You could do a little bit more on this side.'"
Pomrenke said the assessment will also be a resource for nonprofit organizations working in Petersburg.
"It's not just something the Borough can utilize," said Pomrenke. "It's something that other entities in Petersburg can utilize as well when they're making grant decisions and applications… It's a key to doors we couldn't open without it."
The Task Force has explored available housing grants—including some through the US Department of Housing and Urban Development, or HUD. In one grant, the federal agency offers communities up to $500,000 to transform unused stores and warehouses in town into low-income housing.
But even the assessment likely won't be enough to win funding for Petersburg housing projects on its own. The borough's community and economic development director, Liz Cabrera, says the borough may also need a housing grant specialist later on.
"These are highly complicated grants," said Cabrera, "applications that you're going to be putting forward generally for HUD, they are really complicated. And then the other end of it is implementation. You know, there's no such thing as free money. And those grant funds come with lots of strings."
Anchorage-based Agnew Beck Consulting will put together the housing needs assessment for Petersburg. It's the same company that completed the Borough's Comprehensive Plan update in 2016.
The Housing Task Force will present their top three housing ideas to Petersburg's Borough Assembly at their next meeting for feedback. That will be at noon on February 6th.