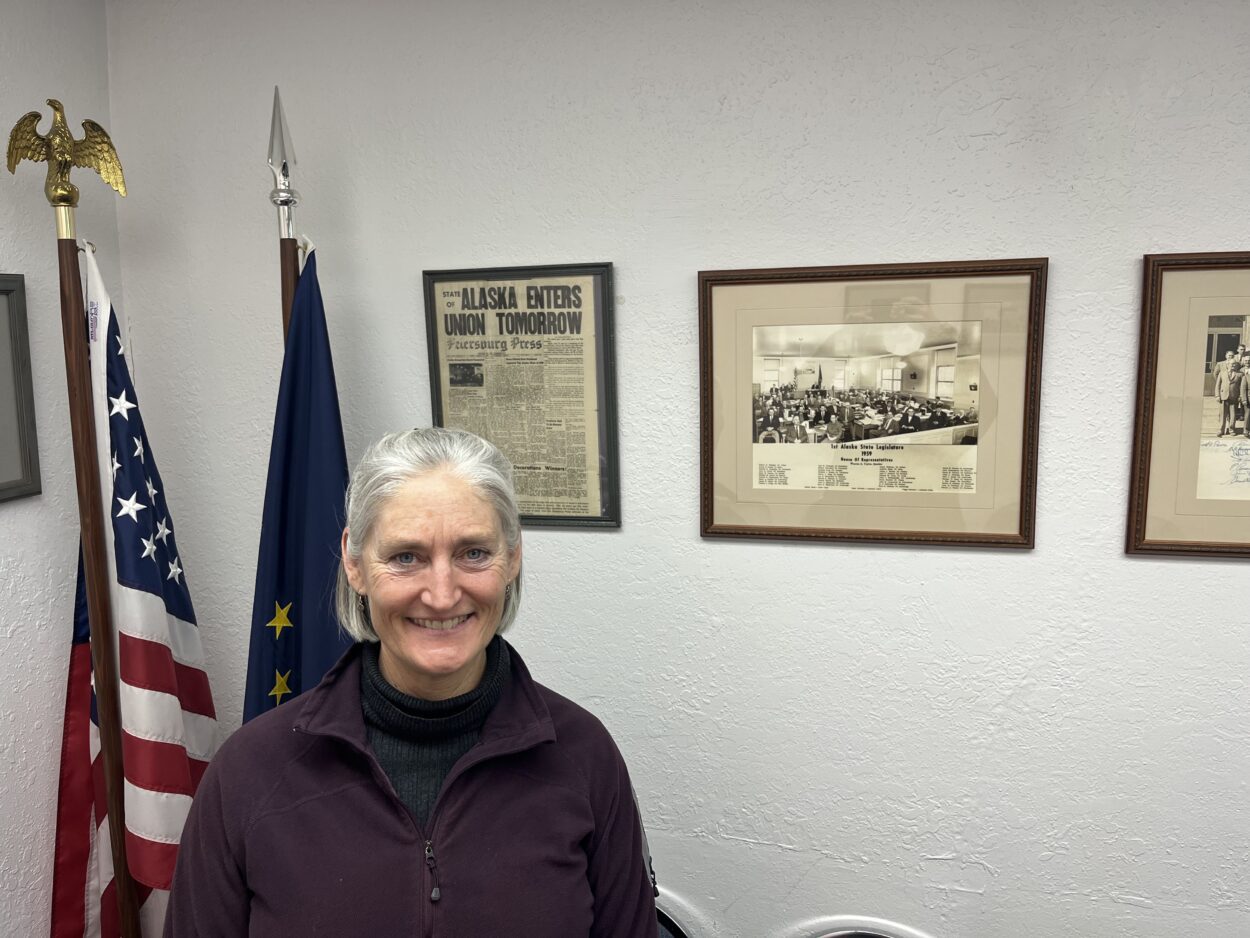 Long-time Sitka teacher Rebecca Himschoot recently became a freshman in the Alaska Legislature as the District 2 House representative. District Two includes Petersburg, Sitka, Yakutat, Craig, Hoonah, Kake, and much of Southeast Alaska. Himschoot is an independent and replaced Representative Jonathan Kreiss-Tomkins, who held the position for ten years as a Democrat.
Himschoot visited Petersburg last week and held office hours to hear from residents.
She spoke with KFSK's Rachel Cassandra about top issues in education, the ferry service, and fishing.
Rebecca Himschoot: I was on two standing committees to begin with. One is education. And we can talk about that, and one is Community and Regional Affairs. And then I got added last week to the fisheries committee. I had already co sponsored three things from Louise Stutes, that the Petersburg vessel owners had talked about—important things that we need to try to get done. So, Louise brought three bills forward, and I co sponsored those right away. And those have to do with allowing someone on the Board of Fish and I suppose also the Board of Game to be able to provide input as a board member, even if they can't vote due to a conflict. The derelict vessel thing, I think we can all get behind not having derelict vessel cleanup fall on municipalities. The third one is development of new fisheries through local associations.
Even before I was on fisheries, the situation with the trollers and the Wild Fish Conservancy Lawsuit is, you know, this is an $85 million dollar industry in Southeast Alaska. It touches every community. For folks who are interested in equity, anyone can get into trolling. It's a low barrier fishery. I don't like to take on the science and say the science is wrong. I want to trust the science and figure out how to work with it. So, I'm not pushing back on science. I'm pushing back on an absence of science in this case.
So, there are things happening and fisheries and we all know it in the trawl fishery, that are unacceptable. The amount of bycatch is not great, and there's always room for improvement. But the trollers, they're a pretty clean fleet.
I'm on the standing committee for education in the house. And I think what people in the state are really looking at is the bigger conversation around base student allocation and the funding of schools. The BSA is intended to be used to educate kids. Energy costs do come out of that. Health insurance comes out of that, but transportation is a separate fund. And it also hasn't been increased. So, districts have been dipping into money intended for the classroom to pay for bussing, or using money that's intended for students and learning is being used to heat buildings. If we do a $1,000 BSA increase, all that does is stop the bleed. All that does is stop districts from continuing to cut. What that won't do is it won't pay for the Alaska READS Act, which passed last year. The READS Act, I think, has the potential to do some really powerful positive work in the state. But it does place mandates on districts and it didn't come with a meaningful increase in funding. There's about $30 per student.
The READS Act was modeled on what's been successful in other states. So Mississippi has had quite a bit of success. But Mississippi also worked on it for an eight year stretch with funding increases every year. I don't think any district is saying that there's not a problem. And I don't think any district is saying they don't want to do with the READS Act is asking, but they can't do it under the conditions we're providing right now.
Rachel Cassandra: There's a budget crunch because of the reads act. But there's also a really big scheduling crunch.
RH: We know that kids need downtime, they need play time. What are you going to take a child out of? What are they going to miss in order to receive the extra instruction? Kids who read by third grade are more likely to succeed later in life. And succeed isn't necessarily going to college. People often think that schools think of success as only sending kids to college, that's not at all success. Success is having choices later in life—choices about your career, choices about where you live, choices about how you spend your time.
And I think it's important to do expectation management. Even if we fully fund [the READS Act], we're not going to see those scores turn around overnight. And it's especially important to realize Alaska has an incredible number—and it's a powerful and positive number—of kids who are working on learning their heritage language, who come from homes- When we talk about English language learners, 50% or more of English language learners were born in this country. And that includes Native Alaskans from across the state.
RC: The schools here are really worried about how much school kids are missing. And some of that is just vacation time.
RH: I have a lot of fellow educators who would hate to hear me say it, but I think it's worth really examining our school calendars. And that's a local decision. I think that's something that's really important in education in general in our state- is that we try to keep as many decisions as possible at the local level.
RC: You had office hours yesterday. Anything that came up?
RH: Quite a bit of conversation around the ferries. And it looks like it's going to be a while until the ferries are happening the way they used to. I was hoping that by 2024 we would have some improved ferry service. It looks like it's going to be a longer horizon than that—more like 2025. Folks need to stick with it, continue to be vigilant, continue to give input. That feels like a big ask and Petersburg- we have jet service in Petersburg. I'm talking about places like Kake and and Angoon and Tenekee. It's a lot to ask, but at the same time, at least we're not still screaming into through this long tunnel with no light at the end. There is some light at the end of the tunnel now, for the first time in a long time.

RC: I'm wondering how you see your background and education playing into your work in the legislature.

RH: The role of the legislature the role of government is to make sure people have what they need to live the best life they can. And that's also the role of a teacher in a classroom. So this work isn't that different.