Portable Southeast is an island-hopping art show designed to break down the physical and social barriers that divide the Alaska Panhandle. It's organized by the Juneau Arts & Humanities Council, and showcases work from Alaskan artists across six different towns and cities. Each month, the exhibit's 22 paintings are flown to a new venue. Right now, they are hanging on the walls of Petersburg's Clausen Memorial Museum.
Cindi Lagoudakis, who directs Petersburg's museum, unpacked the exhibit at the beginning of February. She says the pieces came off the jet in individual plastic totes.
"The Juneau Arts and Humanities Council has done a really incredible job of organizing this," says Lagoudakis. "The totes are set up with foam to protect each image. Everything is labeled so everything will go back in the exact same spot that they were shipped. To me, it makes it very easy to pack it up and very easy to unpack it — except for when I almost missed one little piece."
The piece she is talking about is a photo-painting made of scrap plastic. And it's immediately clear why she almost missed it: the picture is nearly transparent. It's also tiny — the weathered frame could easily sit in the palm of your hand. It's titled "I Am Alive" by Katie Ione Craney and features words in braille. Lagoudakis carefully placed it in a beam of light, and at eye-level, inviting viewers to reach out and touch its raised surface.
The Juneau Arts & Humanities Council sends along suggestions for how to arrange the art. but each museum space is different. Lagoudakis says curators have a lot of creative control over where the art goes during each visit.
"Every space displaying the art is different," says Lagoudakis. "So you have to accommodate what available space you have, how people are going to see it when they walk into the gallery. You want people to feel invited, and also see enough that they're drawn in, and they want to look at more of the artwork, and create little vignettes of color and subject and texture."
Portable Southeast features a wide range of mediums, including embroidery, oil painting, and basketry. There's even a two-foot long jellyfish made out of plastic trash. It dangles from the ceiling and the tentacles flutter with every slight draft of wind.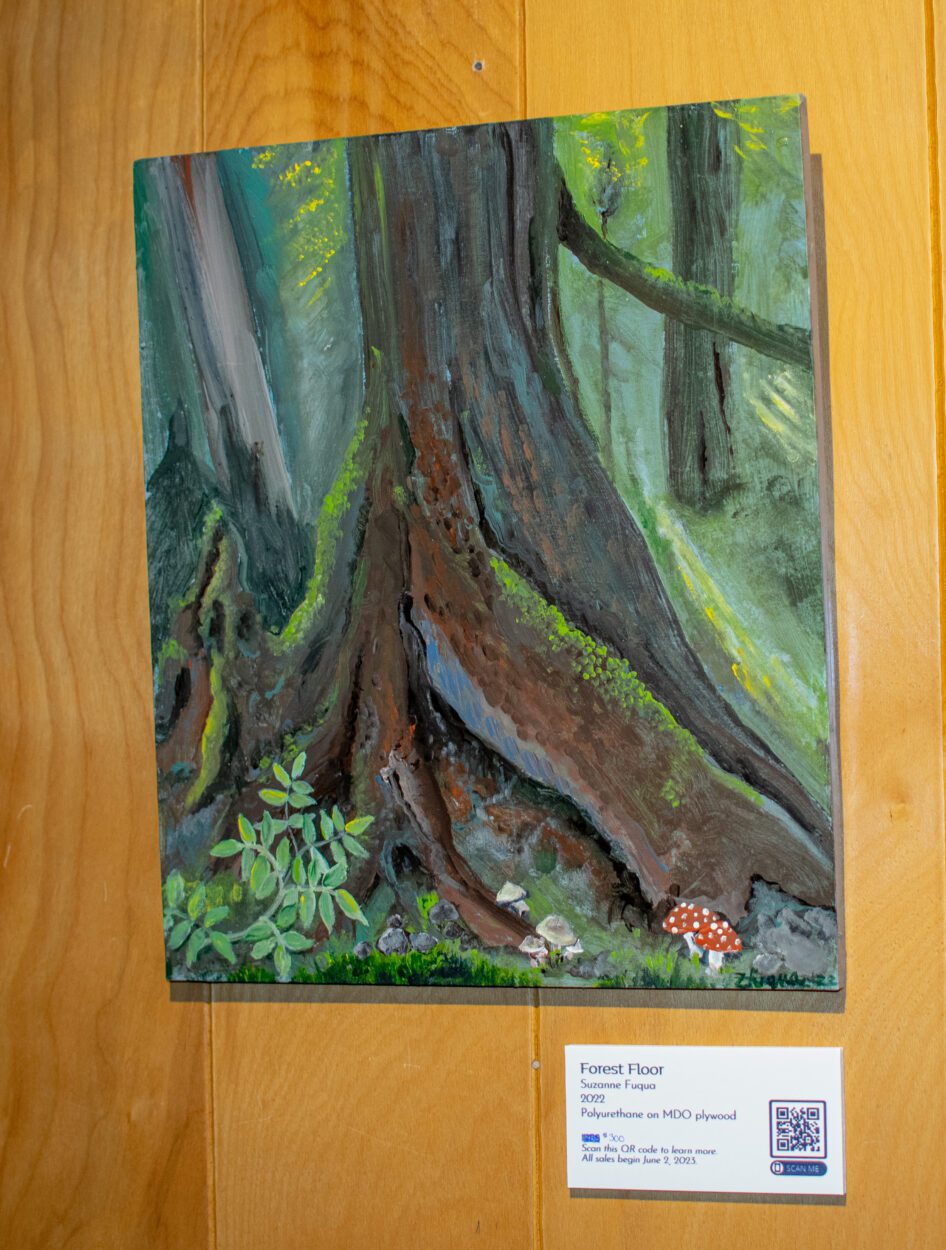 The spread of art is diverse, but each piece is travel-sized and illustrates some aspect of life on the coast. Last year, a panel of curators from across Southeast Alaska, including Lagoudakis, selected the 22 pieces you can see today.
"We intentionally spread out," says Lagoudakis. "We wanted as many artists represented as possible. I think artists were only allowed to submit three pieces, because we didn't want a whole show of just one or two people. We had to make sure there was a broad representation. The idea was to grab as many pieces of art as we could."
The Portable Southeast exhibit will tour across Southeast Alaska until June. Its next stops are Harbor Mountain Brewing Company in Sitka, then Port Chilkoot Distillery in Haines. Before the exhibit returns to Juneau, it will visit a yet-undetermined location in Yakutat.
The Portable Southeast exhibit features several artists from Petersburg. It is open to the public at the Clausen Memorial Museum until February 27th.