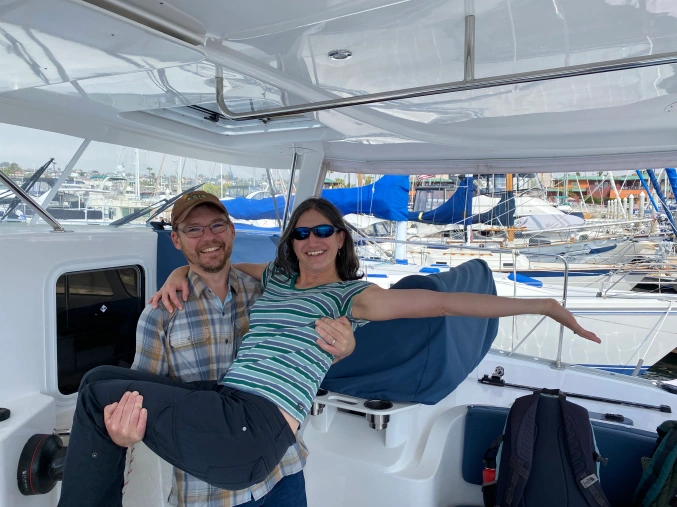 A Petersburg doctor plans to work on a fellowship for a year and a half while sailing the world with her family. Dr. Jennifer Hyer has worked as a family physician at Petersburg Medical Center for 13 years. She and her family of four are leaving Petersburg in November to sail across the Pacific Ocean. 
For at least 18 months, the Hyer family will live on their sail boat, the SV Terikah, where they plan to do a lot of fishing and studying. Dr. Hyer is working on an integrative medicine fellowship from the University of Arizona, and looks forward to bringing those skills home to Petersburg when she returns. 
Dr. Hyer, her husband, Chris, and their two children, Cora and Calder, told KFSK's Shelby Herbert about their upcoming adventure. 
Jennifer Hyer: So, we're going to be leaving in November and heading down to Mexico on a 44-foot catamaran. And we're going to spend some time in Mexico and then head across the South Pacific to New Zealand. And then, who knows?
Shelby Herbert: That is amazing. And so you guys are hopping on the — and I apologize if I say this incorrectly — the SV Terikah? Chris, what's the history behind that unique name?
Chris Hyer: We came up with it one night to tip our hat to our folks, actually. It's kind of made up of my parents' names and Jen's parents' names. Terry, Aaron, Kathy and Henry. So we put them all together and came up with 'Terikah' as a sort of: 'Thanks for a great life, thanks for setting this off.'
Shelby: How sweet. I'm sure you guys are going to be the only Terikah out there. Does anybody get seasick?
Calder Hyer: I never get seasick. Never. 
Chris: This is the guy who reads below in the bow. We'll be getting thrashed, we're all sick — and he's down below, reading.
Jennifer: We've been sailing as a family since they were babies, and he's always had a strong stomach. Cora and I — not so much.
Shelby: At least you're a doctor! But if your doctor is sick, then what do you do? (laughs) That kind of brings me to my next question. So when you guys are crossing the Pacific — from Mexico to New Zealand. How do you stay busy when you are the farthest from civilization you could physically be?
Calder: I'm going to do a lot of fishing. I've been reading a lot about which lures to use and what kinds of species are out there.
Jennifer: Yeah, and I'm looking forward to cooking up whatever he catches. Now, we all like fishing — but I think he's the most passionate about it.
Shelby: So you'll be out from November, until when?
Jennifer: It's going to be 18 months, minimum. That's going to take us to go down to Mexico, and then we're going to get across the South Pacific. We're going to spend about three months in French Polynesia, and there's some island hopping there — Tahiti, and over to the Society and Cook Islands. And then we're gonna go to Tonga. Then from Tonga, we're gonna go on down to New Zealand. 
And once we're in New Zealand, then that's when we're going to decide: okay, what are the next steps? Are we liking this as a family? Do we want to keep doing this or not? It's really important to us to make sure that we're all on board and that we're all still enjoying it. And then we'll decide: okay, which way are we headed home? Are we going up through Japan and the Aleutian Islands and heading home, or are we going to Australia and around South Africa, and coming home that way?
Shelby: You're going to have a lot of cross-cultural experiences on top of everything else you're doing. Are there any destinations you're most excited about?
Calder: I'm excited for French Polynesia the most. I've heard there's a lot of good fish and snorkeling. 
Shelby: What about you, Cora?
Cora Hyer: Anywhere sunny.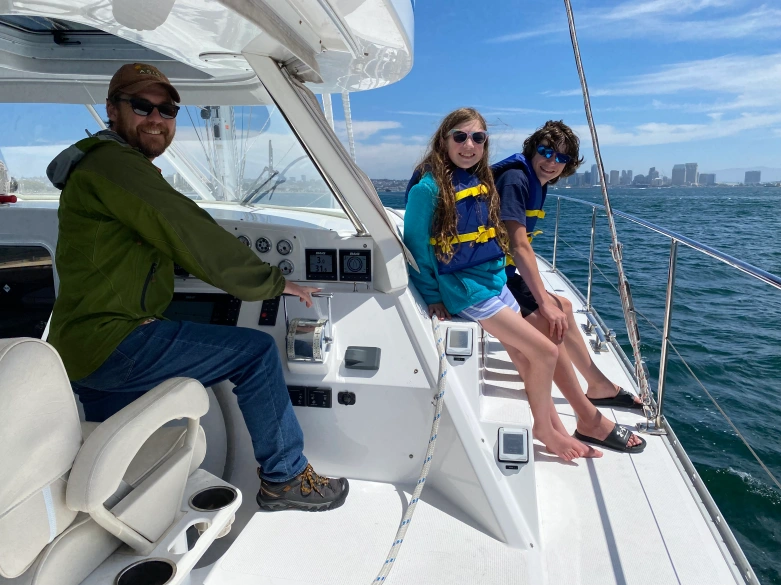 Shelby: What about school? How is that going to work? Are you guys homeschooling or remote learning?
Jennifer: We are boat schooling. So, Calder will be in eighth grade and Cora will be in sixth grade. And so it will be covering all the math and language arts that they need to know for their grade level. But then we will be supplementing a lot of the history and social studies and science that will be based on where we are learning — the geology, geography, and history of each location. And then having those cultural experiences and learning languages along the way.
Shelby: How do you prepare for a trip like this?
Jennifer: I would say right now, I'm really focused on getting everything ready for school for a year and having everything that we need on board — knowing that we won't just be able to go to the store and pick up what we need. And then, also, I'm really interested in how you feed a family when you have crossings that could be 30 days long. And then I've been digging into all the paperwork, because you have to have everything set up for all the different countries — all the visa requirements, things like that. So, setting that up for 15 countries all at once.
Shelby: I have to say, that is the answer I least expected. Like, 'what's the hardest part of preparing to sail around the world?' And it's the paperwork. Jen, I also heard that you received a fellowship. Is that something you're going to start at the end of this trip?
Jennifer: I'm actually in the middle of it right now. It's an integrative medicine fellowship out of the University of Arizona. And it's a two year fellowship — I'm about a little over halfway through it. It's combining conventional and complementary medicine, and using the least invasive, most natural methods first. I'll finish that while we're out there. So when I come back, I'll have these new skills that I'll be able to offer the town that I'm really excited about.
Shelby: So you're handing over the reins to the PMC team. How many physicians will be left in town?
Jennifer: So when I leave, there's going to be three physicians. And then we have two excellent mid-levels that are there as well. They're actually posting right now for a physician job, so we will be fully staffed. I feel like it's a really good crew right now. I feel like I'm leaving my patients in very, very good hands. It's been hard to say, 'see you later' to some of your patients. So it's definitely mixed emotions about leaving: excitement, and then feeling this sense of sadness about leaving as well.
Shelby: Tell me about this blog. I looked through it a little bit this morning, and I'm very impressed.
Jennifer: It's gonna be part of school. Part of their language arts is going to be writing about the places that we go. But yeah, anybody can go on there. You can subscribe and kind of follow us along. But I'm really thankful to have this opportunity. And though it's hard to leave, I feel supported by PMC and the community in doing this. So I just feel really thankful.
Shelby: And thank you all so much for being here with me today.
To follow the Hyer family along on their journey across the sea, you can visit their blog.