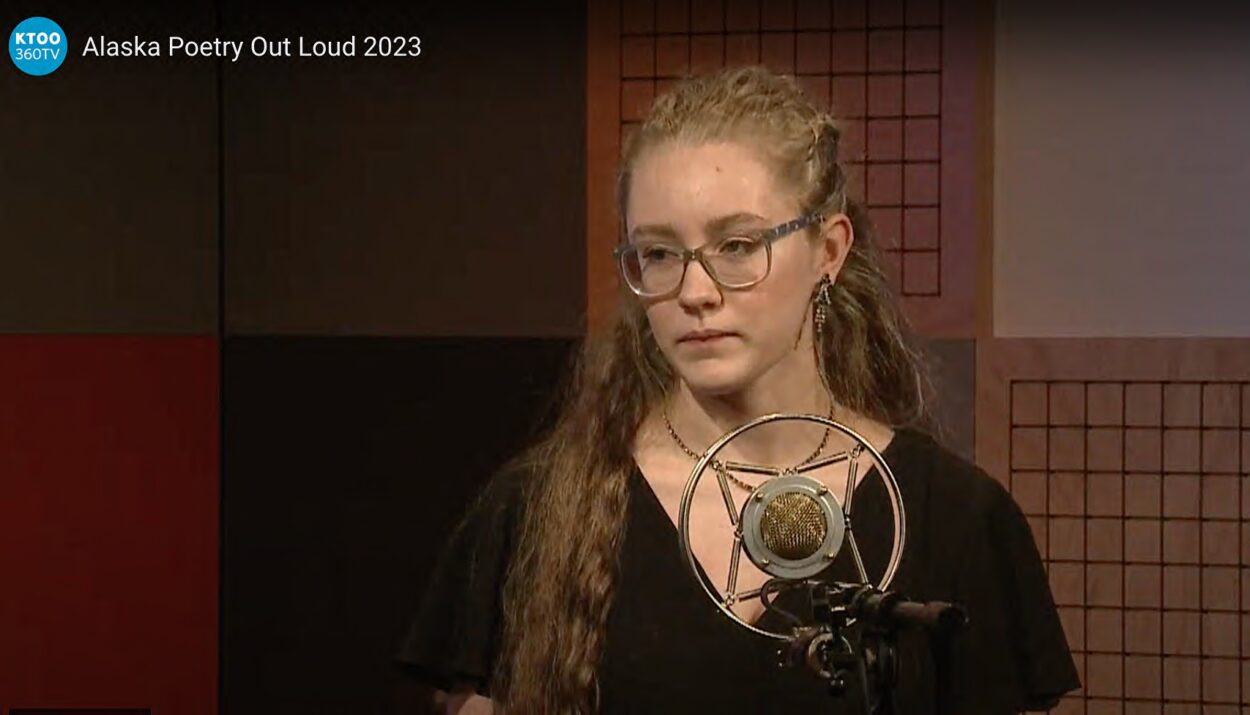 A Petersburg High School student competed in a statewide poetry competition in Juneau last month. Sophomore Eleanor Kandoll was one of ten finalists in Alaska's Poetry Out Loud recital. Poetry Out Loud is a contest that encourages students from across the United States to learn about poetry by memorizing and reciting poems of their choice.
Eleanor Kandoll performed "Ozymandias," by Percy Bysshe Shelly as the first of the three poems she took to the state recital on March 20th. Kandoll said she chose the poem for its power and simplicity. 
"It's talking about this ancient statue in the desert," said Kandoll. "And despite the statue having an inscription saying that it's mighty, it's broken. It's lying in this lonely desert, and no one cares about it." 
As for Kandoll's favorite style of poetry — she said she finds herself drawn to all things dark, gloomy, and dramatic. 
"I really love Edgar Allan Poe," said Kandoll. "And I would have liked to recite three of his poems, but I knew that probably wasn't a good idea, because it wouldn't have been balanced. I have to kind of force happy stuff."
Kandoll had to win two other poetry competitions to get to the state recital: one in her English classroom, and then a regional competition for Southeast Alaska. The top four competitors from Petersburg High School got to send recordings of their poems to a panel of regional judges. Of those four students, Kandoll was chosen to go to the state competition.
Kandoll said the skills she's learned to recite poetry in a compelling way carry over into her everyday life.
"What I've learned from reciting poetry is how to be more expressive and convincing, and how to make people empathize with me when I speak," said Kandoll. "Whether that's speaking in front of a bunch of people or just speaking to one person."
Kandoll said it's not an easy process, and she invested a lot of time and hard work into getting ready for the state competition. 
"I'd say that the memorization is hard, but you'll eventually get it down," said Kandoll. "The hardest part, for me, is definitely the stage fright. Because you only get one chance to say your poem, so you'd better not be paralyzed by stage fright."
In spite of the hard parts, she said the Poetry Out Loud program is worth supporting. Kandoll encourages other students to join. 
"I know a lot of people hear about the poetry competition and they think: 'Oh, that's a really nerdy thing to be part of,'" said Kandoll. "But it's really worth it, and it's a great experience. It teaches you a lot of speaking skills. And everyone could use more poetry and art in their lives."
Brigitta Palepa Ta'aga from West Anchorage High School emerged as the Alaska state finalist. Violet Bowie, also from West Anchorage High School, was the runner up. In May, Ta'aga will compete in the 2023 Poetry Out Loud National Finals in Washington, D.C. You can watch a recording of the Alaska Poetry Out Loud finals here.