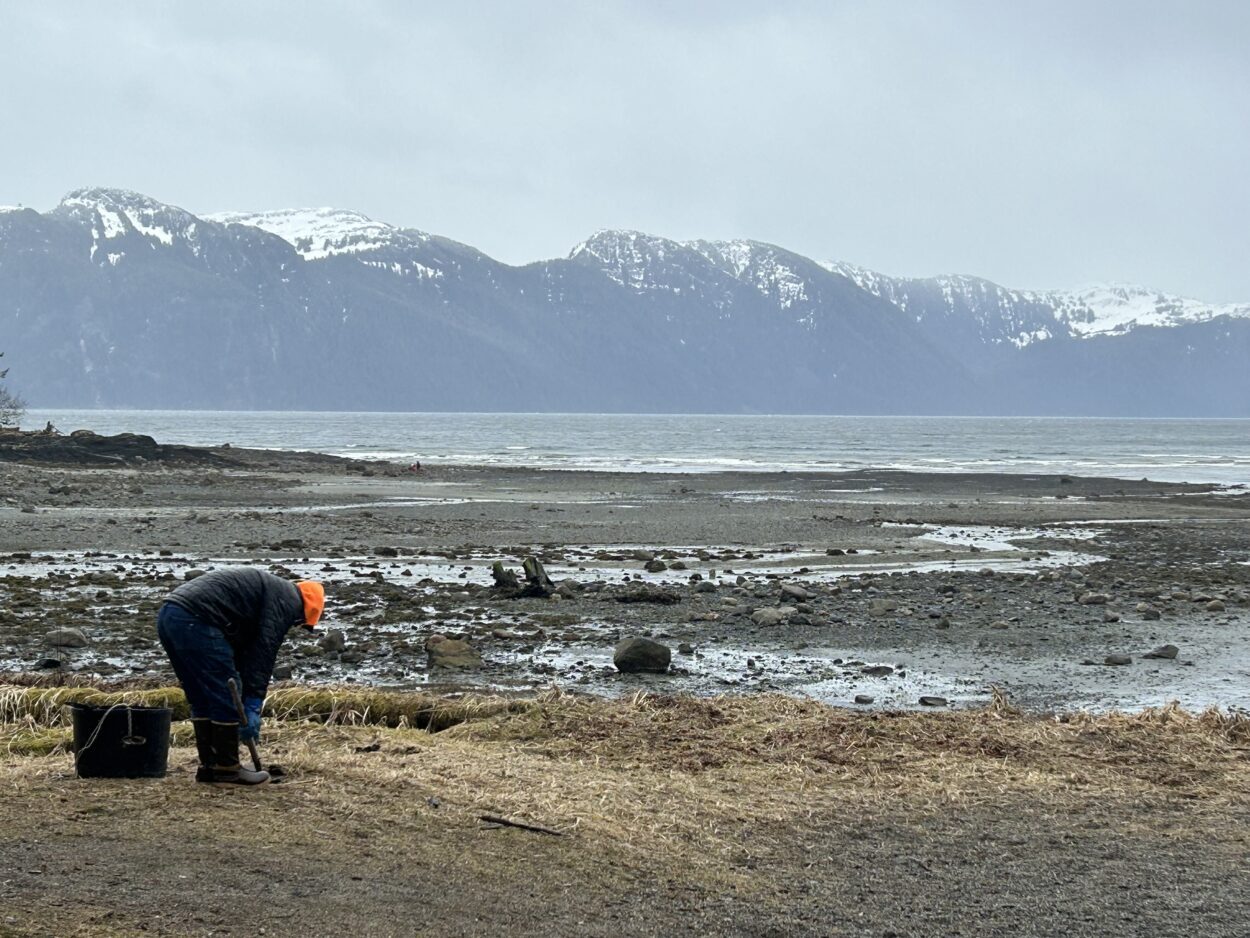 Petersburg's Elks club organized an Easter Egg hunt on Sandy Beach last month. But before the kids came with their baskets, the local Rotary Club arrived with gloves, plastic bags, and trash grabber sticks. The rotarians found a lot hidden around the public park — but none of it included Easter Eggs.  
It was a rainy, windy, 40 degree Saturday morning at Sandy Beach. But this year's spring cleanup crew was out in full-force — about 20 volunteers were combing the beach stones for garbage. Aaron Hankins, president of the Rotary Club, said the turnout is a big improvement from last year.
"We did this last year at about the same time, and we had maybe about nine or ten people for a couple of hours," said Hankins. "This is a great turnout this year. So thank you to everyone who came out."
Austen Coulson is another volunteer. He says the group set out to find trash — but they've uncovered a hoard of something else.
"It's mostly dog poop and cans and stuff," said Coulson. "Large amounts… large amounts of dog poop. I've heard other people say there's been Capri Sun packets everywhere. So, you know, kids are kids. And dogs are dogs — that's for sure."
Adult volunteers like Coulson are flanked by a group of Junior Rotarians who are also here to help clean up. Fourth grader Rebel McGrath explains why it's important for Sandy Beach visitors to pick up after themselves — and their dogs.
"It's a big community area, and lots of people come to you and they like to hang out here," said McGrath. "It's better when it's clean. Also, it's a historical site. A lot of Lingít people settled here. So it's just respectful to keep it clean — respectful towards the people who lived here before us. And just kids hanging out in these woods and like broken pieces of glass or even just trash can be harmful or dangerous towards them. And just makes it more enjoyable for everyone when it's clean."
Sandy Beach is the site of several ancient Lingít artifacts, including petroglyphs carved into beach boulders and fish traps. These artifacts can be accessed at low tide by walking down the beach. According to the U.S. Forest Service in Petersburg, the fish traps in the area are thought to be about 2,000 years old.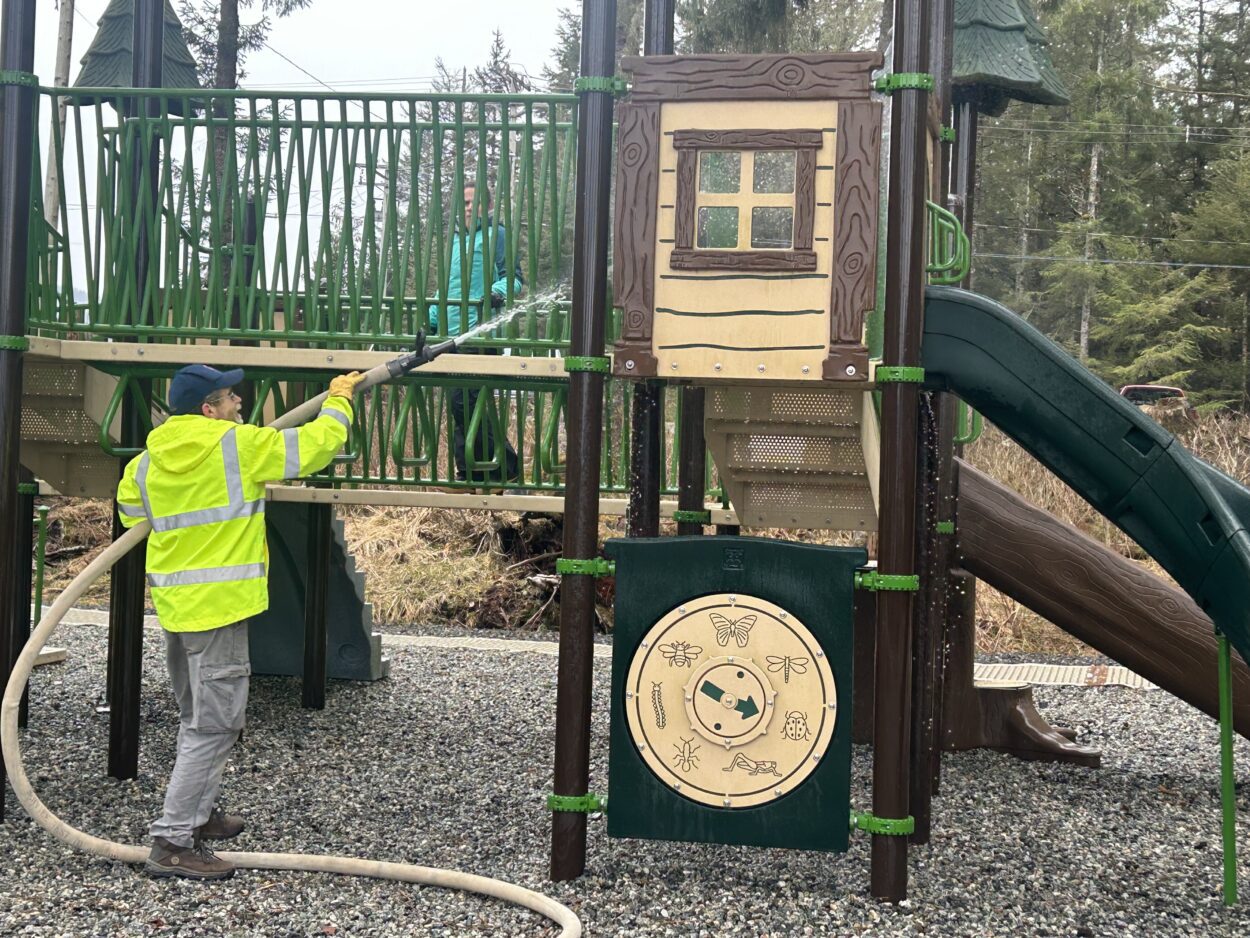 Today, this stretch of beach is a public park. It's managed by Petersburg's Parks and Recreation and stewarded by local civic organizations, like the Rotary Club. Dave Berg, the Rotary Club's Sergeant-at-Arms, was power washing moss off of a slide with a fire hose as part of the cleanup efforts.
"We brought one of the fire engines down to provide some water for rinsing off the equipment to get the green stuff up," said Berg. "Lots of debris comes down from the trees and stuff starts growing on the equipment, so we're here to spruce it up."
Berg says the Rotarians came up with the funds to donate a children's play area on the beach, and they take pride in keeping it clean. He also thanks the families who have spent their Saturday cleaning up the park and says it means a lot to see the kids taking part in the community — especially on such a cold, rainy day.