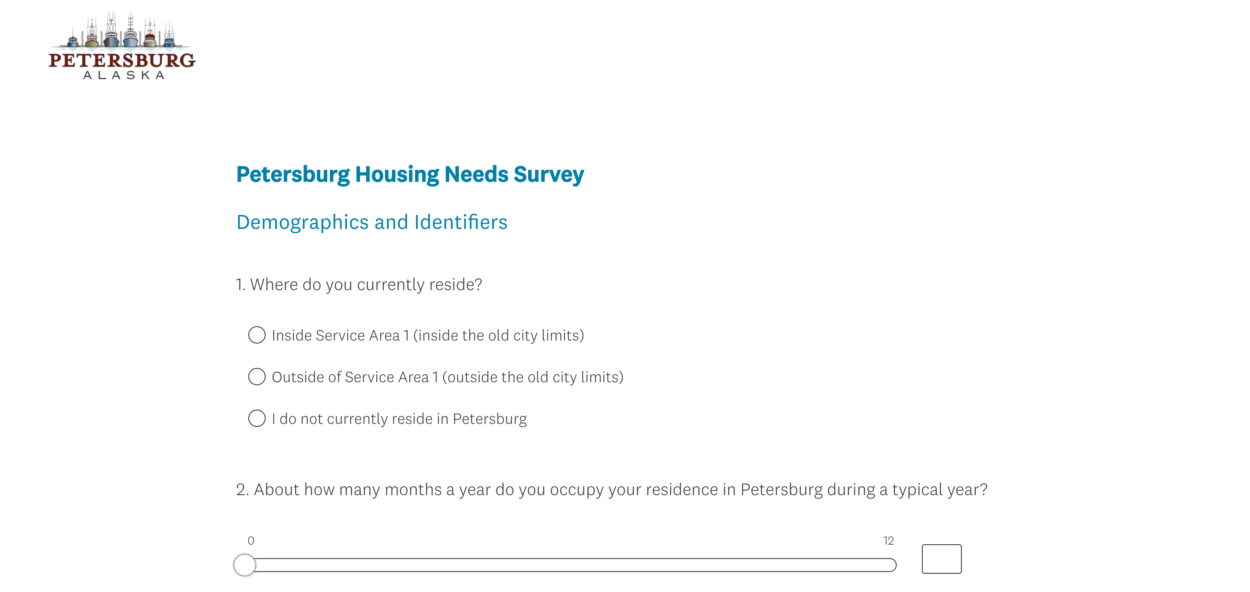 Petersburg's Housing Task Force launched a survey last week to better understand housing needs in the Borough. The Task Force requested $55,040 in funding from Petersburg's Borough Assembly at January 17th Borough Assembly meeting for a study on Petersburg residents' housing needs.
Dave Kensinger chairs the Housing Task Force, and is also a member of the Petersburg Borough Assembly. He said the two groups are trying to find a place to start with the Borough's housing needs.
"The main source of data they're going to have is what we tell them," said Kensinger. "They want to know what we need now, what we're going to need in the future, and then what we're going to need in the near future." 
The Housing Task Force hired Agnew Beck, an Anchorage-based consulting firm to put together the survey. It's 36 questions long, takes about eight minutes to complete, and covers the survey-taker's demographic information — like the race and household income — as well as their overall satisfaction with their current living situation, and a list of possible solutions for them to consider. 
One of the 36 questions asks participants to rank how "stressed" they feel about the housing shortage. Jeff Meucci is another assembly member on the Housing Task Force. The shortage has him feeling very stressed out. 
Meucci said the local housing shortage is so extreme, even the local government feels the sting. He said Petersburg's Borough desperately needs workers, but they can't find a place to put them when they show up in town.
"We hired a police officer last summer and he had to live up at the fire hall until he found a place," said Meucci. "Nothing ever showed up, and he had to leave. And the Borough's got several openings at Power and Light we're trying to fill. We're still looking for a police officer as well."
To address this problem for the borough, Borough Manager Stephen Giesbrecht is considering purchasing two manufactured homes just for the purpose of housing borough employees.
Kensinger said the Borough needs as many people to take the survey as possible, so they can work towards a solution with more accurate data. 
"The thing this will do is — a consultant will take all the results from these questions," said Kensinger. "My hope is that they'll be able to give us some concrete suggestions and answers. Say: this looks like this is a need that you're going to have going forward, in the future, 20 years from now."
The survey results are due by September of this year. At that point, the assembly will decide if and how they'll act on the data. Kensinger said the results could help local nonprofits and Tribal government entities leverage grants, because the survey would document the severity of the need for housing in the area.