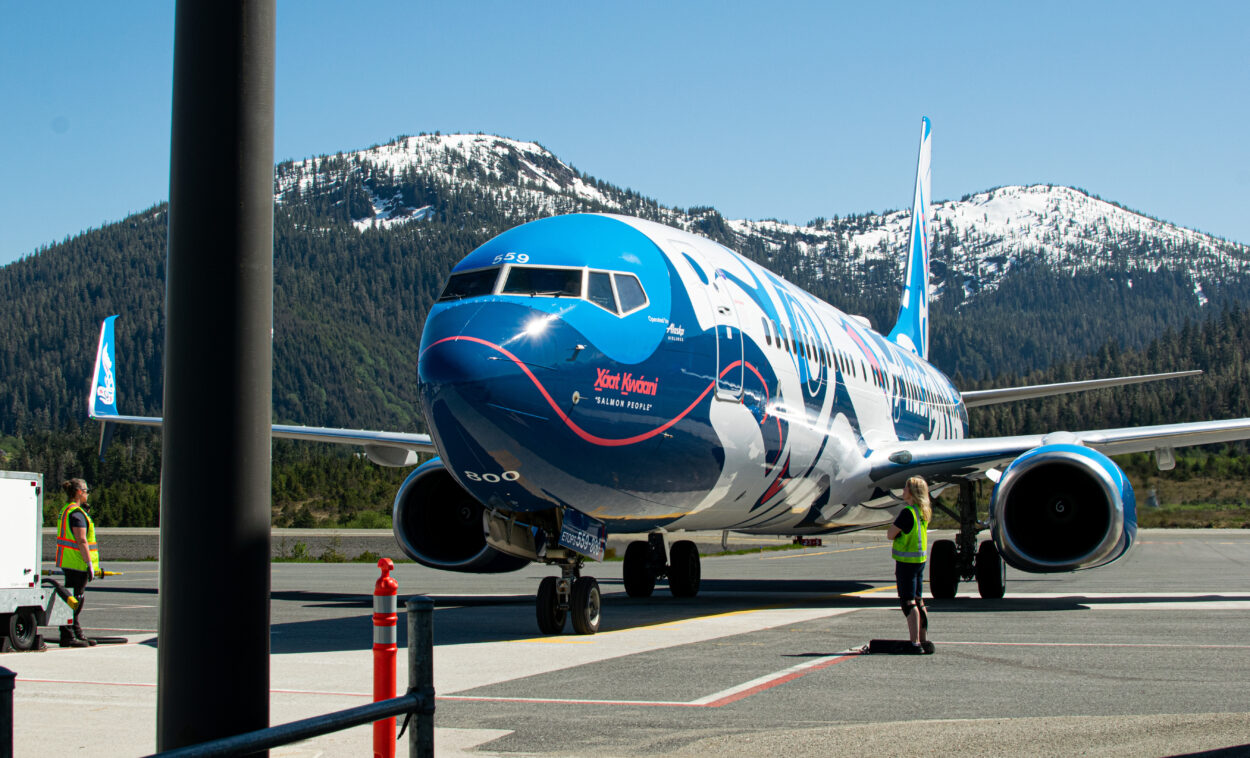 A one-of-a-kind jet touched down at Petersburg's James A. Johnson Airport for the first time at approximately 2:10 p.m. on May 18th. The new livery on the Boeing 737-800 aircraft features a Northwest Coast formline design in blue, white, and salmon-pink.
Alaska Native artist Crystal Worl designed the livery, named Xáat Kwáani, which means "Salmon People" in the Lingít language.
At Petersburg's airport, eager plane spotters — like Lee Koenigs — gathered at the front gate near the tarmac. Koenigs and her husband were visiting Petersburg from Maine for their high school reunion. They were at the airport to pick up their kids, who flew in on the "Salmon People" plane. Koenigs had her smartphone at the ready to capture the moment the plane pulled into the terminal.
"I'm taking pictures of a very cool new jet! It is so pretty," said Koenigs. "It has fantastic artwork — really creative, very different. We like the old artwork too, but this is pretty amazing. We had heard about this fantasy jet somewhere. And we were like, I wonder if we're gonna see it. And we are!"
Worl's formline design is painted on a plane that used to bear another kind of unique livery. Alaska Airlines phased out the plane's world-famous "Salmon Thirty Salmon II" design in late April. Its first visit to Petersburg fell on a period of particularly high air traffic — the week of the town's Little Norway Festival.
Petersburg resident Sue Paulsen was at the airport to pick up some passengers exiting the plane, but paused in the parking lot to take in the spectacle.
"It is remarkable in its beauty and authenticity," said Paulsen. "I know it had a lot of publicity, but it's fun to see it in person. Lucky for all of us that are here, it's little Norway. Everyone is receiving hundreds of guests. So of course we came out and to have this arrive on the same day. A beautiful day like this is a thrill."
Alaska Airlines unveiled the fresh paint job in early May. Since then, Alaskans have celebrated Xáat Kwáani's first stops at other airports across Southeast, including Juneau and Ketchikan.
Editor's Note: The language of this story was changed to clarify that Crystal Worl did not design the 737-800 jet, but the exterior design on the plane registered as N559AS.