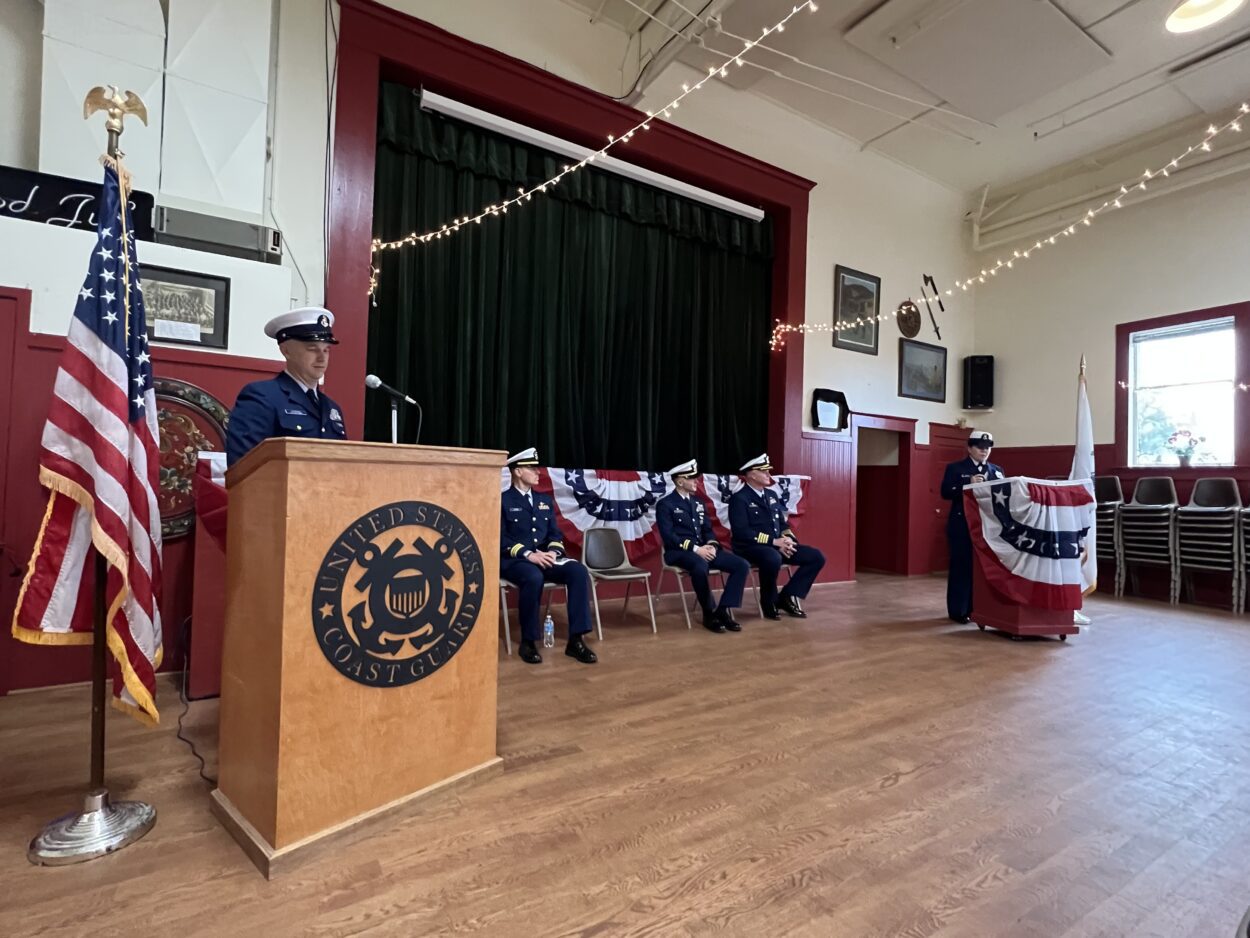 The U.S. Coast Guard held a change of command ceremony in Petersburg at the end of last month. Lieutenant Jak Loewenstein led the U.S. Coast Guard Cutter Pike on its 17-hundred-mile journey from San Francisco to Petersburg last summer. Command of the vessel transferred to Master Chief Kay Jones.
The ceremony took place at the Sons of Norway Hall, and attended by the Pike's crew and their families, senior Coast Guard personnel, representatives of Senators Lisa Murkowski and Dan Sullivan, as well as members of the Petersburg community.
Jones is no stranger to Southeast, serving most recently as Executive Petty Officer aboard U.S. Coast Guard Cutter Anthony Petit in Ketchikan. Captain Darwin Jensen, the Commander of Sector Juneau, said that this experience will serve Jones well in Petersburg.
"She truly knows the waters of Southeast Alaska," said Jensen. "And [she] understands the challenges and unique relationship that the communities have with this waterway which represents the connection between all of our towns here in Southeast Alaska."
After spending a week here in Petersburg, Jones said her top priorities are the two Cs:
"Stay connected with the community, and then take care of the crew," said Jones. "You know, you take care of the crew, [and] the crew's able to do their job and we're able to serve the community that way as well."
Loewenstein was awarded the Coast Guard Commendation Medal at the ceremony to mark outstanding achievement during his command. Loewenstein shared his pride in the Pike's crew and expressed deep gratitude to the people of Petersburg. But most of all, he thanked his family.
"Biggest thank you to my wife and my baby girl, Naomi," said Loewenstein. "The sun rises and sets for them. It's hard going out at sea — I know the folks in Petersburg know that. But coming back in and seeing my baby's face is the best thing."
Loewenstein is now moving on to his next assignment in Washington D.C.