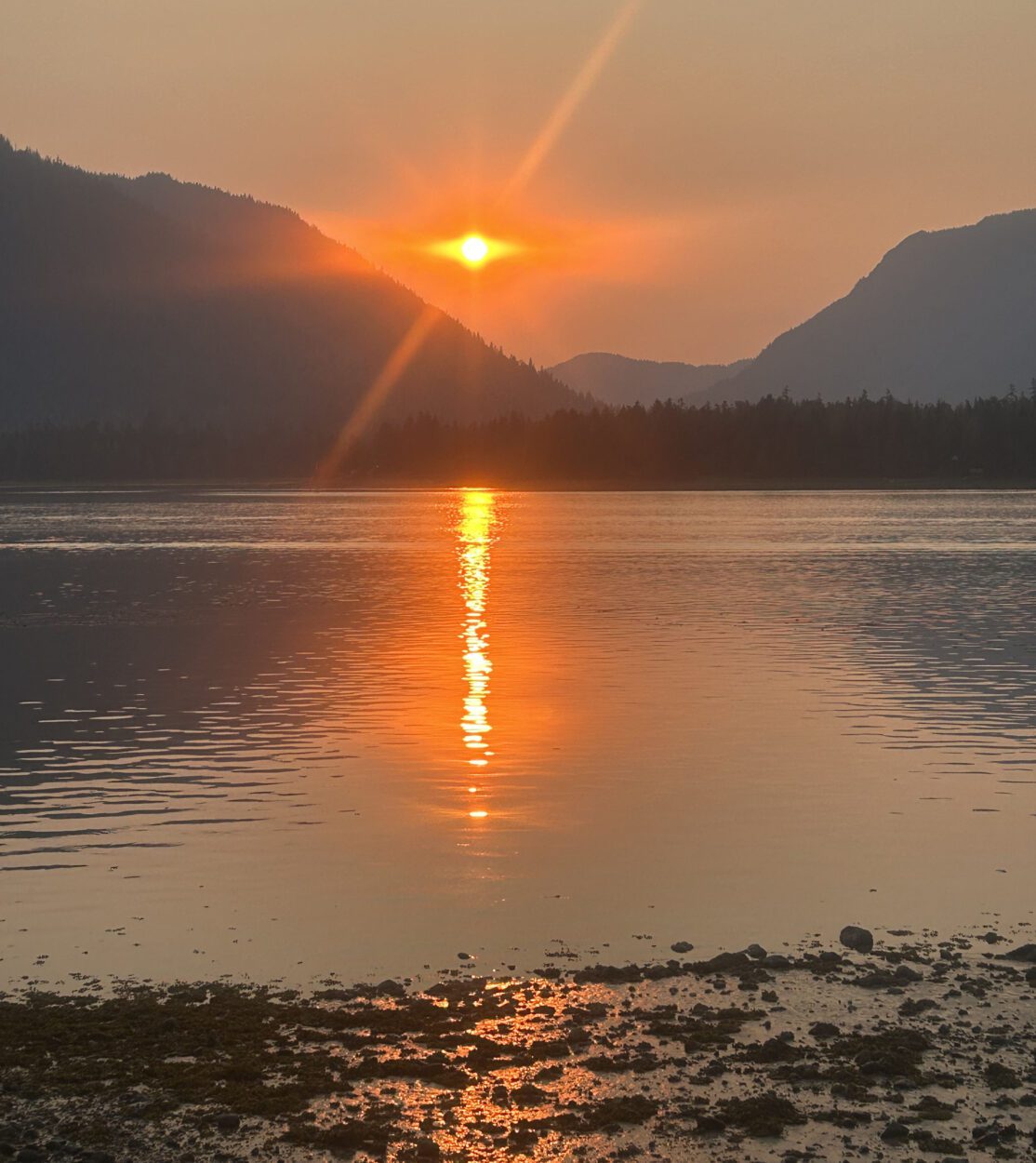 Large swaths of western Canada are ablaze in a record-shattering wildfire season for the country. Now, people in Southeast Alaska are starting to see the smoke — and there's more to come.
Petersburg resident Brad Hunter woke up to murky skies on the morning of Friday, July 7th. By sheer coincidence, that was the day after what Petersburg firefighters are calling the worst structure fire the community has seen in decades. At first, Hunter thought the pale fog came from the blaze at the local Catholic Church.
"I noticed the smoky haze down towards the east, kinda down towards the Stikine River," said Hunter. "And at first, you'd think, 'Well, we had that smoke in town on Thursday.' But then it was apparent that it was a different type and a different source for the smoke."
On that day alone, more than 22 million acres of British Columbia and the Yukon Territory went up in flames, breaking a record that was set over 30 years ago. A few of the fires are right behind the Coastal Mountain Range — just due east of the Alaska panhandle.
The intense fires blew smoke thousands of feet in the air over the Boundary Range. That's why, back in Petersburg, Hunter couldn't see the usual landmarks on the Canadian border.
"Devil's Thumb disappeared," said Hunter. "Then, eventually, even the Front Range towards Horn Cliffs started disappearing through the haze."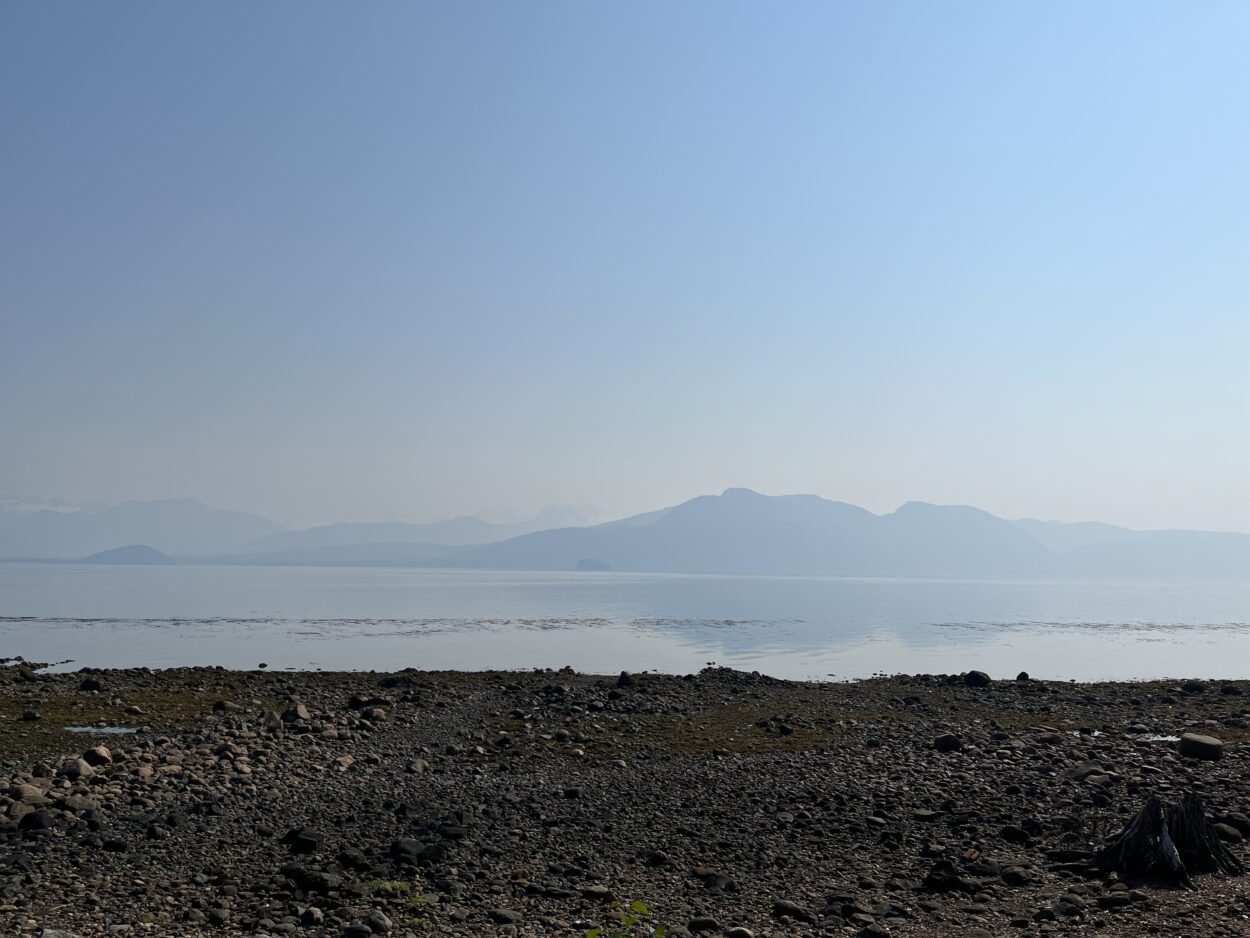 Andy Park is a meteorologist with the National Weather Service in Juneau. He's been tracking the smoke across the border, and says there's no cause for concern quite yet. The air quality levels are still fair: hovering around 17, on a scale that goes up to 300. At least — that's compared to cities on the eastern seaboard of the U.S., which were choked with smoke from Canadian fires in early June. However, Park says things could get worse around here.
"If we see really increased fire activity in that area, it'll push more smoke into Juneau, Petersburg, Ketchikan, [and] Skagway," said Park. "Right now with the models that we have in terms of smoke forecast looks to stay more north of Petersburg. But we would really have to pay attention as to how fires blow up today. You have to watch and see what happens."
Alaska is in for some more smoke. But so far, there's been very little fire. Mark Smith is a meteorologist with Alaska's Division of Air Quality. He says Alaska's fire season had a late start — but Canada's is coming in hot.
"This year, Alaska is not burning," said Smith. "We've only had 1,400 acres to date burn. Typically, even during a low fire year, we'll have 200,000 acres [burned] by this time. But the high pressure has been dominating in Canada — there are hundreds of fires through the Yukon Territory, British Columbia, and Alberta."
So, when will it stop? Smith's weather models predict it could take a while for the smoky days to pass — possibly, until the end of the summer.
"Typically, we're in fire season until the rainy season starts," said Smith. "But we're still looking at the Canadian fires being dampened — not 'till August. So we still have another month of smoke potential."
Central Southeast, near Petersburg and Wrangell, could get the most of that smoke, on account of the flow of air over the Stikine River.
"Petersburg tends to be impacted from the smoke quicker than a lot of the other areas due to the drainage," Smith explained. "As the smoke kind of moves into the mountains from the east, that drainage flow would help steer and channel the smoke into Petersburg."
More detailed data for the area is limited. There aren't any air quality sensors in Central Southeast. The closest are actually in Ketchikan. But sensors to the north and south are clocking in good air quality levels. Sensitive groups — like children, older adults, and people with lung diseases — can still safely enjoy the outdoors.
So — for now — folks can breathe easy and enjoy stunning sunsets and sunrises stained scarlet by wildfire smoke.
For real-time smoke updates, you can check out the Alaska Division of Air Quality's website.