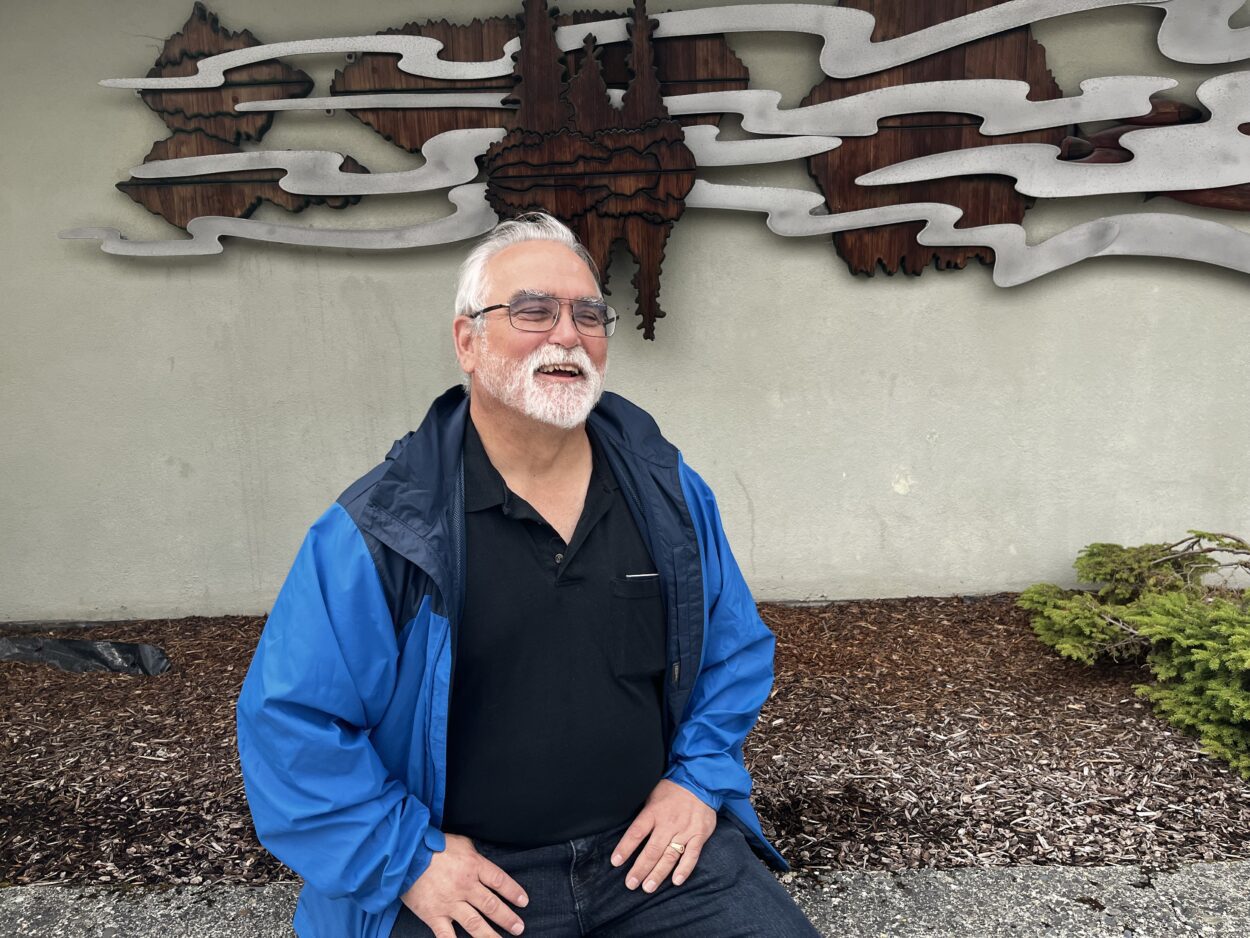 Middle and High school students in Petersburg will have a new principal this year. Brad King has decades of experience in education. For nearly 15 years he taught social studies, drama, and German. He has been an administrator for nearly 20 years, most recently as a principal in Hydaburg, and then Gustavus. 
The school district had a new secondary principal last year as well. Ambler Moss held the position for just one year. He and the school district agreed not to renew his contract. The district put Moss on administrative leave weeks before the end of the school year after what they called "unprofessional communication" with a student. 
The district hired Brad King in May. In announcing his hiring, Petersburg Superintendent Erica Kludt-Painter said "Mr. King will bring a calm, steady hand to our school, and a wealth of educational experience."
King spoke with KFSK's Hannah Flor about the opportunities he sees in Petersburg, the importance of getting to know all the kids personally, and teaching students to think critically. He says part of what drew him to Petersburg is the size of the school district.
Brad King: There's kind of a perfect size for school. Some schools are so large that students just become a number. And they're kind of unwieldy bureaucracies. Some schools are so small that you want to make opportunities, but there's no funding, there's no size to support that. Petersburg high school, middle school, fits right in the sweet spot, I would say, of where you've got just enough to do what you want to do. And not too much that it becomes impersonal. And to me, that's one of the opportunities in Petersburg, it's like, there's not really anything we can't do. Some things may be a little bit of a struggle, but we can make that effort, we can make an attempt. And I think that freedom of opportunity, the opportunity to just explore, experiment, try is very motivating for me, you know.
Hannah Flor: Do you have experiments that you're already thinking about trying out?
Brad King: I had, at one time, I had started a program and worked in a program where we did aviation mechanics and taught the kids how to become pilots in high school so that when they graduated high school, they were, you know, they had their student pilot license, or maybe their private pilot license if they worked really hard. And I think for Southeast Alaska, things like that make sense to me. And then, of course, with the fishing industries and things like that, what can you do that brings that kind of hands-on experience into the school and makes it more relevant to your local population? So those kinds of things I'd like to experiment with. Yeah, I'd like doing things you know, that are unique, but not untried. Does that make sense? Unique for the location, but not untried. We were setting up, in the previous district I was in, they're setting up a lot of hydroponic gardens to provide fresh vegetables year round to the schools and to the community as a whole. And I like that idea, too.
Hannah Flor: I was just thinking about how complicated things can be for kids in high school, high school and middle school. Do you have any specific approach to helping kids through all that complication?
Brad King: Well, keep a smile on your face, first off. I think one of the best ways for me and staff at the school or anybody that works through the schools, you get to know the kids. They all struggle in different ways. Everybody struggles in a different way. Everybody's unique. And so you know, if you get to know them, at least you can sympathize and assist when they're having a struggle. And if you don't know the kids in your school, which is also a reason that huge schools get to be a bit of a problem. It's tough to be somebody they'll turn to and ask a question, or somebody that looked to for support. So I think my best best thing to help kids with struggles is realize my doors open and I'm willing to talk about anything.
Hannah Flor: I was reading an old interview that you did, I think in the spring, with the Petersburg Pilot, and you said something about how kids get their diplomas half asleep.
Brad King: I don't remember that comment. That's interesting. I said that? Interesting. 'Half asleep…' I wonder what I meant by that. Possibly, sometimes students aren't challenged enough in school, that could be a possibility. Sometimes it's a disadvantage not to challenge yourself. And I would like to, you know, see the kids stretch a little bit. Don't take the easy class, because it's the easy class, take the more difficult one, because it makes you think, and that's what we're in the business for, is to teach you how to think, not what to think, but how to think. And that's the challenge.
Hannah Flor: How do you teach somebody how to think? 
Brad King: Well, you spend a lot of time asking questions. I think you have to force people to delve into their own mind and come up with an answer. That's more than a yes or no. I think for social studies particularly, for what I'm experienced with, you bring up topics that require people to weigh all the perspectives, not just assume one. I think that's important, because it's hard when you get out into the real world, after high school and so forth, to make those tough decisions that you have to make as an adult, if you haven't learned how to weigh more than just one perspective. You got to hear it all and take it all in before you choose your point of view, I guess is what I'd say. But sometimes kids are a little half asleep. I guess I must have said that. That's interesting. I might have to reread that, see what I said there, how that came up..
Hannah Flor: All right. Well, thank you so much for joining me, and congratulations on your new position.
Brad King: Yeah, I'm pretty excited. It's gonna be fun.
Hannah Flor: Good.
That was KFSK's Hannah Flor, speaking with new Petersburg secondary principal Brad King. The school year will start Tuesday, August 29th.