Alaska's lone Congressman Don Young heard concerns from Petersburg residents, government officials and business leaders during a stopover in Alaska's Little Norway this week. The economic round-table participants discussed federal funding, government regulation and other topics.


Click here for iFriendly audio:
Local government and business representatives took turns voicing their concerns and questions about federal programs and legislation. Icicle Seafoods' Kris Norosz thanked Young for working on an issue with a visa program that allows foreign students to work in Petersburg's canneries during the summer. The U.S. State Department has proposed no longer allowing the cultural exchange visa students in manufacturing and packing plants, including seafood plants. Young said he'd continue to seek a solution to that problem.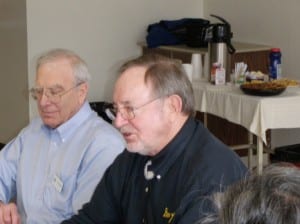 School superintendent Rob Thomason pressed for a continuation of federal funding for counties and school districts near national forest land like Petersburg. "The timber receipts are really critical to the city of Petersburg and the school district," Thomason said. "We get about, correct me if I'm wrong, a million plus from timber receipts on that order, and flows through to the school. That would be a huge hit. I mean either let's start logging or let's keep funding but let's do something."
Young thought school funding would be renewed in some form. "The house has a bill. Is that 4019? Yeah. And we're thinking we're going to be able to move that bill," he said. "It is somewhat difficult because again everybody wants to cut back on the budget but the reality is you wouldn't have to do that if you had an industry. So I think they're gonna have to pay for it."
The bill Young mentioned would be similar to the old timber receipt program for funding schools and roads in the Nation's Forests. But the measure takes it a step further by requiring the Secretary of Agriculture generate a pre-determined amount of revenue each through timber sales, mining, hydro power, recreation and other projects. That would replace the current system which is funded by the U.S. Treasury. The bill was introduced in February by Washington Republican Doc Hastings and has no cosponsors. A one-year extension of the current Secure Rural Schools funding passed the Senate this month.
On local projects, Harbor master Glo Wollen thanked Young for federal funding to dredge the North Harbor. He responded, "You're quite welcome for the money. You'd better enjoy it cause it's going to be awfully hard to get more money. Because they've done away with the earmarks. You heard me I said they done away with the earmarks."
Federal regulations were an issue for several people in the room, including Petersburg Vessel Owners Association's Julianne Curry. "Whether you're trying to harvest timber, or you're trying to develop hydro power, whether you're trying to harvest marine mammals which is your right as a subsistence and Native user of this state. Whether you're trying to wash off the deck on a fishing vessel. It doesn't matter what it is, we're being over-regulated out of business," Curry said. "And I think it's great to sit here and focus on the future of our economy but if its too expensive to get into the business. Or you can't even dredge your own harbor anymore, then where are we? What to we do?"
Young said the problem was in both federal and state regulation. He said the state should work on behalf of communities trying to meet federal regulations. For example, Young said the federal government required the city of Kenai to install a 27-million dollar plant to reduce naturally-occurring arsenic in drinking water: "And then last year they're told if you go put a new plant in at the cost of 27 million additional new dollars, the city can be fined because it's a utility," he said. "Now you can have your own private well and pump all the water you want. But again, it's natural arsenic. Why in the world would you want to clean up something that's natural that does not do you any hurt, they've been drinking that water for 10-thousand years but oh, somebody back in Washinton DC changed the rules. By the way they used to take arsenic for medicine."
Young has sponsored a measure called Stop The Regulation Please Act, or the STRIP Act. It would put a two year moratorium on new federal regulations and would repeal rules implemented in the past two decades, during both Bush administrations, and the Clinton and Obama administrations. That bill has had 17 co-sponsors and no hearings. Another of his proposed bills would similarly put in a moratorium on new government regulations.
Ross Nannauck III asked about progress on legislation to recognize five "Landless" Native tribes including Petersburg, not granted land under the Alaska Native Claims Settlement Act. Young blamed other federal officials and environmentalists for opposing his landless legislation. "Well you know I've introduced that bill 10-15 times now. I know you have. And I work on it all the time and my biggest opposition comes from the Forest Service and from the Park Service and from SEACC and it's not your right to have that land. That's the biggest argument we have," Young said.
The Congressman introduced House Resolution 1306, the Unrecognized Southeast Alaska Native Communities Recognition and Compensation Act a year ago. It's been referred to a House Natural Resources subcommittee but has had no hearings and no co-sponsors.
Young also introduced legislation last year amending the Marine Mammal Protection Act to loosen restrictions on purchase and sale of sea otter pelts by Alaska Natives. That bill has had hearings in a subcommittee but doesn't have any cosponsors. Petersburg Indian Association Administrator Will Ware voiced concerns about enforcement of sea otter hunting law for Alaska Natives. "The vagueness for our hunters, and I'm a hunter of sea otters, its just grossly vague on what you can and cant do and how you do it," Ware said. "There's a lot of folks across Southeast, you'll hear it in every small community that not only are they scared to go out and shoot a sea otter but they're scared that there's sting operations to capture them if they do."
Ware also wanted better consultation between federal agencies and tribal governments like the Petersburg Indian Association for management of sea otters. Others at the meeting asked about debt relief for student loans, encouraging banks to loan money for small business expansion and vocational education for the marine service industry.