Work is planned this spring to rebuild the retaining wall and yard in front of Petersburg's Clausen Memorial Museum, using a state grant of over $100,000. To prepare for that project, borough employees moved an anchor and bronze sculpture from the museum lawn to the public works yard this week. The sculpture is the work of former Petersburg teacher Karsten Boysen and it will return to the museum yard once the retaining wall and yard are redone this spring.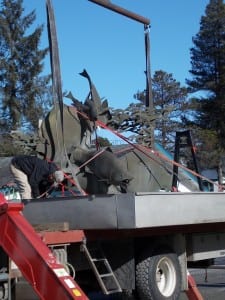 Joe Viechnicki spoke the borough's public works director Karl Hagerman about the project.


For iFriendly audio, click here:
The contract for the museum yard work is expected to be advertised in the next month. Petersburg's downtown street project restarts on Monday.