Federal and state transportation officials fielded questions and concerns in Petersburg last week about potential road and ferry improvements for the neighboring community of Kake. The two communities are separated by over 40 miles of land and water but could be linked by new road and ferry connections, depending on the outcome of a federal study of the possibilities.


For iFriendly audio, click here:
The project is called Kake Access, and it aims to improve transportion, namely road and ferry travel, to the community of over 500 people on northwestern Kupreanof Island. The Federal Highway Administration is in the early stages of coming up with an environmental impact statement, or EIS. That's a requirement of the National Environmental Policy Act to look at potential impacts to public lands, wildlife and people in the area.
Mike Traffalis, project manager with the agency in Vancouver Washington, said the Kake access project was still in its the scoping phase. "Through outreach efforts, we've now crafted our draft purpose and need which is a core document, the cornerstone of the EIS based on what we've heard and documented through outreach efforts on the needs for improved access for the community of Kake," Traffalis said. "This document once finalized will be used for us to develop a range of alternatives to solve the access issue."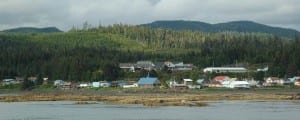 The draft document says improved transportation is needed because access to and from Kake is restricted to infrequent air and ferry service. This study is only looking at surface transportation, not air options.
Traffilis made it clear that federal highways has not yet produced any alternatives, where new roads would go, or ferry terminals could be built. However, the project is not starting with a blank slate. A road and ferry connection between Petersburg and Kake has been under consideration for decades. It was a recommendation of the state's 2004 transportation plan for the region and the project already has a 2012 state appropriation of 40 million dollars. That money was included in the state's capital budget for just one option, new and upgraded roads on northern Kupreanof, following a specified transportation easement and existing logging roads across national forest land.
Local resident Bill Tremblay questioned the language in the purpose and need document. "The way this is worded, the 40 million dollars from the state almost appears to be like a predetermined decision on the NEPA document. It would be helpful to know if the money would just stay in that one area, can be moved? I mean if the purpose of the money is to provide kake access, if the environmental analysis and the economic analysis and the benefits favor the Totem road does that 40 million dollars go away or what?" Tremblay asked. A road to Totem Bay on the southern end of the island was another route considered by state planners in the past. Those alternatives and others could be part of this latest review.
Federal highway's Traffalis noted the money was a state appropriation and would not influence the federal study. "We're not letting the state legislation saying this money is for a northern road alignment dictate what we're looking at or what the outcome of our study is," he said.
The northern road alignment is controversial. It's opposed by the small community of Kupreanof, across the Wrangell narrows from Petersburg. And it would require a terminal and a shuttle ferry to cross between Kupreanof and Petersburg.
Mike Stainbrook owns a cabin in Kupreanof and said a road there is not the way to improve Kake's transportation. He suggested better mainline ferry service from the state. "Much of what is said about the connectivity with Kake is something that almost all the small rural communities in Southeast feel. That's a part and parcel of how we live and the perils we deal with. That doesn't make it that we shouldn't try to make things better but I don't know if building roads in a water community is necessarily the answer."
At the same time the transportation study is underway, the Southeast Alaska Power Agency is studying possibilities for a powerline connection – and that study's much further along, with alternatives identified and early cost estimates. Officials say an electrical line would be easier to build and maintain if it paralleled a roadway – however, the two studies are separate and proceeding on different schedules.
Nicole McMurren questioned the connection between the projects. "It seems like the planning powers have the projects very connected and intertwined. And it feels a little hoodwinkie. I mean the need for power has really never been a question. It seems like that has been highjacked along the way because of other interests to build a road, which seems to be debatable, you know the desire to actually have a road in place."
Several others at the meeting questioned the desire for a road link. Kake resident voted 2-to-1 against the road back in 2003 and favored better ferry service.
Traffalis, who held a similar listening session in Kake the night before, said planners have heard from the city of Kake and tribal community that they support better transportation access. "They said yeah in '04 things really took a downturn there with their logging and their other business lines and they realized that their population was leaving so they weren't a sustainable community as they had depleted, their resources were gone, people were leaving, there weren't jobs and their economy was dropping and they saw that their isolation has caused economic downtown." Traffalis noted Kake officials have their top priority of cheaper electricity and a second priority of improving access.
In Petersburg, area residents voiced concerns over potential loss of ferry service with the construction of new roads. Another concern was impacts on subsistence resources, fish, wildlife and plants if new roads are built and provide easier access to the national forest land.
Others pointed out the maintenance costs of keeping a road plowed through the winter months.
Borough assembly member John Havrilek asked about the budget for the EIS and learned it was five million dollars. He pointed out that the Southeast Alaska Power Agency may spend the same amount to study a powerline connection between the two communities. "You know its one of those things you hate to waste 10 million dollars to say oh god its gonna go from 150 to 300 million. It'd be nice to know if any of this is logical based on past experience in this type of terrain and if it makes any sense?"
Federal highways will finalize its purpose and need document and from that start developing a range of potential alternatives for the environmental impact statement. A draft EIS document is expected out in the spring of 2015.
There's more information here.