An aide to U.S. Senator Mark Begich tells Petersburg officials the U.S. Coast Guard has no immediate plans to relocate or decommission a Petersburg-based cutter and says plans to bring in new larger cutters to Southeast may be delayed.
Bob King, a legislative assistant to Alaska Democratic Senator Mark Begich, sent an email response to Petersburg mayor Mark Jensen this month. King wrote that he contacted Coast Guard headquarters about the fate of the 110-foot cutter Anacapa, which does search and rescue missions, homeland security and law enforcement out of Petersburg. King writes that officials at Coast Guard headquarters say they have no current plans to take the Anacapa out of service or change its homeport.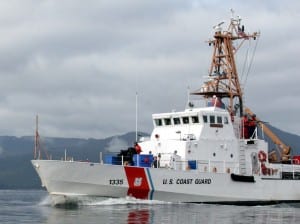 Local officials wrote to the senator this summer asking about plans for replacing the fleet of aging 110-footers and asking to keep both the Anacapa and the buoy tender Elderberry or their replacement ships in town. Mayor Mark Jensen Monday said it's nice to have the Coast Guard here and hopes the ships are in Petersburg for many years. "53 people I believe are associated with that ship being in town," Jensen said. "There's kids in school and people in the workforce and be a shame for that to go away for the community I would think."
The Coast Guard plans to replace the 110-foot vessels with new 154-foot fast response cutters and wants to commission 58 new ships around the country. Two of the larger vessels are planned for Ketchikan, possibly as early as 2015. However, in his email, King writes that only 18 of the 58 larger ships have been funded and postponed delivery of the two ships to Ketchikan seems likely due to budget cuts.