Crab boats in Southeast are waiting at least until Wednesday for the start of two lucrative commercial crab fisheries in the region.
Fishing was scheduled to open at noon today (Monday, 2/10) for golden king and Tanner crab. However the Alaska Department of Fish and Game announced a 24-hour delay on Sunday because of bad weather forecast for the early part of this week. That was followed by another 24-hour delay announced (this) Monday morning, pushing the scheduled start back until Wednesday at noon.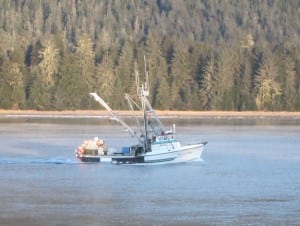 The National Weather Service issued storm and gale warnings into Monday night along with warnings for heavy freezing spray in parts of Southeast where the fleet will be fishing.
The overall guideline harvest level for golden king crab in the region is just under half a million pounds. The biggest portions of that overall GHL are in waters around Admiralty Island, including Stephens Passage, Frederick Sound and Chatham Strait. Once crabbing does start, fishing remains open until the harvest levels in seven areas of the northern Panhandle are caught by the fleet.
Last year the overall catch of golden king was over 510-thousand pounds caught by 33 permit holders. Some of the areas stayed open into the fall with little fishing effort. The average price last year was $10.10 a pound.
As for Tanner crab, Fish and Game estimates there's four million pounds of mature male crab in the region, down a little from the department's estimate a year ago. The season length will be announced Tuesday, but it's at least five days long in the most popular crabbing areas.
Last year the 76 permit holders caught 1,242,433 pounds of Tanner crab. Average price for that catch was $2.27 a pound.
The season could see further delays if the windy weather continues but the new scheduled start for crabbing is noon on Wednesday, February 12th.
(Editor's note:this story updated 9 a.m. Monday, February 10th)