Petersburg mayor Mark Jensen said he got word from the state Friday that Fish and Game would be rebuilding the Crystal Lake hatchery facility destroyed in a fire earlier this month.
Crystal Lake is a king and coho hatchery operated by the Southern Southeast Regional Aquaculture Association about 18 miles south of Petersburg. The hatchery buildings are owned by the state. Crystal Lake's incubation room burnt down on March 4th.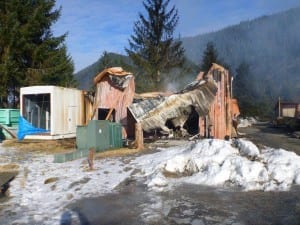 Mayor Mark Jensen said he spoke Friday with Kevin Brooks . He's director of Fish and Game's division of administrative services. "I had met with him and a few other Fish and Game personal and Sam Kito and Dennis Egan in Senator Egan's office when I was up there for the regional tournament," Jensen said. "At that point they didn't really have a definite answer but Kevin Brooks conveyed the message to me today that they are going to go ahead. The hatchery will be rebuilt. Fish and Game and SSRAA are already looking at design concepts and ideas. So it's positive."
Jensen said Fish and Game officials have the message of the importance of Crystal Lake to commercial and sport fishing fleets and the community. Local residents started a letter writing campaign this month to urge the state to rebuild.