Petersburg voters this fall will decide whether to exempt local elected officials from state financial disclosure requirements. Petersburg's borough assembly Monday voted to put the issue on the October ballot. If voters approve, people elected or appointed to the borough assembly, planning commission and school board would no longer have to file income information with the Alaska Public Offices Commission.
18EXEMPTweb
Elected officials in the old city of Petersburg were exempt from state financial disclosure requirements, but that changed with the formation of the borough in 2013. After that, anyone elected or appointed to the borough assembly, planning commission or school board has had to file a report with the public offices commission. Those reports outline major sources of income for an office holder, a spouse or dependent child along with a person's loans.
During a radio call-in show Monday, assembly member Jeigh Stanton Gregor said it was a good idea to vote on the issue. "I think this would be a great one to have on the ballot. I understand why that rule is in place but in terms of small government where we have a hard time filling vacancies, I think removing that barrier is a great idea to get more people involved in the democratic process."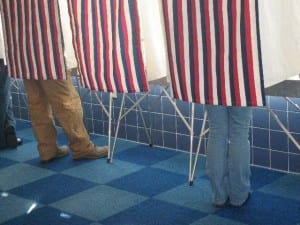 State law on financial disclosure says the requirement is to discourage a public official from acting on a private business interest while serving the public. It also states that public office is a public trust that should be free from the danger of conflict of interest and that the public has a right to know of the financial and business interests of persons who seek or hold public office.
The conflict of interest issue addressed in this law comes up from time to time at the local level – one recent example was this spring. Stanton Gregor owns a counseling business, and he sat out votes on a portion of the borough's budget that including funding for a competing mental health service in town.
Like Stanton Gregor, vice mayor Cindi Lagoudakis thought the requirement should be removed. "And for most people, it's probably not, it makes you uncomfortable to provide financial information. I don't think most people probably go online and seek that out. For some people there's a business reason why that would compromise them or their clients or the people that they do business with and so, I understand why folks don't wanna do that. And I agree with Jeigh. I think in a community this size it's probably not that important to have that financial disclosure."
Since the formation of the Petersburg borough in 2013, the requirement for financial disclosure has prompted at least one resignation by a local office holder.
The public offices commission maintains the filings by elected officials. However, for municipal official's annual reports, that public information is not available on the APOC website.
"The policy has been the annual reports for people other than the legislature candidates or the governor and lieutenant governor are available to the public but not electronically," APOC executive director Paul Dauphinais explained.
That means someone would have to call an APOC office and request those records to be sent. "People would need to call the APOC office, ask us if we have a particular filing, we would ensure we even had it. Then we would be happy to send it to them in a variety of different formats. If there's like a PDF, we'd be happy to do that. That's preferable since we could do that electronically, or if they want a paper copy we would print it out and send it to them."
Daupinais said many municipalities have opted for exemption from the requirement. It's the first ballot question that borough voters will decide since the election on the borough in late 2012.