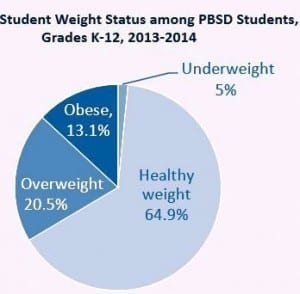 Petersburg School Board is considering a stricter nutritional policy for the district. The new policy focuses on encouraging healthy eating.


Gone are the days when teachers could hand out candy bars to students for doing well in school.
Ginger Evens is the coordinator of the school district's Healthy Living Grant that was awarded from the state.
"We're not supposed to use food as rewards in our classrooms," Evens says. "So, we can do different things, elementary school instead of celebrating birthdays with cupcakes and balloons, they get their name announced, they get books which is great. We want our kids to be readers."
New nutritional standards known as the "Gold Standard" are recommended through the state grant.
Evens told the school board that Petersburg doesn't have to make major changes to its nutritional policy because it was already a good one.
"I would have to say that our policy prior to this was probably one of the better ones in the state," Evens says.
The proposed changes basically tighten up the policy's wording making healthy food and activity even more of a priority for students. That would include changes to the rules on fundraising through food sales. Currently, fundraising from food, like concession stands, can only happen half an hour after the last bell rings which is a federal mandate. Now, the board is considering changing the price of foods as well, making healthy choices cheaper than non-healthy ones.
"Let's say cupcakes, a cupcake needs to be more than a bag of carrots," Evens says. "Carrots would be less expensive than a cupcake so that even if like people were worrying about how much money is available than hopefully they would choose the less expensive item which would be the carrots or the apples, celery or something like that."
The Healthy Living Grant is a four-year grant that started last year that is worth $150,000 a year. It is on the chopping block in the state budget this year. However, Evens told board members they have some structure in place that should allow some of the grant details to continue even if some funding gets cut.
"We have purchased a lot of materials and good things for classrooms, good things for the physical education program, for health classrooms, for the food service program, second chance breakfast, and things like that so I think we have some infrastructure that we can maintain and support," Evens says.
The school board unanimously approved the language changes to the district's nutritional policy. The proposed changes next go to the district's lawyer to consider. Then it will come back to the board for a second reading.