Consultants drafting two long-term planning documents for Petersburg have extended a public comment period this summer and will be releasing more additions to the draft documents. The borough's comprehensive plan and waterfront master plan are still on track to be completed this fall.


The draft comprehensive plan is 128 pages long and updates a document last revised in 2000. It's meant to guide planning, funding and development efforts for the borough over the next two decades. Consultants are also producing a waterfront master plan that looks at harbor facilities and challenges for maintaining those docks and floats, along with potential new projects.
Shelly Wade of the consulting company Agnew Beck said the planners recognize the two draft documents were released in June at the start of Petersburg's busy summer fishing season. A public comment period extension will give people more time to comment. "We definitely recognize that and understand that so we wanna give folks more time," Wade said. "And then also give folks time to absorb this new information, which again provides a new level of detail that we understand folks need time to understand and ask questions about."
One of those two additions is a generalized land use map for the borough. That map that will provide outlines of existing use of property borough-wide . The company's Chris Beck gave a few specific examples of how the new map will be useful. "There are areas over on the other side of Frederick Sound where there are some gravel sites that are quite important," he said, adding. "We wanna highlight where those are. There are some areas on the southern part of Mitkof Island or on southern Kupreanof Island where there's some state land and there's a possibility of some of those lands being selected by the borough so it could be either retained for recreation or perhaps sold for private use. So this is a chance to inform some of the land selection process."
Beck explained that that land use map will also set the stage to extend the borough's zoning powers across the whole borough. "This plan is suggesting that after the plan is adopted and after the generalized land use plan map is adopted that a second step follow that would create a very simplified version of zoning in the rest of the borough. And that would not be as specific and detailed as what is currently in town, in Petersburg town."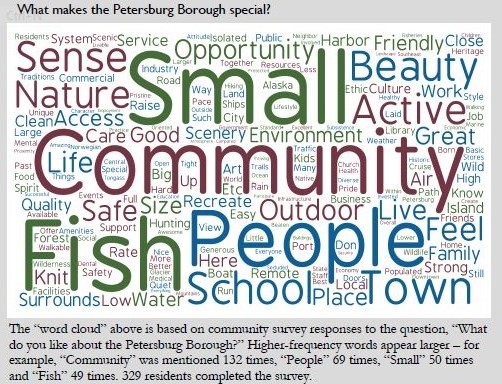 Zoning borough-wide would be a new thing for remote residents outside the old Petersburg city limits and it would go against a promise made during the borough charter process not to extend zoning to remote parts of the new borough. However, the consultants are recommending that change as a way of regulating future large scale development if it is not compatible with neighboring properties.
The comprehensive plan has identified several challenges that Petersburg is facing. Those are an aging population in the borough, a shortage of affordable housing and the state budget crunch. It also notes various actions the borough can take to tackle those challenges.
The second additional document the planners are releasing this month is a financial review of the harbors that will be added to the draft waterfront master plan. Wade explained that write up will suggest some strategies for creating a sustainable harbor during a time when Petersburg cannot count on state grant money for new projects or repairs. "And that's through a combination of a few different things which includes getting creative and doing potentially new partnerships with private sector in the development of new facilities in the harbor and then also potentially re-evaluating the current rates and fees that are charged for the harbor as a means of sustaining current operations and also creating a fund for continued repair and replacement of existing and proposed facilities."
The draft waterfront master plan is 22 pages outlining existing harbor facilities. That includes the number and size of harbor stalls, and areas where the harbor does not have enough capacity for the vessels wanting to dock here. The document notes budget and land constraints on the waterfront and it identifies some tactics for improvements. Among those are acquisition of the Petro Marine Services property on South Nordic Drive across from the public cold storage, construction of a new launch ramp at Scow Bay and acquisition of state land in Scow Bay. Other ideas are closing the old wooden launch ramp in North Harbor and making Harbor way a one way street to increase parking there. And the draft suggests building a new multi-purpose float in North Harbor.
Wade said the consultants plan another visit in mid August before the comment deadline to get more feedback. "With this particular release and especially with these two products that are a lot more detailed than folks saw early on, I think we're hoping that folks provide us with their really frank and honest opinions about whether or not we're getting it right," she said. "So have we accurately portrayed existing conditions and importantly are the goals and potential strategies that are outlined in the plan, do those align with the community values and visions for the place?"
The planning effort cost $195,000 and is being paid for with some of the state money Petersburg received for the transition to a borough government. The public comment period on the drafts runs through August 15th. The final plans are expected to be released this October and the comment extension on the drafts does not change that timeline.
The email address for comments is petersburgplans@gmail.com