Voters head to the polls Tuesday, October 6 in Petersburg and will be deciding one ballot measure and one contested race for harbor board. As of 11:30 a.m., 95 people had voted at the polls in the community gym activity room. Another 92 borough residents had voted absentee by yesterday's deadline. Add those together and the turnout for this election so far is 187 people. That's just over seven percent of the 2,631 registered voters in the Petersburg borough. The polls are open until 8 p.m. at the community gym activity room, a different location past years.


It's the second year in a row for voters to tackle the requirement for some local elected officials to file income information with the Alaska Public Offices Commission. A similar measure failed last year with 518 people voting no. 489 voted in favor of the change, a difference of 29 votes.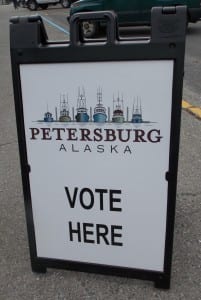 If it passes this year, people running for, or elected or appointed to seats on the borough assembly, school board and planning commission would no longer have to fill out paperwork on sources of income for themselves, spouses and their children. The requirement also applies to the borough manager. The information is public and is available on the APOC website. Supporters of the change say it's a burdensome requirement and that it has deterred people from running for local office. Opponents say the paperwork is not too difficult and should be filled out by people making decisions for the borough. It's a requirement in state law, designed to prevent people holding public office from acting in their own private interest, although municipalities can opt out if voters approve.
The only contested race is for harbor board. Three people are running for two seats on that advisory board. Two incumbents on the board, fisherman Bob Martin and former harbormaster Jim Stromdahl are hoping to regain their seats and they're facing a challenge from John Murgas, who owns a vessel hauling and storage company in Scow Bay. The top two vote getters will start up three year terms this month.
Incumbent Nancy Strand and newcomer Eric Castro are running unopposed for two open seats on the borough assembly. Three incumbents on the school board are running to keep their seats and have no opposition. They are Cheryl File, Jay Lister and Mara Lutomski.
Marlene Cushing and Kris Thynes are running for re-election to two of the four open seats on the hospital board. Chelsea Tremblay is running for a three-year term on the library board. Also Mary Koppes is running as a write-in candidate for the other open seat on that board.
Four people are running for one of the six open seats on the Planning and Zoning Commission. Richard Burke, David Kensinger, Otis Marsh and Tom Stearns are running un-opposed for two- or three-year terms.
On the public safety board, Gina Meucci is running for a one year term and one seat has no candidate.