Petersburg High School volleyball went undefeated at a home seeding tournament against the other small schools from around Southeast last weekend.
The Vikings had six wins and no losses Friday and Saturday. Coach Jaime Cabral was happy with how his team played. "Lots and lots of games and lotta playing time for all our kids, from our starters to our whole bench got in," he said, adding, "That was nice getting all of our kids some playing time. But the kids did great. No real rollercoaster ride this weekend, steady throughout all of them and a couple places here and there just needed to clean up and they did a great job this weekend. Couldn't ask for a better weekend from our kids."

Each of Petersburg's matches went just three games. None of the teams pushed Petersburg to a fourth or fifth game. Cabral said Craig, Klawock and Wrangell were Petersburg's toughest competition however, the home team was serving well.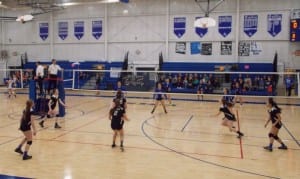 "Our girls were hitting different spots and I was giving em locations to serve so they could start hitting different zones on the floor that we practiced and they did a great job as far as their serving, they served extremely tough this weekend and not a whole lot of service errors so that is very helpful 'cause with rally scoring without that serve you can't score points," Cabral said. "So that made a huge difference over the weekend."
Last weekend was the last home action for the Vikings so the team honored seven seniors, the first time in several years that the team has had a senior class. This year's seniors are Kelly Engell, Ruby Brock, Adanna Kvernvik, Kyla Willis, Catherine Cardenas, Josey Prus and Kiana Simbahon. Cabral said it's a special group that's he's been coaching for four years. "My first year coaching here in Petersburg they were freshmen. So it's a special group to me. They've stuck through the thick and thin with me. Their sophomore year they were all on varsity 'cause that was the oldest group I had. So it was kind of an odd year that second year. Then third year still battling against Edgecumbe and Sitka. Their sophomore year they never won a conference game but they never gave up throughout the whole year. They kept getting better. Then that second year they won one conference game and pushed some teams to five sets. They've worked over the years constantly not giving up an ounce of effort and it's paying off this year. They looked really good this past weekend. Just a great group of seniors that have stuck together for a long time."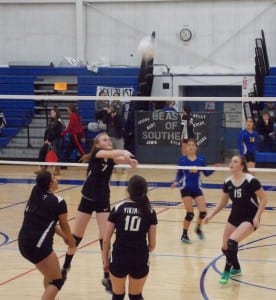 Here are the results from the home tournament last weekend.
The squad heads back to Juneau this weekend for an All-comers tournament against teams from around Southeast.