This year's winner of the Rain Game Classic in Petersburg was right on the mark with her guess.
Tiffany Foss of Juneau was the winner for guessing 135.99 inches of precipitation in 2015. That's the exact amount recorded in Petersburg last year and that guess wins Foss 575 dollars.
The annual guessing game is put on by the Petersburg Chamber of Commerce. The chamber sold 633 tickets in the contest and splits the proceeds with the winner, after deducting the cost of the tickets.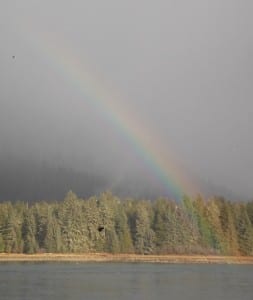 By the way, 2015 comes in as the second rainiest year on record in Petersburg. The wettest year remains 1991 with 136.88 inches of rain. The National Weather Service keeps rainfall and temperature data for Petersburg dating back to the 1940s. The average annual rainfall around here is 109 inches.