Peterburg's harbor board signed off on a draft waterfront master plan last week with only a few changes. The plan looks at capital project needs and the cost of owning and replacing the docks and floats on Mitkof Island and elsewhere in the new Petersburg borough.


Unlike the last time Petersburg did a long-term planning effort, the municipality this time hired consultants to draft a separate document that examines existing harbor facilities, future needs and opportunities for expansion. The waterfront master plan is 38 pages along. There's also a separate 124-page assessment report of harbor facilities and a 14-page report on financial considerations.
Much of the waterfront master plan covers recommended projects. Harbor master Glorianne Wollen wondered about the number of boat launch ramps in the plan. "And it's probably because they heard it a lot from the public is the vast amount of launch ramps," she said. "It seems like a lot of projects include new launch ramps. How many launch ramps do we need and to maintain on the island?"
Wollen highlighted the plan's recommendation for a new launch ramp at Scow Bay that could be expanded in the future for up to four lanes with multiple boarding floats. "I would like to see that Scow Bay really concentrate towards the boat yard, or the hauling bigger commercial boats out, rather than setting aside a big portion of it for sport, when we have a lot of other areas. If we are going to take on Papkes and rebuild that. They also advise of improving launch ramps at Banana Point and Blaquiere. That's a lot to maintain and how many do we really need?"
Wollen noted that use of sport fishing grant money requires a certain amount of parking spaces for vehicles and trailers and she didn't think there was space at that site. The plan recommends acquiring the Alaska Department of Transportation maintenance yard to increase parking space.
Harbor board member John Murgas has a business that hauls boats at the Scow Bay site. He thought the recommended ramps could be built using public private partnerships and for less money than outlined in the document. "I would not like to see any ramp there nixed," he said. "There's definitely room for one and I think it would really be great for the community there and the commercial businesses of both Rocky's Marine and Hammer's Marine would be able to use that."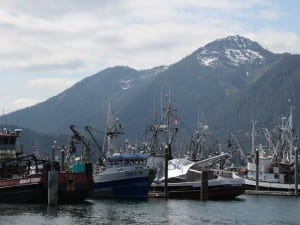 The plan recommends completing the final phase of the drive down dock, namely a bulkhead that would be an additional loading area on the side of the rock filled parking lot. There's some remaining state grant money for that project and the harbor board recommended that project go forward this month.
Another project designated as high priority is a harbor maintenance shop, which could be located on South Nordic Drive, if the borough were to acquire the Petro Marine Services property just across the road from South Harbor.
Other high priority recommendations are replacing the retaining wall in North Harbor by the grid, closing and demolishing the boat ramp in North Harbor, replacing the South Harbor utility float, acquiring the state Department of Transportation maintenance yard in Scow Bay and repairing the float on the Kupreanof dock. The plan also recommends working with shipping and seafood processing companies to maintain or increase barge traffic and seafood processing capacity on the waterfront. A long list of other medium and low priority projects are also identified.
Consultants also looked at the condition of floats and docks in the three harbors in downtown Petersburg, along with two remote state-owned facilities at Papkes Landing and Kupreanof. The waterfront plan recommends harbor rate increases to cover costs of repairing and replacing those. Board chair Mike Bangs called those replacement costs alarming. "After looking through the condition assessment which I'm sure most of you did and I see we have a nice color photo, it's kind of alarming to see what's coming down the line as far as costs and how we're going to be able come up with funding for South Harbor replacement and repairs and continue to do our annual maintenance like we're doing now," Bangs said.
The document notes that the number of vessels harboring in Petersburg is likely to stay about the same in the upcoming years, but fishing fleets may be upgrading to larger vessels. It highlights recreational fishing and outdoor excursions as important secondary uses of the harbors that should be encouraged.
Other recommendations are to look at acquiring more waterfront property for expansion.
The board voted to recommend the master plan to the assembly with a few small suggested wording changes. That included removing reference to four lane boat ramp at Scow Bay.
The board is also expecting to have a joint work session with the Planning and Zoning commission on the comprehensive plan and land use this winter.
All the documents are available for download on the borough's website.