Petersburg's borough assembly Monday, March 21 takes its third and final vote on adopting a new comprehensive plan and also has numerous votes on awarding contracts or seeking seeking companies to do work for the borough.
The assembly at its last meeting agreed to add in language to the borough's comprehensive plan requiring a public vote on any extension of land use law outside the old city of Petersburg limits. After checking with the borough's attorney, staffers are suggesting either a survey of impacted land owners or creation of advisory boards to gather input on any proposed expansion of zoning or other land use law.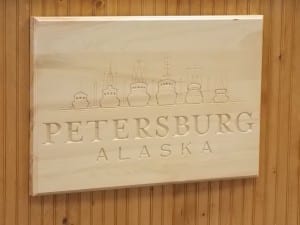 In other business, the assembly has three contracts to award for construction work. Harbor master Glorianne Wollen is recommending a contract to build a loading bulkhead at the drive down dock go to the apparent low bidder Tamico. That company bid over 1.3 million dollars. Most of that would be covered by remaining state grant money from the drive down dock project. Assembly members will also vote a 117,000 dollar contract for PND Engineers to oversee construction of the bulkhead.
Another contract award is for the construction of a communications tower for local emergency services. The price tag for that new tower would be just under 70,000 dollars.
Another contract would pay more than half a million dollars for sewer line and pump station work.
Borough manager Steve Giesbrecht is seeking assembly approval to advertise for a consultant to oversee the police station and municipal building renovation. Another request for proposals would seek an upgrade to the borough's public safety communications system.
Also tonight, the assembly has the second reading of two revised borough ordinances on dogs and fines for dog violations.
Tonight is the first reading for the borough's proposed budget for the fiscal year that starts in July. The assembly will be considering funding requests from community service organizations.
The assembly will decide on declaring sales tax free days on May 7 and October 8.
The meeting starts at 6 p.m. in borough assembly chambers and KFSK will broadcast the meeting live.