Petersburg's Sons of Norway Hall Monday swelled with the sound of Sacred Harp singing. The tradition features four-part hymns and anthems and dates back to the earliest days of the country. Singers sit facing each other in a square and are encouraged to stand in the square and lead the group. Audience members and the public are also welcomed to join in; several did at the Sons of Norway Monday.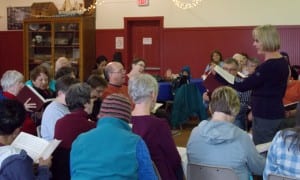 Joe Viechnicki recorded the singers and spoke with David Ivey, one of the group's members.


The Sacred Harp singers also planned stops in Kake and Sitka this week. Learn more about the tradition here.
Listen to the full recording of the Sacred Harp singers in Petersburg here.


or download the recording here.