Petersburg school officials are talking with students about potentially relaxing the high school dress code to allow students to wear uncovered yoga pants and other leggings. Petersburg's school board Tuesday heard an update on an ongoing discussion following a petition and protest by students over the issue last year.


Yoga pants and leggings are allowed in the high school at the moment but are required to be covered by a long shirt, shorts or skirt. Some students last year asked for that to change. As reported by the Petersburg Pilot newspaper, a group of female students showed up to school in uncovered leggings last year and circulated a petition seeking to relax the requirement.
Principal Rick Dormer told the board he met with the students and asked for their ideas. "We were in a spot where we said we do wanna listen nothing is set in stone," he said. "The current dress code is still you can wear leggings but you have to wear something covering it to mid thigh and that's what our current dress code is so. We said, here's the policy, you know where it is in the handbook, write something for us and so they came back and that's the draft you see in front of you."
A team of teachers and administrators came up with their own proposed change. Both the students and staff are proposing to allow yoga pants or leggings uncovered as long as legging material is not see-through. Both sides have proposed still requiring covering over spandex, leotards and athletic compression shorts.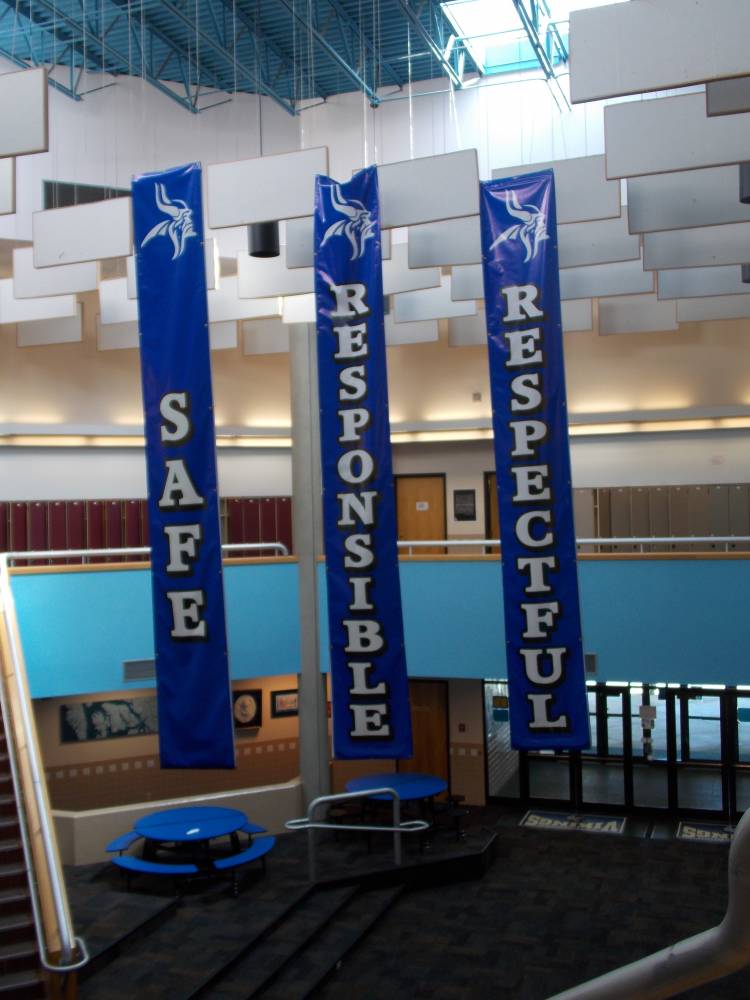 Superintendent Erica Kludt-Painter wanted to be clear that the district was not just focusing on female students. "Some people have said well nobody brings the boys in or has that conversation which isn't actually true because again I've been here long enough to go through the pants around the knees time here and we spend a lot of time in the district, I remember it, working with that situation and so at that point it was a lot about that," Kludt-Painter said.
The current dress code also prohibits underwear showing, bare shoulders, head coverings, short dresses or shorts along with clothing that has drug, alcohol or gang wording on it.
Board president Sarah Holmgrain noted the two proposals for leggings were not that far apart. "It looks like the wording for the students ideas as well as the staff team is getting pretty close to each other," Holmgrain said. "I think that also speaks for this kinda coming together of the minds on what the language might look like that it looks like it's pretty close."
Student and staff proposals for yoga pants both use the word revealing, for something that's not allowed. Board member Jay Lister wondered about using such a subjective word. "Who's deciding whether that's revealing or not?" Lister asked. "It could be, one person could say that's revealing another person could say no that's fine. So that's a little bit tricky."
The dress code language is part of the high school handbook. The final wording in that handbook is not a board decision but administrators asked the board for their feedback on the issue.
Principal Dormer explained the district's goal was to require students to dress in a professional manner, similar to what they'd experience on the job after school. He also called several businesses owners and parents in the community and found most of them supportive of allowing leggings uncovered. Dormer said the back and forth would continue with students and staff this year.
"As the principal I do think maybe we need to evolve a little bit," Dormer said. "I do agree you can go to downtown Seattle and see people in their professional jobs wearing leggings that may not be covered all the way down. So I do think it is more of a fashion trend, jeggings have kindof come on and for a while we didn't allow jeggings and you know that kind of stuff. I do believe there's an evolution. As a father, my daughter won't be allowed to wear without covering to mid-thigh because I have to play both sides so."
Petersburg isn't the only district talking about student attire. Ketchikan volleyball players last month complained to the school board about one board member's focus on volleyball shorts, among other complaints. The school district in Haines last year updated its dress code to require covered up yoga pants and no low riding pants.
Here's the current PHS dress code with two versions of proposed language:
DRESS AND GROOMING
In accordance with the implementation of the District's goals and strategies, the dress code for
all students shall meet school board requirements (Board Policy 5132) and create an environment that
contributes to the learning needs of students.
The dress and grooming of students shall contribute to the health and safety of the individual,
promote a positive educational environment and good school spirit, and be non-disruptive of the
educational activities and processes of the school.
Shoes shall be worn.
Clothing that exposes the entire shoulder, tube tops, spaghetti straps, or similar type clothing,
may be worn only with a blouse or shirt.
Clothing exposing the torso or the midriff, either front, back or sides, shall not be worn.
Underwear shall not be visible.
Tight-fitting leggings, leotards, and spandex bottoms, when worn, must be covered to mid-thigh
by shorts, skirts or a long top . (current policy)
Leotards, spandex and athletic compression bottoms, when worn, must be covered to mid-thigh
by shorts, skirts or a long top. (student idea)
Leggings and yoga pants, when worn, must be completely opaque, non-revealing, and of a
material thicker than tights.(student idea)
Leotards, spandex and athletic compression bottoms, when worn, must be covered to mid-thigh
by shorts, skirts or a long top. (staff team idea)
Leggings and yoga pants, when worn, cannot be transparent, revealing, or of a material similar
or thinner than tights.(staff team idea)
Head coverings shall not be worn in the auditorium, class rooms, office, and at assemblies
Mini skirts, mini dresses, and short shorts are not permitted. Hemlines shall be no shorter than
mid-thigh.
Garments and/or jewelry which display or suggest sexual, vulgar, drug, gang, or alcohol-related
wording or graphics, or which provoke or may tend to provoke violence or disruption in the
school, shall not be worn.