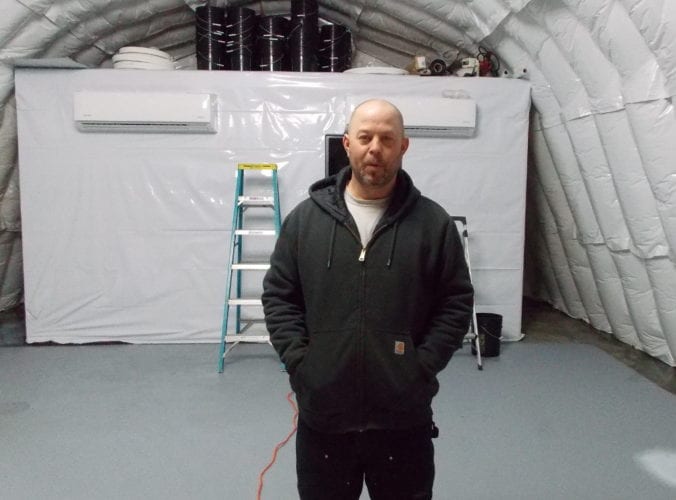 The first licensed marijuana business in the Petersburg area is preparing to grow pot plants this spring and expects its first harvest in June. The grow operation, Southeast Moog Droog is in a newly constructed building at Papke's Landing, about 10 miles south of downtown Petersburg.
"So this is my building," said Southeast Moog Droog owner Gary Morgan. It's a 26 by 24 foot steel building. 12 gauge steel. It has no windows or doors. Or just one door, just the entry door." Morgan's grow building is on his property at Papke's Landing, with a beautiful view of the Wrangell Narrows and several fishing lodges across the water. But there's no view from inside, where plants will be kept cool with seven tons of air-conditioning equipment and nourished by 16,000 watts of high pressure sodium grow lights.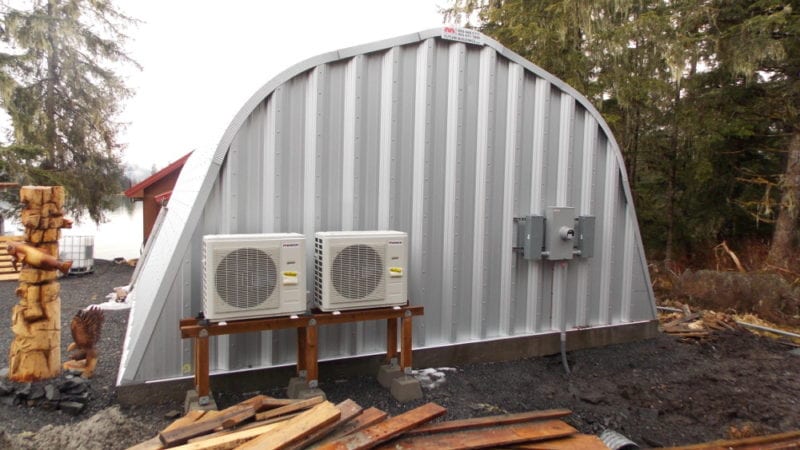 "It's kind of a sealed environment," he said. "It's not going to have any air taken from outside or any air exiting. The idea behind that is we live in a rain forest, there's all kinds of molds and bacterias and things that could contaminate the plant and we want it to be as clean a product as possible."
Morgan still needs to install all those lights and says once they're on a person will need to wear sunglasses to be in the building. He also needs to put in fans and dehumidifiers, carbon dioxide containers, temperature controls and timers. With all that equipment to be installed it's a good thing Morgan has a background as an electrician. He works for Petersburg Municipal Power and Light during the day and is finishing up the building on nights and weekends.
"I just started putting it up I think it was January or December of last year," he explained. "This is the entry, the only entry. I've gotta replace this lock. I got a second hand steel door from the police department when they were remodeling. So I was able to get a hold of this door. And I'm gonna have a key pad lock and an alarm system." He'll also have security cameras. All those measures are required by the state and part of a security plan Morgan had to present to the state board while going through the licensing process.
Inside the building is a room for drying and curing, a main section for the flowering plants with white vapor barrier insulation covering the walls. There's also a separate room inside for the plants in the vegetative stage, before they flower. Morgan will be growing his plants hydroponically, in water. He plans to have 48 plants, growing to about four-five feet tall.
He just needs to finish up all that equipment installation and get a final inspection on his facility before he can move plants into the building.
"Ten days from now I hope to have plants in here," Morgan said. "I just have to get the surveillance up and going and the alarm system installed. The alarm system's still on its way. So soon as I do that and have the lock on the door I'm able to bring the plants in tag 'em and call in my inspection so. That's the next step and I hope ten days from now I'll be following those steps."
Morgan hasn't ever grown pot before and hasn't started up a business before. But he calls it a great learning experience. He admits the start up has taken 2, 3 or 4 times the money and time he expected to put into it. Nevertheless, he's launched a website advertising a June harvest and seeking pre-orders. He's even sold his first harvest before it's even grown. It will go to Rainforest Cannabis, a business with both a grow license and retail store license in Ketchikan.
"It was a big relief but that brought some more anxiety because now that I have the product sold now I have to grow it," he explained. "And I have to finish the construction as well so. So yeah, one stage progresses, I make that step and then the next step it has its own challenges."
The grow business was put on hold last year until after an October vote by residents allowed pot business in the borough. Then Morgan went through the licensing approval process with the state through the winter.
Morgan laughed that although he's the first one to legally have a pot business in town he's far from the first to grow pot locally. He says there's a lot of knowledge on the island and he's benefitted from that. He's also looking forward to a day when all he has to worry about is growing. "It's been a deal where I put my head down and just not saying no and not giving up and driven everyone around me probably nuts because it's all I can think and breath and everything, I mean it's consumed my life up until now. So hopefully when things get down to just the plants, growing the plants and all the licensing is behind me and all the building construction and votes all this we can just have a nice quiet business."
Besides sending his marijuana off island, Morgan hopes to be able to sell his product to the local retail store The 420 if that business opens in Petersburg.
The license for the retail store The 420 is up for consideration by the state marijuana control board at a meeting April 4th and 5th.