Petersburg residents and boat owners last week examined the latest plans for a boat yard and haul out facility at Scow Bay, two miles south of downtown. Officials are hoping to design a project that could be built if federal or state grant money becomes available.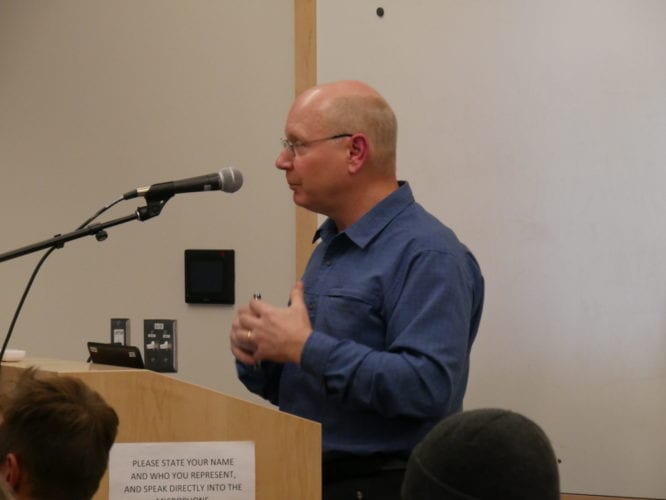 Dick Somerville is an engineer with PND engineers, a consulting and design firm contracted by the Petersburg Economic Development Council. He explained the purpose of the project is to develop a functional small vessel haul out and work yard at Scow Bay and explained some of the components of that facility.
"One, to develop a versatile concrete ramp at 8 percent gradient," he explained. "We'll talk a little bit more about why that gradient is there. A durable boarding float, a guide float alongside the ramp, because of the wave and wind activities be good to bring vessels up alongside and have something stable to ride up against. We will talk about the wind and wave protection. The wash down pad and wash water treatment facilities, that's part of the objectives. Expanded boat yard work area. We need to have storm water runoff and discharge treatment systems in the yard."
PND has come up with three conceptual designs for the area. The third and latest is the preferred alternative. It includes a new haul out ramp and breakwater on the south side of the property along with an expanded work yard with a heated concrete wash down pad. The price tag is estimated at just under 7.2 million dollars.
There are two earlier conceptual designs, one with a new concrete ramp where the existing ramp is. A second plan also proposed a new ramp and expanded breakwater on the south side of the property and space for new harbor floats. The consultants came up with the concepts with public input from two other meetings and the help of a PEDC steering committee.
As part of their investigation, PND dug eight test pits for sand and mud conditions on the site. Somerville said that digging uncovered a mix of sand and glacial silt.
"Pretty good material and it's definitely suitable for anything that's being contemplated here for this project and it would make good fill in the uplands," he said.
The consultant also identified some possible funding sources. Money could come from grants from various federal or state agencies, local funding or a combination of public and private money to pay for construction.
The next steps would be final design and permitting, securing money for construction and figuring out who would run the boat yard.
The economic development council has been discussing and studying the potential for the Scow Bay site for the better part of the last decade.
Fire and EMS director Sandy Dixson asked about planning and budgeting for relocating the fire hall and training facility which are located on the same site. Assembly member Kurt Wohlhueter thought that was a topic for a later date. "We're a long way from the fire hall ever going anywhere," Wohlhueter said. "I mean I think we're just wasting time here so we gotta keep moving."
The conceptual plans do not relocate that training facility but would allow that use to continue on the site.
John Murgas owns a boat hauling and storage business at Scow Bay and wanted to keep the cost of business down. "I'm just concerned about losing the low cost abilities that we have right now with the difficult financial situation that many vessel owners are in," Murgas said.
Murgas uses the existing ramp at the turnaround to haul vessels. That ramp would remain in place under the plans. Murgas said wind often made hauling boats on the existing ramp difficult. He lobbied for a new ramp closer to the existing breakwater. "This would really serve well for the next ten years until you move forward with the overall plan. Every rock every stone that went in there would not be wasted it would be utilized. What else could I say…it would drastically improve the safety of my operation."
With Murgas' input the discussion also centered around a cheaper option, a basic gravel ramp on that south side. PND estimates a gravel haul out ramp could be built by the borough for around 56,000 dollars including design and permits. It could be less if a private business paid to do that work. That would accommodate hauling smaller boats only. The larger and more expensive facility with a concrete ramp and pad would be built to handle vessels up to 100 tons.
Audience members thought the potential market for an expanded boat yard was for vessels larger than 40 feet.
Harbormaster Glo Wollen explained some of the reasons for pursuing a boat yard. "At this point the harbor board is trying to address the requests of the fleet and what we're seeing the future to keep a fleet here," she said.
Wollen explained that she expected boat owners would not be able to wash and paint boats on the tidal grids in the harbor due to environmental constraints. She also acknowledged that grant money might not be available for a larger project at the moment but wanted to be ready when Petersburg could secure funding. "This is actually perfect timing," Wollen said. "This is the kinda stuff you wanna be doing when they're not handing money out. You wanna be talking about designing, so that things are shelf ready so when the tide does turn we have got some projects shelf ready to go. I mean I'm optimistic about it and so far we've done really well here in Petersburg."
The PEDC board planned to review the conceptual design this summer and propose the next steps. Those could include a ballot measure on spending money from the economic development fund for the project.