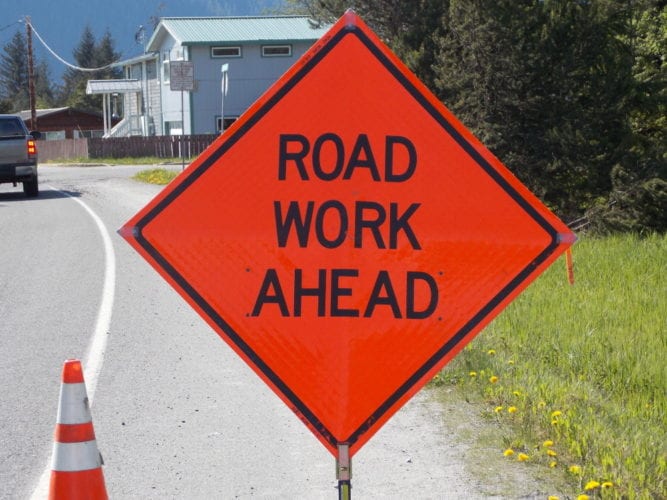 Property owners in two residential neighborhoods in Petersburg are considering this year whether to pay for the dirt roads in front of their homes to be paved. Borough officials answered questions on the program during a hearing this week and heard strong arguments for and against the paving.
The two streets are Vesta and Unimak, both in the Severson subdivision. Residents there returned signed petitions this spring asking the borough to go forward with a Local Improvement District. That's a little used option in local code that allows residents to pay for the cost of construction for new utility extensions or in this case pavement.
Construction company Secon completed a two-year state road project in town last year. The borough's assistant public works director and Unimak Street resident Chris Cotta explained the company could do some additional paving this year.
"The bottom line is because we've still got a paving plant in town, Secon's paving plant from last year's project is still here and it costs a lot to bring that plant to town and you know the borough would like to find ways to utilize that plant while it's here to the best of our abilities," Cotta said. "Unfortunately we have exhausted all of our paving funds, in house paving funds and so we wanted to offer up the LID process as a way to possibly get some more streets paved."
A short connector road, Pearl F Street, could be included in the paving.
In the past paving of borough streets has been paid for by the borough, using savings or federal payments that are dedicated for road work. Last year the borough paid Secon over half a million dollars to surface a long list of local streets. Officials don't think the borough will have the money for more asphalt work in the near future. Under an LID, the borough pays for the cost of a project and that cost is repaid by property owners under terms set by the borough assembly.
The mayor and three assembly members heard from property owners both for and against the paving work. Unimak resident Darlene Whitethorn was in favor of paving.
"The dust thing actually is one of the main things for me because I have asthma," Whitethorn said. "There's a lot of dust when it stops raining for like half a day. And it's difficult for people with respiratory issues."
Whitethorn also acknowledged that some of her neighbors probably couldn't afford to repay the cost of the work.
Vesta Street resident Anna Larson was opposed to the paving because of the unexpected cost. "At this time when all we're hearing is tightening the budget and tightening our belts. Eric and I are recently retired and we planned many, many years for this. This is thrown at us. It wasn't planned for. It hurts," Larson said.
The borough estimates each lot would have a top annual payment of around 420 to 460 dollars, each year for a decade. That would repay the paving cost along with three percent interest to the borough.
Other property owners had more questions about how the program would work. They wondered whether the paved street would increase property assessments and drive up the property tax bills in those neighborhoods. They wanted to know if proposed three percent interest would still be charged if the payment was made up front at once or if the interest amount could be decreased by the borough.
Officials also presented two different options for the type of asphalt surfacing. Residents asked if cheaper chip sealing would be an option. Vesta and Unimak are near Rambler Street, the only other neighborhood in Petersburg where homeowners have used the LID process to put down chip seal.
Home owners also wondered if the borough were to receive more federal street money whether the municipality would pay for the work. Cotta explained that was not likely with these roads. "The streets that we're talking about, Unimak and Vesta, are actually good streets," he said. "They work. They're low traffic. They're not candidates that are high on the list for discretionary paving. As much as I wish they were, I mean I live on Unimak, it'd be great but the truth is there's a whole lot of other streets that we're gonna be doing before we get around to paving Unimak and Vesta and other quiet little cul-de-sacs."
The LID process has three parts, the initial petition, the public hearing and a by-mail ballot for property owners. The borough assembly has to make the decision to go forward with balloting. At that point it requires yes votes from at least two thirds of the lot owners to move forward. Each lot gets one vote and there are 24 lots involved on each street. So owners of 16 of those lots would have to vote yes. The assembly can stop the process at any time. The mayor and assembly did not make any decision at the hearing. Cotta agreed to return with some answers by the assembly's next meeting June 19.