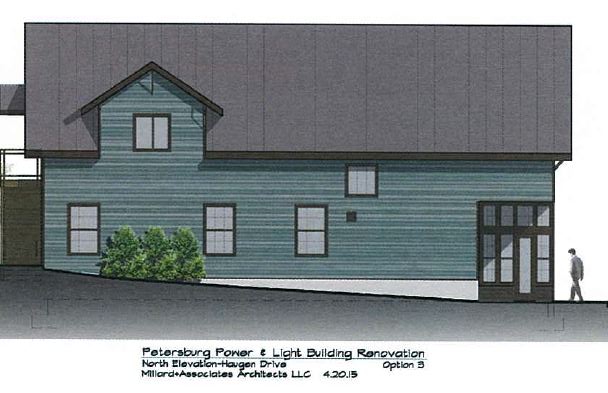 Petersburg's borough assembly will wait until next month to decide on a half million dollar remodel of the Petersburg Municipal Power and Light building in downtown. Assembly members wanted to investigate other options for the electrical department.
The renovation project would replace siding, insulation, doors, windows, stairs and railings on the Petersburg Municipal Power and Light headquarters, which dates back to the 1920s and 30s. Rainforest Contracting of Petersburg was the low bidder on the project and was recommended for the work by outgoing power and light superintendent Joe Nelson. Rainforest bid $538,600 for the remodel. The other bids were from Alaska Commercial Contractors of Juneau and Dawson Construction of Bellingham.
Assembly member Bob Lynn wanted to find out about other options. "I've looked at the bids on this," Lynn said. "We're over budget. But I also have some more questions about looking at some other options that aren't here, of moving that whole facility up to some other building and to do some of those things. And I haven't seen sufficient analysis for me to say, to go for this bid right now."
The assembly has been considering the idea of putting the electric department under the oversight of a utility director and consolidating the roles of a few borough department heads as a cost saving measure.
Manager Steve Giesbrecht said staff had not put any thought into the possibility of moving the electric department headquarters. "Other than the possibility of could it fit at public works and could we expand public works to have enough room up there," Giesbrecht said. "That came up as part of several different conversations up to an including when the assembly took out the parking adjustment that Joe (Nelson) had presented to fix the parking over here. So public works has a lot more parking room. That would be an option. I can tell you we have not designed a project to do that at this point."
The borough has designed the remodel of the downtown building and that design work cost just under 61,000 dollars. This assembly a little over four months ago voted to move forward with the project. However, assembly members this spring also voted to remove $775,000 from the electric department budget for purchasing land and improving the parking lot between the building and Hammer Slough.
Combining the cost of the building remodel and the parking lot work, assembly member Kurt Wohlhueter said the project price was closer to 1.3 million dollars. Wohlhueter wanted to find out more about moving the power and light headquarters in with the public works department on Second Street. "So what I was thinking was the more we can consolidate our man power and our expenses, the less it's gonna cost us as citizens," Wohlhueter said. "This is an option that we need to explore. I don't want an engineers report. I don't wanna send it out and….what would it look like for 1.3 million dollars in new paint, maybe new office furniture, update the wiring. It's something that I think we need to look at."
Local officials for years talked about moving the electrical headquarters and generators from downtown to land in Scow Bay. However, cost estimates put that plan out of reach and there's been little interest in making that move happen on the borough assembly in recent years. In May of 2015, the assembly OK'd a design for just remodeling the building.
Assembly members agreed they needed some more information before deciding on the remodel bid award.
"Is there enough floor space," Wohlhueter wondered. "You know if Karl (Hagerman) says that it's possible so the same amount of floor space is available there that there is here. We can kinda wrap our heads around that. Is there a place to park these vehicles that right now is having trouble going on and off main street and you know that kinda thing up there. Is there bays so they can protect…Those kinda things is the only kinda questions I need to have answered. I don't need to have soil samples or whether or not we gotta mitigate, you know what I mean? So kinda just basics so I have a little more information to be able move forward with my decision."
There's a 45-day deadline to award or reject the bids on the project.
Power and Light employee Gary Morgan testified against the combination of department supervisors and the possibility of moving the electric department offices to public works. "There's no positive gains for Power and Light but it's a great way to spend another department's savings on public works. The Power and Light enterprise fund is a new credit card with a bigger credit limit."
A motion to postpone the bid award until the July 3rd assembly meeting passed unanimously. Meanwhile the assembly had a brief discussion about the reorganization of department heads.
The borough's motor pool foreman Hoy Yi wrote a letter in support of public works director Karl Hagerman taking over the new role of utility director. Assembly members also voiced support for rewritten job descriptions for electrical superintendent and a new position of utility director who could have oversight of Power and Light. Superintendent Joe Nelson retires from the electric department at the end of this month.
Borough manager Giesbrecht told the assembly he has not started to find someone to fill that job. "Currently the plan is that I'll have Power and Light reporting to me until such time that the assembly gives me direction and we have not started any kind of recruitment process otherwise than that," Giesbrecht said. "That's what we're moving forward with at this point."
The manager estimates recruiting and bringing a new electrical superintendent to town could cost around 43,000 dollars. He has outlined the decisions he wants the assembly to make, including approving department head job descriptions, a salary range and relocation cost for a new electric superintendent and the status of the Power and Light building remodel.
Several on the assembly sound interested in proceeding with the reorganization plan.
"Looking through this it is my hope that Karl Hagerman actually shows interest in this position down the line," said Jeigh Stanton Gregor. "I think Karl is a very talented person and would be a good leader of that department. I wanna make sure I said that clearly on the record before I leave for a month as this will be a topic. And that I have the utmost confidence in him as a professional employee in this borough. I hope he's willing to consider it and as the person doing the hiring I hope you consider him for it again."
Hagerman initially expressed interest in the utility director job but in May told the assembly he didn't want the position if he didn't have their support. Petersburg's former mayor Mark Jensen also resigned over the issue last month.