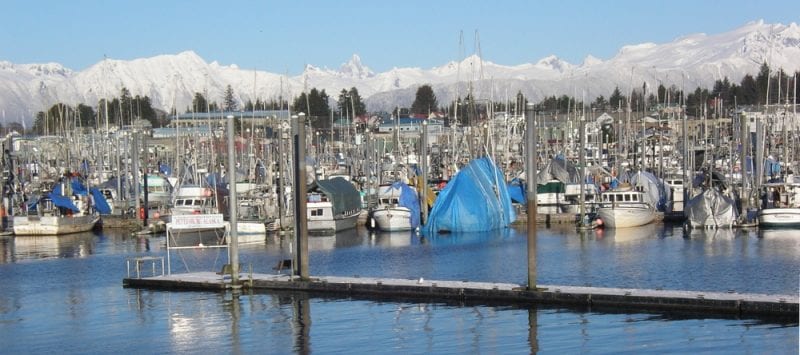 Commercial salmon trollers in Southeast Alaska are tied up to the dock this month after a shortened winter season, closed early because of conservation concerns for king salmon stocks. They'll be getting only a limited shot at fishing around hatchery king runs this spring and are feeling the impact of fishing restrictions.
The winter season shut down March 15, following January's decision by the state's board of fisheries to implement action plans to protect king salmon returning to rivers that flow into Southeast Alaska.
"Previous years in which we closed prior to April 30 were due to achieving the GHL (guideline harvest level)," said Rhea Ehresmann, assistant troll management biologist with the Alaska Department of Fish and Game. "So the 2018 winter troll fishery closing early on March 15 is the only year in recent decades in which we closed early for conservation concerns."
The guideline harvest level for the fishery is 45,000 but the catch didn't end up close to that.
"So with that early closure, our total for the winter season came in at 11,945 king salmon," Ehresmann said. Last year's haul was around 44,000 and the 10-year average for the past decade is about 42,000 kings.
Ehresmann said catch rates were about half the recent 10-year average. "Yeah it seems like the catch rates on average were down compared to previous years," she said. "We ended the season with the regional total of about six king salmon per landing. And this equated to about 36 per permit for the region total."
328 permit holders fished in the winter season, down about 100 permits from the 10 year average. One bright spot was the price, hitting new record highs. The season average was $11.31 a pound, about two dollars above average. At the end of the season the price topped 12 dollars a pound.
Normally trollers could be fishing through the end of April and then preparing to go out for a spring season targeting returns to Southeast's hatcheries. Instead the fleet is tied to the dock. Some are looking for other work. Others can fall back on halibut or other fisheries.
Mark Roberts is a Petersburg troller and board member of the Alaska Trollers Association. He's been trolling nearly 40 years in Southeast and said he hasn't seen a year like this.
"I've never been tied to the dock so long in my life, since I started fishing," Roberts said. "And my wife is definitely liking someone being home to do the chores."
Roberts fished in October and November but didn't get a chance to go out later on in the season and explained the closure has a financial impact. "This definitely, (is) well over a quarter of my income because of the winter fishery being taken away and also the spring fishery. I've never added it up but it's a good chunk."
Fish and Game expects to open the spring season on a limited basis in May and June, but only in areas near Southeast hatchery release sites and on the outer coast. Roberts said he'll fish that season and is glad the board did not decide to delay a summer king salmon opening. Besides kings, he said he'll rig up to chase chum salmon for the first time and figures he's forced to go after dog salmon and coho to make up for the limited time for kings.
Fishery managers in early April also released the harvest limit for king salmon for the rest of the year in the region and announced that harvest limit will be reduced by 10 percent to conserve Chinook returning to Southeast Alaska, the trans-boundary rivers and northern British Columbia. The fish are managed under an international treaty with Canada. The announcement means trollers have an allocation of 95,700 kings for the winter spring and summer seasons combined. That's a drop of 59,080 from last year's allocation.
The numbers are set based on forecasted king salmon abundance, which are experiencing unprecedented levels of poor production according to the department.
The trollers association issued a news release voicing concern about the additional 10 percent cut on top of the restrictions to winter and spring catches.
Other restrictions are also out for other gear groups. Purse seiners are prohibited from keeping Chinook while drift gillnetters have reductions in time and area along with net size restrictions to reduce the king salmon catch.