Thirteen of the 105 moose were illegally killed, according to the Alaska Department of Fish and Game in Petersburg. They were located all over the hunt area with the most coming from the Stikine River.
Fish and Game says 17 bulls total have been harvested on the Stikine River. Thirty-one were harvested in the Kake area. Seventeen bulls have come from other areas on Kupreanof Island. Hunters took 12 on Mitkof Island, 12 on Kuiu Island, five in Thomas Bay on the mainland north of Petersburg, three on Wrangell Island, three at Farragut Bay, one on Woewodski Island, one on Zarembo Island, and three from other mainland areas.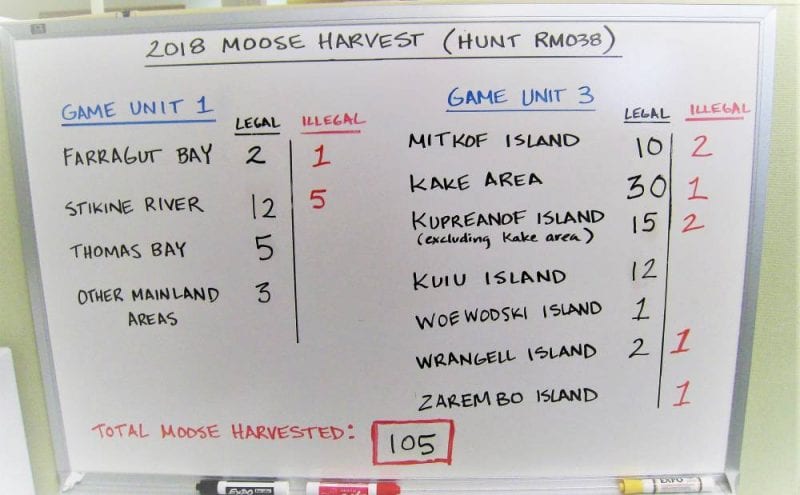 Hunters have five days to report their harvest to Fish and Game, so the final total could still increase a little.

The month long season ran September 15 to October 15.

Hunters are required to turn in their hunt report cards whether they harvested a moose or not. State managers rely on harvest data to gauge how the population is doing in the Unit 3. They can't do surveys because the area is too forested to see moose from the air. The last moose study that was done was in 1984 on the Stikine River.

The 2018 fall moose hunt in Unit 3 near Petersburg, Wrangell, and Kake picked up in the second half of the season. The hunt wrapped up Monday (Oct. 15) and 105 moose were reportedly killed. That's less than last year's record harvest of 117 bulls but in line with harvests over the last four years.