Inside the Rexall Drugstore in downtown Petersburg you can often find Cate Kowalski helping out customers in the aisles.
Most customers know Kowalski personally. And that community connection is one reason why Kowalski won the Bowl of Hygeia Award on February 9 from the Alaska Pharmacists Association. The award is given annually to a pharmacist in Alaska with an outstanding record of community service.
Kowalski's dad, Max Worhatch, received the same award in the mid-90s. He was a well-known pharmacist in Petersburg when Kowalski was growing up. But she says she didn't know she wanted to be a pharmacist until college in the mid-80s. Her younger sister, Erica, was studying pharmacy at the same time at the University of Washington.
"Yeah, we both graduated from there. Same year. Me in front of her," Kowalski said, joking, "which was great, because that was good for my ego. I could graduate before my little sister."
Kowalski hadn't planned to come back to Petersburg but that's exactly what happened years later, when her father retired. She and her sister Erica would end up running the family business. Kowalski says it's given her the chance to enjoy many different parts of pharmacy: the business challenge, the clinical side, and even the politics. Last year, she advocated to get a senate bill passed that makes changes to prescription drug benefits and reimbursements. The bill gives the state authority to decide appeals on reimbursements that pharmacies receive for medication.
"But I prefer working with people," Kowalski said, laughing. "Helping people. You know, I do try to get out front a lot and help people, try to understand what they're taking, why they're taking it."
Behind the counter at the back of the store, up on a shelf, sits Kowalski's new award next to another award that she got years ago from the same statewide pharmacy association, the Distinguished Young Pharmacist Award. That award is made of thick glass.
This new one is wooden with a golden bowl of hygeia and a serpent, often used as symbols of pharmacy. It stems from a Greek mythology story about the goddess of healing.
"It was a real surprise to get it," she said. "A real honor."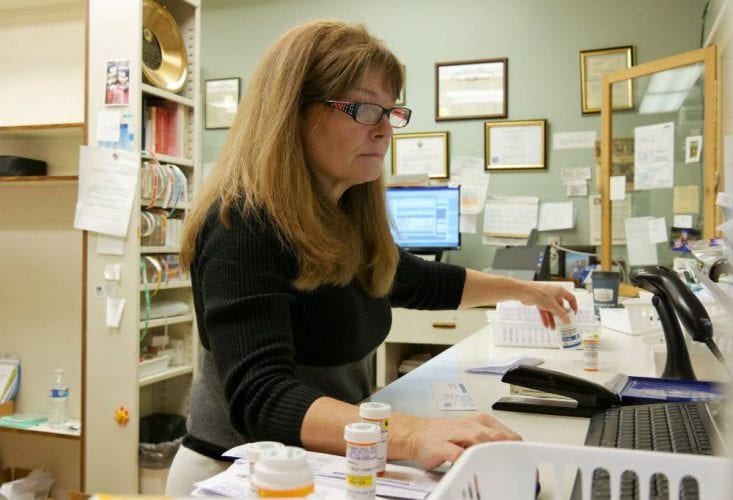 Kowalski, who is also involved in the Petersburg Chamber of Commerce and the local swim club, says she could never do what she does without the support from her pharmacist sister, Erica.
"I tend to get pretty excited about doing a lot of different things and she lets me have that wind in my sails and lets me get out there and do things," Kowalski said. "So, I probably wouldn't have been able to be involved in so many activities and all these other things I do if it wasn't for her."
Kowalski says she is also grateful to her staff at work and the pharmacists across the state for nominating her for the award.
As the winner of the Bowl of Hygeia Award, Kowalski will be recognized at the American Pharmacists Association convention in Seattle in March.